NATASCHA SOHL Dirty Little Word (Pre-Release) Granite Music (2007)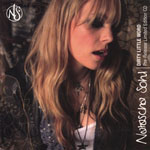 You can't really help rooting for Natascha Sohl. Whisked away to a US recording hot-house last year, she's come back with the 'difficult' second album and has emerged triumphant. A few dollars lighter maybe, but she's certainly gained in musical experience and maturity.
Shortly after GRTR! started in 2003 we heard her first CD and thought it was something special: since then Natascha has been one of our favourites, we caught her showcase gig in London, and then she packed her bags for New York. Was it our after-shave?
If there is a maturity of both songwriting and musicianship on this latest album, there's also a realization that we're heading off into difficult pastures, a territory firmly marked out by Sheryl Crow, Shania Twain, Patty Griffin at the adult end and Avril Lavigne and Pink at the other.
'Dirty Little Word' is modern, uncompromising, and with very little filler. The style throughout is modern, guitar-driven, and sassy without being too clichéd.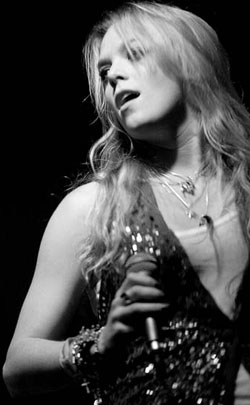 Photo: Wolfie
Whilst most of the 13 tracks have an immediacy of appeal, some leap out on first listen.
The opening track 'Naked' may be familiar as it was the first single to trail the album with 'I'm Not Listening' an additional track. Both are among the album standouts.
'I'm Not Listening' has some interesting effects and synth orchestration and builds dramatically to a freaky psychedelic sub-Beatlesque finale.
The title track is another strong verse-chorus sing-a-long whilst 'If I Was A Boy' has a nice sting in the lyrics and was a highlight of Natascha's Cambridge set this summer.
'Yesterday's Rain' is another stunner. I'm sure the basic riff sounds far too familiar (The Corrs 'Forgiven Not Forgotten' comes to mind) but who the hell cares anyway. This is gargantuan pop rock of a type that American radio will gobble up like some sort of audible bagel. Perhaps lacking a suitable power rock guitar solo especially in the end play-out which for me ends far, far, too soon.
If there are weaker tracks - 'Nothing Else Matters' and 'Body Beautiful' - it has to be where Natascha sounds like a Bangle or a younger Suzie Quatro - but without the smell of leather. Ironically these tracks will go down really well in Central Europe.
'Fade' is an attractive mid-tempo ballad and 'Afterglow' is acoustic with effective use of strings and eastern motifs. Both show that Natascha can slow things down when necessary and, frankly, an all-acoustic album would be interesting.
To my time-weary lugholes, Natascha does have a similarity to post-Spice Melanie C. That shouldn't put anyone off because - no matter what your mate says - Melanie C has a belting voice and produces quality pop rock. She's also independent and feisty - two admirable qualities in any lady.
Melanie got lucky in Germany and Spain although her latest CD is less rocky: perhaps Natascha will find her fortune across Europe rather than in the overcrowded US marketplace?
Elsewhere on the album, 'I'm So Happy' has the sort of rolling riff that J Geils Band patented with 'Centerfold' and 'Hands Off My Past' is yet another standout: Natascha does the slow-burn-with-urgency really well, and a few more sprinkled through this gold dust would have been appreciated.
'Dirty Little Word' may not be Natascha's defining work - I'm sure she has a Joss Stone sort of album in her too - but she now has the tunes, the cred, the springboard, to give herself the best chance in an unnervingly fickle industry.
I think I'll celebrate with some new after-shave.
*****
Review by David Randall
'Dirty Little Word' is on full release, early-2008.
'Hands Off My Past' is featured on the GRTR! Rising Stars CD
Audio interview

---
| | |
| --- | --- |
| | Print this page in printer-friendly format |
| | Tell a friend about this page |