NATASCHA SOHL 'Strange Fascination '
(Granite Music 2004)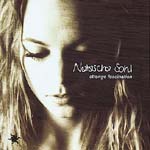 Natascha Sohl joins the growing legion of female singer-songwriters, it's a fairly crowded genre but soon she will be snapping at the heels of Alanis, Avril...and all the rest.
'Strange Fascination' is a superb debut with a confidence that would shame many an old-stager. It seems that Tash has been steadily building a following through live gigs and commanding the respect of both fans and fellow musos alike.
It would be invidious to single out particular tracks, because the whole album is consistently good. It's upbeat, catchy, angsty, and has the mandatory jangling guitars. If you like female singer-songwriter rock you will not fail to enjoy this.
Oh alright, then, opening track and first single 'Are You Ready?' sets the standard but 'Make Your Own Way', and 'Give It All Away' could both be hit singles. The latter in particular is a well-nigh perfect slice of pop rock that will have 'em air fisting in the auditorium. Great production, too, from Ben Jones.
'Remember Me' is characterised by its urgency, smouldering guitars and stark affirmation: 'Loving you, was it all a big mistake?". 'Walking Thru Space' with its dub backbeat, vocal effects and widescreen orchestration, is splendid.
Natascha Sohl has been described as "Lenny Kravitz meets Alanis Morrisette' but that's a bit throwaway because she's got her own groove and arguably more talent. Catch young Sohl now, because the stadiums beckon. You can smugly say to your mates in a few years time, as they download yet another i-Tune, 'I told you so'.
*****
Review by David Randall


My Needs
© 2004 Natascha Sohl/Granite Music. All rights reserved.
Artist website
Rising Stars
Related>> Single review