NATASCHA SOHL 'Give It All Away'
CD single, Granite CDPBRC011 (2004)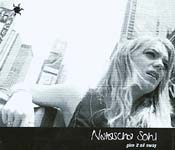 Natascha Sohl is one of the latest generation of female rock/pop singer songwriters. But itís a crowded marketplace - Avril Lavigne, Evanscence, Pink and Anastacia have it pretty much stitched up.
Give It All Away is Nataschaís second single lifted from the excellent debut album 'Strange Fascination' and no question, itís a catchy uptempo rock/pop number. But if you ask me it isnít strong enough to impact the charts.
Thatís maybe unfair. The track is strong enough - well delivered and with a catchy chorus, but success these days requires not just the right material, but the right image to go with it. And from the accompanying vid, itís not clear that aspect of Nataschaís career has been sorted yet.
But letís face it, there is a gap in the market. A late night groove - Katie Melua and Norah Jones have a monopoly. White soul, look no further than Joss Stone. But a rock chick? Anastacia could probably claim that crown if she could decide between pop and rock. The same is true of Pink. But theyíve found their niche, so itís a clear base run for someone brave enough to make the move. And that could be Natascha Sohl. She has the all the credentials. In the meantime, treat yourself to the album.
****
Review by Pete Whalley

Related>> Album review
Related>> Interview