NATASCHA SOHL Naked
CD single, Granite CDPBRC061 (2006)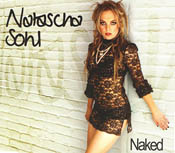 Ever since setting eyes and ears on Natascha, she has been a GRTR! favourite. An excellent debut album, some great live performances and, then, in late 2005 she was whisked to the States, and several weeks of jet-setting and hard graft in the studio ensued.
Thankfully the feisty attitude has been retained and, dare we say it, sexed up on this new single, a flagwaver for the second album 'Dirty Little Word'.
The second track on the single is also from the soon-to-be-CD - 'I'm Not Listening' is a re-recorded version of a track that never made the debut 'Strange Fascination'.
What has happened is that the music has been given further sheen, airbrushed by the production and writing talents of Russ DeSalvo and with a crack team of top session musicians.
How many tracks have you recorded for the new album, is the single 'Naked' typical, and how many have you co-written?
We've recorded 9 so far... just a few more to go!! It's nearly done and I can't wait till everyone can hear it!! There's a lot of variety on the album really... 'Naked' is typical in the sense that there's a lot of really hooky stuff on there... it's probably one of the more pop ones but I still think it rocks!! I'm very proud of all the new stuff and hope that you'll all love it too!!! There are going to be 3 tracks that I didn't write on the album, purely coz I loved the songs and didn't want them to not be on there!! All the rest are co-written.
'Naked' builds on the strengths present on that debut, and not forgetting the interim singles. Frankly I'm sure I've heard the main riff before, it's reminiscent of Kendall Payne's 'Closer To Myself' but the single also places her in Patty Griffin and Sheryl Crow territory in their more upbeat moments.
I always thought that Natascha's debut album had musical similarities to the kind of thing Mel C has been seeking to achieve since the Spice Girls. And we all know how hard Mel C has found things since going solo, even given her high profile and marketing resource. Maybe it's that Spicey stigma.
Tell us about your current musical collaborators and the creative process behind the new CD.
It's just been so much fun! I've been so lucky with the people I've been working with - they all rock!! Russ DeSalvo is the producer and an amazing song writer and guitarist... The other song writers are Arnie Roman, Tanya Leah, Martin Briley and Dana Calitri who are all amazing!!
I've collaborated the most with Russ, Arnie and Tanya, on various songs. We just all clicked so well, which is always great when you're working like this! We all were totally free to put in our ideas and things just seemed to take shape very easily - which is nice!!
Simon, my guitarist, and I have also clicked really well writing together, so it's great that we can keep the momentum up whether I'm here or there! There's gonna be quite a variety on the record!!
We've always said this is a crowded marketplace and one wonders what Natascha can do to gain her voice amongst the well established female fraternity and a stab at their respective thrones.
Right now, though, Natascha is looking like the best pretender. and certainly the best bet this side of the Atlantic. One hopes that smart promotion and management will pave the way for the next album and further recognition.
For the moment, 'Naked' further exposes Natascha Sohl's talents and more than fulfils her early promise.
****
Review by David Randall

Naked
© 2006 Natascha Sohl/Granite Music. All rights reserved.
Related>> Album review
Related>> Interview