Legendary larynx's Family outing...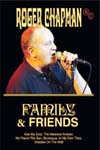 I can vividly remember the first time I saw Roger Chapman in 1971 at the Liverpool Stadium with Family. It was a terrifying experience for a then thirteen year old. At the time Family were one of the great underground bands and Roger Chapman was the Family's front man. He came across as someone who could quite well come down into the audience and give you a good hiding. The other more noticeable talent of course was that distinctive voice which has sometimes been unfairly compared to Larry The Lamb.
Apart from the voice of course it soon became apparent that here was one of the most distinctive voices and performers of the modern rock era. I am happy to say that although no longer intimidated by Roger Chapman I am still impressed with his voice and of course his unique talent as a front man par excellence.
This performance was filmed at the Newcastle Opera House on Roger's tour of late 2002 and sees him fronting an established, tight and well-honed band that includes Henry Spinetti, Gary Twigg and Ian Gibbons. Working his way through a set that includes Toe Nail Draggin' from his time with Streetwalkers and his hit with Mike Oldfield, Shadow On The Wall.
It is of course the Family material that will attract most people and Roger doesn't disappoint anyone by including The Weavers Answer, My Friend The Sun, In My Own Time and of course the truly wonderful Burlesque. Don't run away with the idea that it is only these songs that impress as Roger excels on a version of Bob Dylan's Blind Willie McTell and Mickey Jupp's Short List.
This DVD proves emphatically that Roger Chapman still has what it takes to get an audience on it's collective feet and that he is still one of this country's most original vocal talents.
Included as extra footage we have an in depth interview with Roger, which covers his current band, and of course what went before and also includes comments from fans that attended this concert.
Review by Jon Kirkman, Rock Ahead
****
© 2003 All rights reserved.


£17.99
Related>> Boxed CD set
Related>> Riff Burglars
Related>> Techno-Prisoners
Related>> The Shadow Knows
Related>> Mail Order Magic/Mango Crazy
Related>> Archive DVD
Related>> Family Reissues
Related>> More about Family