ROGER CHAPMAN 'The Shadow Knows'
(Mystic MYSCD167)(2003)

Mystic are currently trawling Chappo's backpages and, rightly so. Little-heard gems are being replayed and, as a follow-on from their wonderful boxed-set, a logical way forward.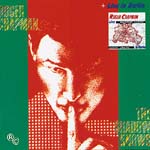 With Family in the seventies, Roger Chapman carved out a niche as a distinctive vocalist against a frequently funky backdrop. This 1985 album was a collaboration with ace guitarist Geoff Whitehorn who some may recall stepped into the mighty Paul Kossoff's boots in Crawler, and lent that band the benefit of his gutsy, straight-ahead style.
In the eighties Chappo was having some greater success over the Channel, more specifically Germany who seemed to go for his mix of rock raunch and rhythm. Several tracks here are as funky as hell, notably 'Leader Of Men' and 'How How How' (which is reprised as a bonus live track) whilst 'Sweet Vanilla' and the live 'Shadow On The Wall' will encourage a twitch in even the most staunch non-convert. Excellent.
****
Review by David Randall

How How How
© 2003 Mystic Records. All rights reserved.
Related>> Boxed CD set
Related>> Riff Burglars
Related>> Techno-Prisoners
Related>> Mail Order Magic/Mango Crazy
Related>> Family & Friends DVD
Related>> Archive DVD
Related>> Family Reissues
Related>> More about Family