ROGER CHAPMAN 'Family and Friends' (Mystic MYSCD161) (2003)

What a great box set! It covers Roger Chapman's entire career from Family through Streetwalkers and his solo works right up to the end of the 90's. A very distinctive vocal style (just listen to Family's 'Burlesque' for a prime example) and his sometimes underrated talents are well represented on this lavish set. It includes illustrated biographical notes from Pete Feenstra, a facsimile Leicester City FC programme from 1972 (his hometown) and the first 1,000 sets issued contain a fifth bonus CD that includes many more live classics such as 'Downtown Flyers' and 'Stone Free'.

Disc one is my own personal favourite as a Family fan, with all the classics there like 'Burlesque', a live 'Weaver's Answer' and the laidback 'My Friend the Sun'. Sheer class comes through on all these tracks and of course the band had some notable musicians including drummer Rob Townsend and bass player Ric Grech (Blind Faith). The Streetwalkers take over disc two with live blues based rock in the shape of 'Run For Cover' and 'Chilli Con Carne'. Faces fans will enjoy this disc. Streetwalkers at various times included future Iron Maiden drummer Nick McBrain and original Whitesnake drummer Dave Dowle.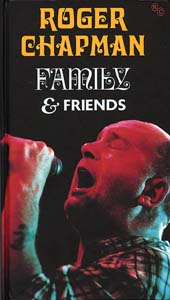 The Shortlist songs make-up much of disc three and again there is an impressive line-up to back Chapman. This included Bad Company's Boz Burrell, guitarist Geoff Whitehorn (later in Bad Company & Paul Rodger's solo band). There is more high quality rhythm and blues on offer here, including the harmonica led 'Downbound Train', Bad Company meet early ZZ Top on 'Slap Bang In The Middle' and the AOR styling on 'Come The Dark Night'.
The final disc in the set has a more produced feel to the music, less raw and a clutch of high quality ballads including 'Holding On' and 'Lucky Man'. 'El Chico' sees Chapman go techno! I kid you not - it's a frantic dance beat, mixing Chapman's vocals with those of female vocalist Sandra Pires. There is even a cover of the ELP ballad 'Lucky Man', complete with female backing vocals. The live 'Two Pieces of Silver' is a classic - nice sax intro leading into Chapman's vocals and it explodes midway with guitars and piano to the fore, backed by some very tasty sax.
Great package and music - over 50 tracks including 14 rare or unreleased tracks, making this essential for all Chapman fans and collectors everywhere. It is a fitting tribute to a unique vocalist who is still performing today and deserves a well-earned revival in the UK.
*****
Review by Jason Ritchie

Just A Child U.N.O.
© 2003 Mystic Records. All rights reserved.
Related>> More about Family
Related>> Riff Burglars
Related>> Techno-Prisoners
Related>> The Shadow Knows
Related>> Mail Order Magic/Mango Crazy
Related>> Family & Friends DVD
Related>> Archive DVD
Related>> Family Reissues