Check out our review of 'Singled Out' (2009)
ELEANOR McEVOY 'Early Hours'
(Market Square MSM51SACD128)(2004)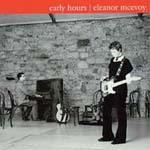 So how do you follow a sensational album like the 2002 released Yola?
Well, firstly, letís briefly revisit Yola. This was Eleanorís first collaboration with Belfast born pianist Brian Connor. And the results were stunning. While earlier releases had perhaps struggled to expose the beauty of her song writing talents, the pared back instrumentation allowed Eleanorís songs to breathe Ė Brianís sparse and delicate keyboards the perfect foil.
The album found Eleanor in a rich vein of song writing form. Yola is a hauntingly beautiful and personal album - stories of love so uplifting they make you want to sing out loud, so sad they make you want to cry. And Eleanorís heartfelt delivery makes you feel privileged to be party to such an intensely intimate confessional. You can hear every ounce of pleasure and pain as if it were your own.
So how do you follow an album like that? Well, Early Hours takes a subtle sideways step from the emotional apocalypse of Yola. Itís almost as if, drained by those outpourings there was nothing left to give. So Early Hours finds Eleanor in a sometimes melancholy and sombre mood Ė upbeat at times, revisiting childhood memories, paying homage to absent friends and, despite everything - still a wistful and incurable romantic.
In other ways, Early Hours picks up where Yola left off. It features the same core of players Ė Eleanor, Brian and Liam Bradley on percussion. This time out, Nicky Scott plays bass and Lindley Hamilton adds moody trumpets. Again the album is a relaxed mix of folk and late night blues/jazz Ė perfect at the end of the day (and damn fine at any other time!). Spectacularly produced by Eleanor and Brian, it is released not only in hybrid CD/SACD format, but in multi-channel surround mix as well! And even on a bog standard stereo it beats the crap out of most productions.
Eleanor is one of that rare breed who refuses to sing in a transatlantic voice, preferring instead to make no attempt to disguise her broad Irish dialect. This makes her vocals all the more natural, personal and real. But letís not forget Brian. He has been the catalyst that has revealed the depth and grace in Eleanorís songs. Theirs is a musical match made in heaven - two immense talents that together deliver so much more than the individual parts. Without Brian, neither Yola nor Early Hours would have been quite so wonderful. Eleanor McEvoy and Brian Connor Ė respect.
****
Review by Pete Whalley


Days Roll By
© 2004 Eleanor McEvoy/Market Square. All rights reserved.
Related>>Eleanor McEvoy