ELEANOR McEVOY 'Eleanor McEvoy'
(Market Square MSMCD127)(2003)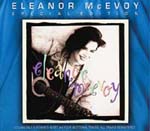 Before the release of 1993's eponymous debut, Eleanor McEvoy was already a cause celebre in her native Ireland where she had picked up a string of music awards.
Signed to Geffen with worldwide promotion, her first album included a re-recorded version of her song 'Only A Woman's Heart' which first appeared on Ireland's best-selling ever album. Ten years later it's time for a re-evaluation because her debut now appears as a special edition remastered with four bonus tracks.
It sounds as relevant as ever. If Eleanor turned her back on electric arrangements with 2001's brilliant 'Yola' it is perhaps to be hoped that she will again receive the call of the great God Marshall Stack. She was years ahead of Jewel, Dido, Sheryl Crow and co. and frankly in a league of her own. She is a fiercely independent artist and recent times have seen low-key intimate tours with musical partner Brian Connor. It would be great to hear these songs played again in an electric setting. And it would be good if the albums that followed,'What's Following Me' and the brilliant 'Snapshots', were given a new lease of life, too.
For the moment, there's some superb stuff here: check out the opener 'Finding Myself Lost Again', and the exquisite cello arrangement of 'For You'. The upbeat songs are wonderful, and whilst there is an Irish spirit evidenced in fiddle and pipes it is not intrusive and this should be filed fair and squarely under contemporary singer songwriter. The bonus songs include a Spanish version of 'Only A Woman's Heart', an upbeat 'Wilderness' which sounds like it could have been a single even if a little eighties in feel and 'Cats Eyes' which has a slightly menacing grungey rhythm. It is perhaps understandable that these pieces fell out of the album's overall ambience but they do show another side to the coin.
In fact, Eleanor's direct vocal and lyrical delivery when in the context of a beautiful string arrangement like 'Go Now' or the ballad 'Breathing Hope' is simply spellbinding. She is on top form when spinning a yarn of heartache against a musically urgent backdrop. Her last album 'Yola' marked a confidence and a willingness to return to roots with just simple acoustic arrangements as a fig leaf, and unfettered by big label fuss and expectation. 'Eleanor McEvoy', though, sounds as good in 2003 as it did ten years before and you can't say that about a lot of her contemporaries either then or now.
*****
Review by David Randall

Leave Her Now
© 2003 Eleanor McEvoy/Market Square. All rights reserved.
Related>>Early Hours