ELEANOR McEVOY Singled Out Mosco (2009)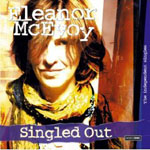 An apt title, in a number of ways, for Ms McEvoy's 8th album. This retrospective collection of singles looks back as far as 2001 when she released her first independent album Yola. And, by and large, her output since that time has been one woman's work.
Although she's now wrestled back control of her 1993 eponymous debut and the 1996 Rupert Hine produced Snapshots (re-released this year as a remastered limited collector's edition), Singled Out focuses specifically on Eleanor's own label back catalogue.
And while it may not necessarily be a 'best of', it's a perfect starting point for anyone yet to sample the delights of one of the best singer songwriters currently treading the boards.
Unlike most of her output, Yola was principally a piano based album featuring the splendid work of Brian Connor who was the perfect foil for Eleanor's tales of broken hearts and loves lost. It remains probably her finest hour and is perhaps under represented by only two tracks. But Did I Hurt You is one of her finest moments.
2004's follow up Early Hours still featured Brian but marked a transition to her becoming a truly solo artist - 2006's Out There being played virtually exclusively by Eleanor, demonstrating her prowess on guitars, bass, keyboards, violin and drum programming. Early Hours spawned 4 superb singles, but Make Mine A Small one remains a personal all time favourite. It's also worth saying that touring this solo material was something of a revelation. Whereas the absence of Brian Connor could have left an irreplaceable void, Eleanor blossomed as a performer.
Out There reflected this newfound confidence, the cover of Marvin Gaye's Mercy Mercy Me deserving special mention. If ever a cover usurped the original then this is it. Hauntingly beautiful. And as for the wah wah violin on Wrong So Wrong - inspirational.
Never one to rest on her laurels, for her next album - Love Must Be Tough (2008) Eleanor covered and reinterpreted songs written by men about women. And she brought in The South King Street Band as a supporting cast, giving the whole set a suitably retro feel. The pièce de résistance, though is the title track co written with Johnny Rivers.
And if 14 tracks culled from four wonderful albums isn't enough, plus the Wrong So Wrong video. this collection is brought bang up to date with the inclusion of the new single Oh Uganda - a beautiful song inspired by Eleanor's Oxfam Ireland visit to Uganda earlier this year.
Without a filler track in sight and being able to pick this up for less than £8 at Amazon, it has to be an essential purchase. So do yourself a favour and invest. If not for yourself, for someone you love. Without question, Singled Out is the perfect introduction to one of the singer songwriters of the 21st century.
*****

BANANA BOAT FEATURING ELEANOR MCEVOY A Little A Cappella: A Polish-Irish Harmony
Poland may not be the place you'd immediately think to look for inspiration. But David Gilmour found it in the shipyards of Gdansk performing with the Baltic Philharmonic Symphony Orchestra' (conducted by Zbigniew Preisner who arranged on On An Island).
And now GRTR! favourite singer songwriter Eleanor McEvoy has revisited Little Look - one of the tracks off her 2006 Out There album in collaboration with Banana Boat - a highly respected Polish a cappella group specializing in contemporary interpretations of sea shanties and maritime music.
The collaboration came about through a chance backstage encounter several years ago when Eleanor closed the Cobh Maritime Song Festival. That led to her appearance at the 2008 Euroszanty & Folk Festival - a fusion of Irish music and maritime folk where she wowed appearing musicians and festival organizers at a small club gig, and won over the crowd of 4000 the next day with a performance of the popular 19th century folksong Ukraina - in Polish!
Banana Boat's offer to record together immediately followed and it was agreed to record two songs, aimed at appealing to audiences in Poland, Ireland and the UK. Those two Songs - Little Look, and Ukraina are simply a wonderfully uplifting endorsement for the range and beauty of the human voice. Little Looks easily matches the original with some (dare I say it) almost Beachboys harmonies from Banana Boat. And Ukraina is equally uplifting, bringing to mind echoes of Clannad before they went commercial.
To date available only in Poland, A Little Cappella: A Polish-Irish Harmony is already a hit on the influential Polish Radio Three chart, and a welcome addition to Eleanor's growing body of work. With a UK release, a little luck and some Radio 2 play the same fate could be achieved here. It's quite beautiful and uplifting record . And when singers are this good, who needs instruments?
And while it sounds great on YouTube - "Little Look" Banana Boat (featuring Eleanor McEvoy) you can really only begin to appreciate how good listening to the CD on a decent hi-fi. Remember those?
*****
Reviews by Pete Whalley
---
| | |
| --- | --- |
| | Print this page in printer-friendly format |
| | Tell a friend about this page |