ELEANOR McEVOY 'Make Mine A Small One'
(CD single) Market Square MSMCD135 (2004)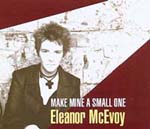 'Early Hours' continued Eleanor McEvoy's more stripped-down approach following 2002's exquisite 'Yola'. Now, just in time for the festive season, an ideal single.
There's a hint of Van Morrison balladry in 'Make Mine A Small One', which Eleanor explains was written with brother Kieran when they were both missing different people in their lives one Christmas, and "what a lousy time of year it was to be parted from a loved one."
This is a lovely song, that will go down well with the mulled wine, the crackling fire and some good conversation this Christmas.
****
Review by David Randall


Album review
Artist website

Make Mine A Small One
© 2004 Eleanor McEvoy/Kieran McEvoy/Market Square Records. All rights reserved.