Just witnessed your best live gig?.. send us a review!
ROCK FEST, Cadott, Wisconsin, 21 July 2012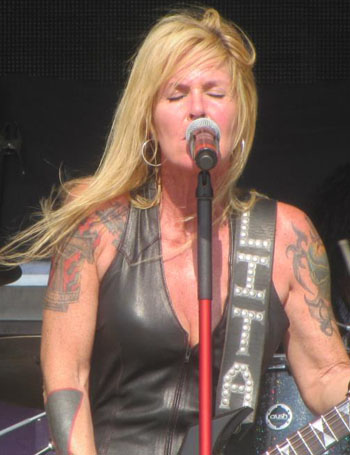 In a crowded market, many festivals would love to have claimed the name Rock Fest for themselves, but the original belongs to the Chippewa Valley Music Festival organisers who for nearly 20 years have staged this huge festival on a sloping site in the Wisconsin countryside.
Back in 2000 this was where my love affair with travelling to festivals in America began. For the next five years, the line ups of classic rock and AOR bands were beyond my wildest dreams back home, I made several life long friends and I even fell in love (but that's another story!).
Nothing lasts forever and those memories were consigned to the history books as the festival changed musical policy to chase a variety of more contemporary acts, and when I resumed my travels in 2009, I decamped to rival festival Moondance, 300 miles west across the Minnesota state line and the great Packers v Vikings divide.
However Rock Fest has emerged from the doldrums and this year's line up was arguably stronger than Moondance, even if perhaps more accurately dubbed Metal Fest, with Shinedown, Godsmack, Iron Maiden and Def Leppard the headliners with Buckcherry , BlackStone Cherry and Alice Cooper also on the bill.
The festivals overlapped, but luckily for me the final day of RF was the one of most appeal to my more commercial tastes. The Def Leppard, Poison and Lita Ford tour was hitting town with extra acts, with Sheffield's finest generously brought back to fill the headline slot they were scheduled to play last year, only for Joe Elliott's father to pass away.
For all my good memories, Rock Fest feels more corporate and less intimate than Moondance, and the most significant difference is how VIP and general punters are treated.
At Moondance, the VIP tent is at the side and a sanded standing area at the front is open to all comers. But here a sizeable area at the front is reserved seating for the American equivalent of the prawn sandwich munchers, VIP ticket holders who have paid four times the amount, but have a slap up meal and unlimited booze thrown in.
Not only does this mean that many bands, especially earlier, play to empty seats at the front, but general admission tickets have to watch from some distance back on the hill, although there is also an oversubscribed and tightly regulated picture taking line down the centre of the stage- albeit that many of the headliners refuse to allow its use.
A 5 hour drive from Minnesota meant that I was never going to catch openers Firehouse, who I would have liked to have seen, and as I hit roadwork traffic on the interstate around Minneapolis/St Paul, the prospect of making Lita Ford began to recede to.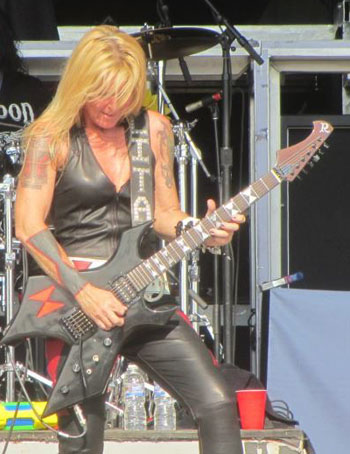 Luckily I caught the last 20 minutes or so of her set and the former Runaway seemed in excellent form. It is often forgotten she is a guitar player as much as a singer and there was some fine interplay with respected guitar partner Mitch Perry on 'Back to the Cave', and after playing a 12 string on 'Close My Eyes Forever', sadly devoid of Ozzy Osbourne, the catchy 'Kiss Me Deadly' ended what appeared to have been an excellent set.
It was ironic that 72 hours after seeing Skid Row at Moondance Jam, original singer Sebastian Bach was next on the bill. To call him larger than life hardly does him justice as he rabbited constantly and excitedly, held up various signs and obscene props, and seemed to be going for a Guinness world record for the frequency with which the 'F' word was used - in short, he was 43 going on 17.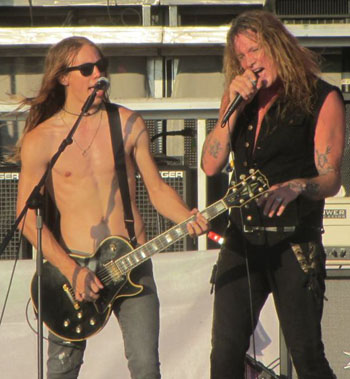 The set mixed a series of Skid Row classics - 'Slave to the Grind', 'Piece of Me', 'Here I Am' and 'Monkey Business' to name but a few - with solo material like 'American Metalhead' and the impressive 'Tunnel Vision'.
His band were excellent but, like his contemporaries Vince Neil and Axl Rose, it was apparent some of the depth has gone out of his voice which has become a rather raspy, screeching whine that at times missed out some of the lyrics. Nevertheless the likes of '18 and Life' and 'Youth Gone Wild' sparked a frenzy in the crowd and it was an enjoyable set provide you did not analyse too closely.
Few bands divided opinion in their heyday as much as Poison, who were seen either as the epitome of the empty headed glam scene that grunge had to sweep away, or the best purveyors since Kiss of good time music and a mixture of sleazy image and catchy songs.
Year after year in the States, often on package tours like this, they prove they can still put on a spectacular show, even if it is rooted firmly in their glorious past. Indeed the one song not taken from their first three albums was a cover of an even earlier vintage, 'We're an American Band' which I'd seen Grand Funk Railroad do just 24 hours before.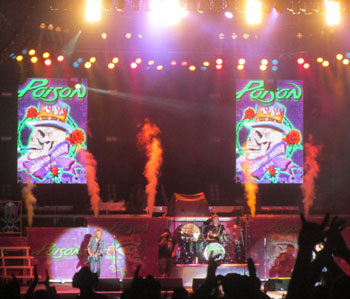 On this occasion, the atmosphere for them was the best of the whole day, from the moment 'Look What the Cat Dragged In' had people singing along, and it helps that all-American hero Brett Michaels and guitarist CC DeVille, who does seem to have become more competent than in his heyday are both natural showmen.
'Ride the Wind' and 'Your Mama Don't Danc', preceded by Brett's harmonica playing, are made for crowd participation, while 'Every Rose Has its Thorn' got couples smooching and lighters waving.
There were low points too - 'Unskinny Bop' is as egregiously vacuous as ever, and time was wasted with a CC guitar solo and Rikki Rockett even donning a Bonham-esque bowler hat as he played a drum solo modelled on Moby Dick.
However 'Fallen Angel' is a too often overlooked song and there cannot be a band that can reel off two better glam rock party anthems than 'Nothin But a Good Time' and 'Talk Dirty to Me' to end a set. In the debit column though they only played 55 minutes, shorter than both the bands that preceded them.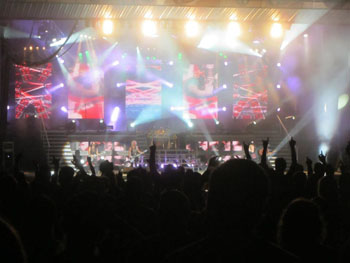 A Def Leppard gig guarantees quality and attention to detail, from the stage set up, a backdrop of five video screens and lights show, to the sound, to the slickness of the music and the vocal harmonies. This was no exception but the show started slowly with new song 'Undefeated' with Joe Elliott's voice taking on a slightly different, gravelly tone, 'Rocket' and 'Let it Go' and 'Foolin', the latter sounding considerably less powerful than when the original line-up recorded them. The crowd seemed subdued and Joe appeared to really be having to pull out all the stops to energise them.
The setlist was also shaken up and I was surprised how early the big hits 'Animal', 'Love Bites' and 'Lets Get Rocked' were placed in the set, to the extent I was briefly worried they were doing a shortened set.
But it was to create space for a few changes - marking Hysteria's 25th anniversary, in addition to 'Women', 'Gods of War' got a rare airing, with great sound and lighting effects, even if Joe's voice struggled a tad. It was one of my favourite tracks on the album on release but such was the way the singles dominated the airwaves it was sad to witness how few people here even recognised it.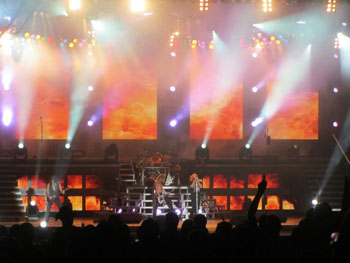 Then during the acoustic segment, where Joe was joined by the whole band, even Rick Allen, they dipped further into the archive with 'Where Does Love Go When it Dies' - the 'Slang' number apparently never before performed live - 'Now' and 'Have You Ever Needed Someone So Bad' part of a medley alongside the more familiar 'Two Steps Behind' and 'Love and Hate Collide'.
I loved Bringing on the Heartbreak getting the full electric treatment and Phil Collen and Vivian Campbell's jousting guitars on the instrumental 'Switch 625' before Joe returned for the traditional run in of one hook-filled hit after another - 'Hysteria', 'Armageddon It', 'Photograph' and 'Pour Some Sugar On Me', and an encore of 'Rock of Ages'.
Predictable yes, as indeed was Joe's 'don't forget us Wisconsin and we won't forget you' sign off, but a timeless reminder of how they brought heavy rock into the mainstream better than anyone.
It was a night to be transported back in a time machine to hair metal's heyday in the eighties, yet Def Leppard and Poison in particular can still put on a spectacular show.
Let's hope Rock Fest takes heed and continues to find a balance between new favourites and the tried and tested classic acts, who have got these festival shows down to a fine art and give the people what they want.


Review and photos by Andy Nathan
Summerfest, 3-8 July
Loopfest, 13 July
Moondance Jam, 19-21 July
---