Just witnessed your best live gig?.. send us a review!
GRTR!'s Andy Nathan made an enviable pilgrimage to the USA in July for a month of serious gigging. The first of his four reports starts in Milwaukee...
SUMMERFEST, Milwaukee, 3-8 July 2012
Milwaukee's Summerfest, the world's largest music festival, this year celebrated its 45th anniversary. Normally it is a festival I attend every few years as a treat, but having enjoyed the time of my life on my previous visit last year, and cemented many good friendships, I needed no excuse to return.
On this occasion I could only attend for the second week of an 11 day festival but the luck of the draw meant that I could still see a number of bands I wanted to, including two of the large shows in the 23,000 capacity Marcus Amphitheatre which is at the heart of the festival site (and the only one of the 11 stages where a ridiculously cheap general admission is not valid).
Tuesday 3 July 2012 - Joe Walsh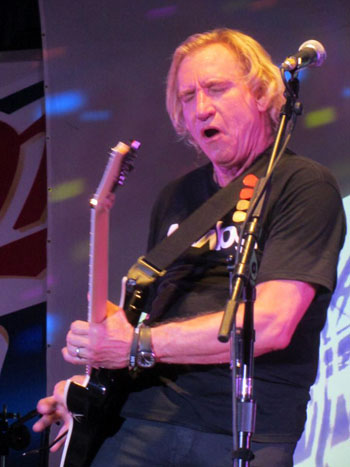 Within 4 hours of hitting terra firma in nearby Chicago, it was straight off to the Fest, to soak in the atmosphere, and catch up with friends from previous trips, then in the evening to catch Joe Walsh on the Miller Lite stage.
The Eagles guitarist reached pensionable age this year - though he has already been portraying a doddery image for many years - but his blues influenced, yet always creative, guitar playing can never have sounded better while his facial grimaces are always entertaining to watch.
Despite a slow start with the likes of the acoustic driven 'Life Of Illusion', the set choice was excellent and covered most of the bases of his long career - solo material like 'Rocky Mountain Way' - surprisingly early in set with his trademark bottleneck slide guitar and a talk box solo - and the epic 'Turn To Stone', James Gang favourites like 'Walk Away', the Led Zep like 'The Bomber' and 'Funk 49' and Eagles songs associated with him like 'In The City'.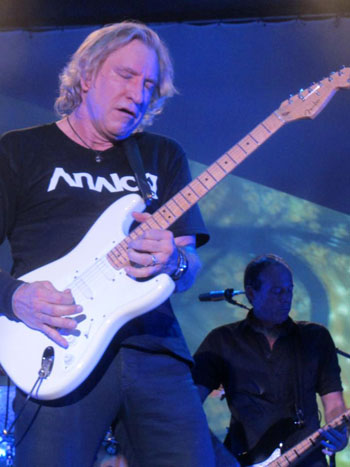 Surprisingly, given that right down to his T shirt he was promoting his first album in 20 years, Analog Man, only two songs were played from the album. Moreover, his voice throughout was rather thin and drowned out, so, on both the title track and 'Lucky This Way', people would have been unable to make out some of his trademark witty self deprecating lyrics.
A lengthy 'Life's Been Good', Joe departing his position to charge from one side of the stage to the other, and 'Life In The Fast Lane', where the trio of backing vocalists in a surprisingly large band supplied the choruses, got the atmosphere cooking.
As for the encores, 'I Love Big T*ts' is not much of a song and the joke long ago wore thin, but the party anthem 'All Night Long' sent us all away singing it into the night after an enjoyable set.
Wednesday 4 July - Iron Maiden and Alice Cooper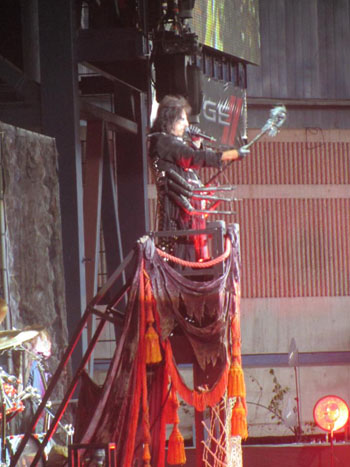 What better way can there be to celebrate 4th July than a show with my fellow Brits Iron Maiden? To add to the sense of occasion, Alice Cooper provided support in the city whose history he famously explained to Wayne and Garth in Wayne's World.
Given only a 50 minute set, he and his primarily young band tore through a set of classics across the years- from Black Widow to Brutal Planet, but with a bigger emphasis than you might expect on his late 80's and early 90's hits with 'Poison', 'Hey Stoopid' and 'Feed My Frankenstein' all going down well.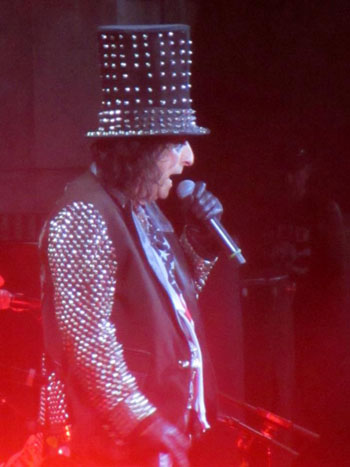 We still got most of his props too, including the dollar bills, a giant Frankenstein, guillotine and giant balls floating around the amphitheatre as Schools Out generated its usual party atmosphere.
---
...this was a vintage Maiden show not far short of their 2008 Twickenham show which sets the benchmark for me.

---
Unfortunately my top price seat in the front block was right at the point where the seating curves beyond the front of the stage and my view was mainly of a speaker tower, but as the lights dimmed and Iron Maiden came on stage I spotted some unoccupied seats and sneaked into a slightly better position.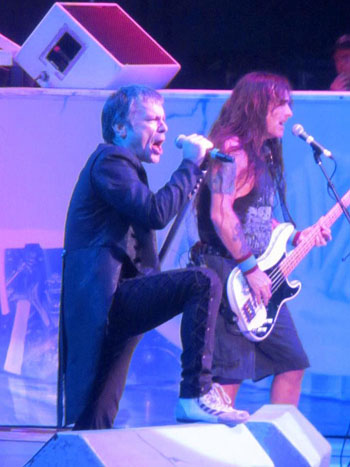 Maiden's summer USA extravaganza sees them recreating the Seventh Tour of a Seventh Tour, complete with its ice blue stage set. Ironically, Bruce Dickinson explained that despite this being the world's largest music festival, the stage was too small to fit the full range of stage effects (although telling punters who had spent up to 90 dollars to go to Chicago to see the full show may not have been tactful).
Maiden have always prepared elaborate stage sets and this still looked pretty spectacular to me, even if we were deprived of Eddie's customary appearance during set closer Iron Maiden.
The band deserve great respect for moving forward and having faith in their newer material, but as a seasoned fan I will admit to preferring to hear a set of oldies, so this setlist was right up my street and I hope, maybe in vain, it reaches their home country.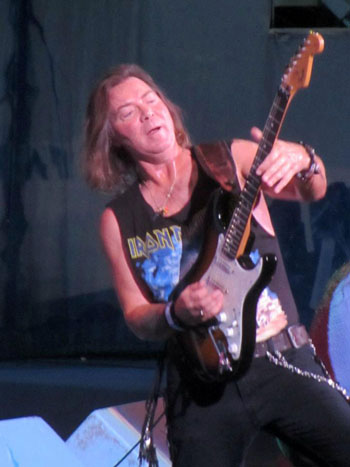 All the Maiden trademarks were in place, from the three guitar attack – typically with Dave Murray playing first solos within a song, Adrian Smith following suit and Janick Gers a bit of a spare part at times, to Steve Harris with his foot on the monitors machine gunning the front rows with his bass, though oddly it seemed lower in the mix than usual at a Maiden show.
The energy with which Bruce hurtles from one side of the stage, across the walkway and down to the other to work the crowd is little short of incredible for a 50 something man, yet his voice is in as good shape as ever, even if these days he avoids reaching for the highest notes that used to give him the nickname the human air raid siren.
Opening with a Seventh Son of a Seventh Son duo of 'Moonchild' and 'Can I Play With Madness', the album naturally featured heavily including the rarely played title track, although until a frenzied guitar climax it is one of the less interesting of their epic songs.
They did not stick too closely to the script, with two tracks from 1992's Fear of the Dark - the title track which has become the song they dare not omit from the live set, and one of my favourite ever Maiden songs 'Afraid To Shoot Strangers', whose stately military beat, twin guitar solos and anti-war theme make this a son of Wishbone Ash's Throw Down The Sword.
4th July or not, Bruce was still brandishing his giant Union flag during 'The Trooper', and the way 'Number of the Beast' and 'Run To The Hills' - with a giant soldier battling the band on stage - were slipped into the middle of the set shows the strength of the catalogue of Maiden's peak years.
Other interesting moments included the return of 'The Prisoner', a superb version of 'The Phantom of the Opera' once the epic they always had to play but not in the live set for a long time, and 'Wasted Years', the reaction suggesting that was one of their biggest hits in America.
As a bonus the first encore was 'Aces High', a rollicking tune which it is surprising has not been more of a live mainstay over the years, before 'The Evil That Man Do', the one '7th Son' song that has consistently stayed in the set, with the band joyfully messing about, and finishing in more traditional style with 'Running Free', complete with band introductions and singalongs.
Surprisingly 'Hallowed Be Thy Name' was omitted but, missing props aside, this was a vintage Maiden show not far short of their 2008 Twickenham show which sets the benchmark for me.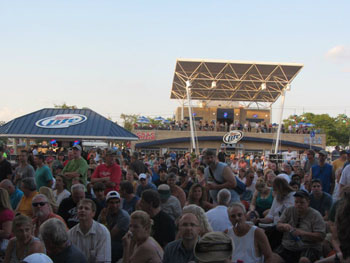 Thursday 5 July

Wall to wall music from noon to midnight on the 11 different stages is the order of the day at Summerfest and my original plans for the following day were to see Burton Cummings, former lead singer of the Guess Who, who had been very enjoyable at last year's Moondance Jam.
However seeing a covers band called the Barbeez play, I was carried away living the dream of a British based AOR fanatic and never made it out of the tent they were playing, rocking out to a diet of Styx, Aldo Nova, Journey The Outfield , The Cars, Eddie Money and others.
---
A genuine original, verging on eccentric, DDY provided one of the shows of my American trip and I left thinking it is a shame that too much water may have passed under the river Styx bridge to make a reunion possible.

---
Friday 6 July - Dennis De Young: the Music of Styx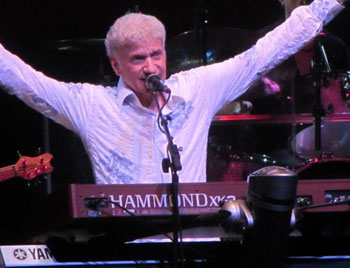 In previous years most of my Summerfest business was conducted at the Classic Rock stage at the far end of the site. However as the stage with the most basic facilities it was ripe for reform, and has been replaced by a new facility, the BMO Harris Pavilion.
With around 5000 mainly covered seats, a perfect sound and ships sailing Lake Michigan visible behind the stage, the facility is excellent but it now covers all musical genres with the result that classic rock has been marginalised somewhat.
However the Pavilion did play host to one of the few names on my list I've never yet seen, Dennis De Young. Founder member of Styx and lead singer on many of their biggest hits, he parted company with them after musical and personal differences but is on a mission to lay claim to his legacy.
Veteran Milwaukee Legends Bad Boy, who are a fixture at these festivals, warmed things up nicely with an enjoyable set of timeless melodic hard rock, with Steve Grimm and original Cheap Trick singer Xeno working together nicely, sharing lead vocals and guitar duties.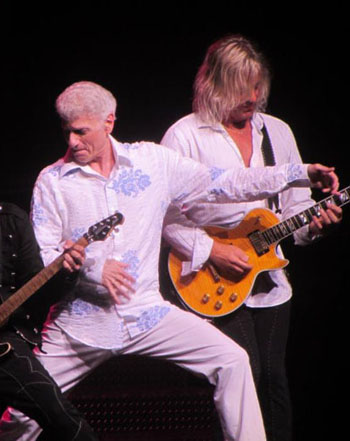 From the moment he comes on stage, his silver bouffant matched by being dressed head to toe in white, DDY cuts a singular character, and his style was drawing comparisons to Barry Manilow or even Liberace.
He also has a sardonic wit, introducing himself by saying he lived in a southern suburb of Milwaukee - Chicago - and bantering about the fortunes of the rival sports teams and even the US election.
His band were excellent, including a full time keyboard player, allowing Dennis either to sing out front or take a turn at his organ or synthesiser as the occasion demanded.
The gig was billed as 'the music of Styx - the grand reopening' and indeed the opening trio of Grand Illusion, Lady and Lorelei occupy a similar position as staples of Styx's live set.
The two guitarists even looked superficially like the Styx pair and indeed the peculiarly named August Zadra does a fine, if somewhat less high pitched, job singing the Tommy Shaw songs so that the likes of 'Blue Collar Man' and 'Too Much Time On My Hands' make for a more balanced set.
However the real pleasure was hearing songs not part of the current Styx setlist, and the likes of 'Show Me The Way' were sung in crystal clear fashion by a man whose voice has barely changed at 65, while one of the highlights of the set was his solo US hit 'Desert Moon', leading to a long but mellifluous solo by the more impressive of the two guitarists, ex John Waite cohort Jimmy Leahey.
'Mr Roboto' got one of the best reactions of the night, though Dennis's surreal conversation with a corpse of said character ('whats that? - he says its Miller Time'!) was taking his eccentricity too far. For my part, the relative obscurity 'Born For Adventure' was a particular treat, introduced by some spot on vocal harmonies and with the twin guitarists rocking out.
Both that and 'Rockin The Paradise' proved he could still belt out rockier numbers, then after saying how 'Babe' had been written as a birthday present for his wife Suzanne and originally not intended for recording, he shocked the crowd by introducing the backing singer afterwards and it was her!
After Suite Madame Blue and Fooling Yourself, Dennis taking to his synthesiser for a marvellously over the top solo, channelled the great pomp rock of the mid seventies, 'The Best of Times' was another of his trademark ballads that Styx no longer play.
After joking at the charade of encores and asking the crowd to pretend that was what had just happened, 'Renegade' and 'Come Sail Away' were the songs that just had to close a near 2 hour show.

A genuine original, verging on eccentric, DDY provided one of the shows of my American trip and I left thinking it is a shame that too much water may have passed under the river Styx bridge to make a reunion possible.

Saturday 7 July - Aerosmith and Cheap Trick

One of the main draws for returning to Summerfest was to witness a double bill of Aerosmith and Cheap Trick, two American bands whose longevity and originality of style mean the word legend for once is not overused. Sure enough, the Marcus Amphitheatre was packed to capacity on a hot Saturday night.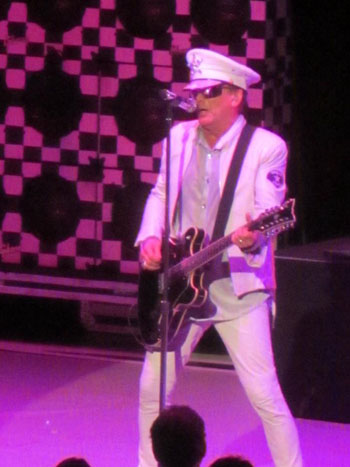 Cheap Trick were given a generous hour long set, and whereas their own shows feature a bewildering ever-changing setlists geared at the diehard fan, here they wisely stuck to a greatest hits set - far more so than in their disappointing Download appearance in 2011.
However somehow their garage band style, plus the fact singer Robin Zander seldom speaks between songs, seems more suited to clubs and smaller venues than to stadia.
The covers of 'Aint That a Shame' and 'California Man', together with recent song 'Sick Man of Europe', were gearing the show up nicely but the lengthy 'Need Your Love' rather killed the momentum, before it picked up with 'Surrender'. Robin sounded superb on the US No 1 power ballad 'The Flame', although it fits rather incongruously in their set.
Encouragingly the crowd were on its feet singing along to 'I Want You to Want Me' and 'Dream Police', before 'Goodnight Now' saw Rick Nielsen belatedly bring out his famous five necked guitar (though after an afternoon on a boat tour of the breweries that make Milwaukee America's beer capital, my friend and I could spot far more than five!).
---
AEROSMITH: from my vantage point exactly half way back they failed: the lights show was average, the band seemed obsessed with performing to the lucky fans next to the catwalk, not the whole arena, Steven appeared more interesting in preening than communicating, and when he spoke he was incomprehensible.

---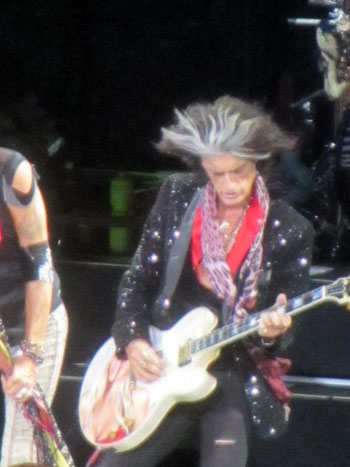 Surely Aerosmith could not fail? Well, things got off to a good start as they made maximum use of a catwalk jutting out onto the front of the stage and surprisingly opened with Draw the Line, usually placed much later in the set but a perfect showcase for Joe Perry's ragged yet effortless guitar licks, while Love in an Elevator and Livin on the Edge kept the pot boiling nicely.
Looking almost a caricature of himself with giant pouting lips and scarves tied to every part of the body, Steven Tyler seemed in good form despite having recently had to cancel shows through illness.
Meantime the often neglected and now rather grizzled Brad Whitford was ushered forward for some tasty bluesy solo work on 'Last Child'. But somehow the 'Smith managed to blow it.
Stadium shows rest on being able to carry off a distinctive and deceptively simple formula: play your best known songs, put on a big show, and communicate with the audience in a way that the punter at the back feels they are a still a part of a show.
You would expect Aerosmith to rank with the very best who can carry this off, from the Stones to Springsteen to Bon Jovi.
But from my vantage point exactly half way back they failed: the lights show was average, the band seemed obsessed with performing to the lucky fans next to the catwalk, not the whole arena, Steven appeared more interesting in preening than communicating, and when he spoke he was incomprehensible.
Moreover the understandable need to rest his voice related in a lot of padding with a long drum solo from Joey Kramer, accompanied by a percussionist, and guitar solo from Joe.
Worse still, for a good 45 minutes in the middle the set was almost entirely new songs or some of the more obscure tracks from their early 70's albums that passed me and I am sure 90% of the crowd by.
'Dude Looks Like a Lady' was inexplicably dropped long ago from their set, but many will have queried the absence of big hits like 'Cryin' and 'I Don't Wanna Miss A Thing'. And surely the likes of 'Mama Kin', 'Back in the Saddle' and 'Same Old Song' and 'Dance' would have been better reminders of their original sound?
All this meant that a hot and restless crowd were subdued and the occasion lacked atmosphere. Belatedly the gig came to life with the ever cool Tom Hamilton's bass solo leading into 'Sweet Emotion' and after some scat singing from Steven including 'Mother Popcorn', 'Walk This Way' had the crowd moving, singing along and clapping as he bothered to encourage participation for virtually the only time in the night.
Highlight of the night was probably a superb version of 'Dream On' to open the encores, with Steven sounding great while seated at a white grand piano on the walkway and Joe playing a solo perched on top of it, before a surprisingly short 'Train Kept A Rollin'.
However it could not hide that on the evidence of this show, a band who provided some of my most fondly remembered gigs on their first couple of visits to England in the late 80's, are coasting towards decline.

Sunday 8 July - Squeeze and Halestorm

One of the pleasures of Summerfest are the cheap entry deals and in a great gesture to the community, any customers arriving before 3pm were admitted free on the final day.
It wasn't a particularly strong day for me music wise, but it meant I got to see Squeeze for nothing, compared to their London show later this year costing a cool (for cats) £40.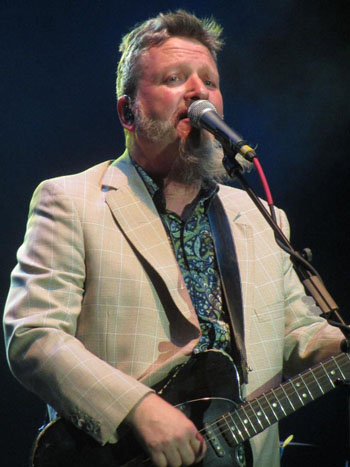 Not having followed their career too closely, I did wonder whether they would play newer and more unfamiliar material so was delighted when they opened with 'Take Me I'm Yours' though Glenn Tilbrook's bizarre beard blowing in the breeze distracted my attention.
Some newer material like 'Top of the Form' also convinced while the band were very well drilled, were backed by quirky video graphics and Glenn played more lead guitar than I expected.
Chris Difford, looking like an off duty undertaker, introduced a song that he joked was a cover by Neil Diamond, who was playing the Marcus Amphitheatre at the same time, and gave 'Cool For Cats' his usual deadpan delivery, slightly differently arranged with a guitar solo in the middle, and it led straight into 'Up the Junction' which with its kitchen sink drama lyrics and catchy keyboard melody is surely one of the best singles of the new wave era.
Indeed as the set wore on, one classic Difford and Tilbrook penned song followed another with the likes of 'Annie Get Your Gun', 'Pulling Mussels From A Shell', the almost acapella 'Goodbye Girl' and 'Tempted'. Although the first encore of 'Slap and Tickle' with Glenn playing a portable keyboard was a low point, 'Black Coffee In Bed', with a great white soul groove, ended the show in style. This was a top show, causing me to think Squeeze are a British institution that maybe we should cherish more.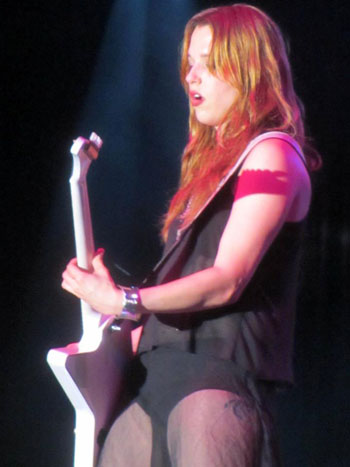 As a bonus, their set ended earlier than expected and I rushed to the rock stage hoping to perhaps catch the last song by Halestorm, but instead saw the last 25 minutes of their set.
They seem to have come on in leaps and bounds, and long-legged newly blonde singer Lizzy Hale is both a fearsome, feisty singer (epitomised by the song 'You Call Me a Bitch Like Its a Bad Thing') but quite a tasty co lead guitarist.
Their encores of 'I Get Off' and the lighter waving 'Here's To Us' only whetted the appetite for their headlining show back home in the autumn, and provided the cherry on the cake of a very diverse, but memorable, six days at this Mecca for music lovers.


Review and photos by Andy Nathan
You can use the direction keys on your keyboard to navigate easily through the photo gallery. If using Windows, you can flick between photos using your mouse wheel
Loopfest, 13 July
Moondance Jam, 19-21 July
Rockfest, 21 July
---