Just witnessed your best live gig?.. send us a review!
LOOPFEST, Toyota Park, Chicago 13 July 2012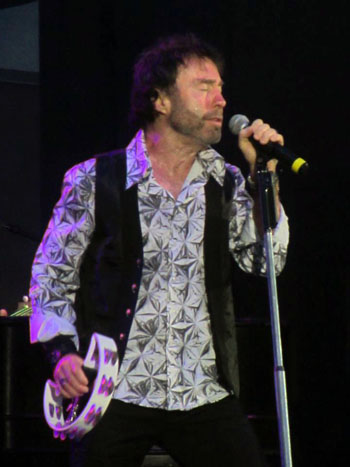 Any visitor to Chicago will recognise The Loop as the downtown district enclosed by the 'L' elevated subway. But to those in the know, it is also the windy city's long running classic rock radio station who have also promoted their own festival.
After a few years away it was reconstituted this year in truncated form as a one night festival at Toyota Park, which is the home of the Chicago Fire soccer team (or football as we would rightly call it). Coming during my ten day down time between Summerfest in nearby Milwaukee and Moondance Jam, with three of my favourite bands playing this was too good an opportunity to miss.
First impressions were underwhelming - the venue was in a nondescript suburb some way from downtown, and the stadium seemed oversized with temporary seats barely covering half the pitch and huge gaps in the stands. Yet the pitch seating extended well beyond the width of the stage, and our party could barely see from our second row seats at the side before unilaterally deciding to move towards the middle for a better view.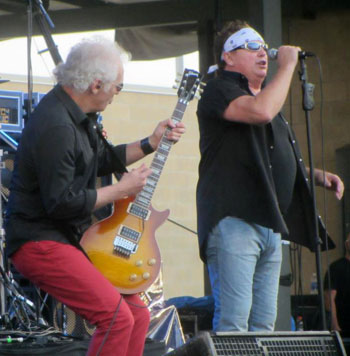 Loverboy came on stage at 7 while doubtless many of the crowd were still negotiating the Friday rush hour or having tailgate parties in the parking lot. Compared to their main summer activity, supporting Journey and Pat Benatar, the Canadian melodic rockers may have been slightly out of place on the bill but not having seen them since 2006, I was not going to pass up on the opportunity.
When I had seen them previously, their set had drifted somewhat but on this occasions they stuck to a classic set of some of their punchiest numbers, opening with the Bon Jovi co penned Notorious and the one surprise of the set, Queen of the Broken Hearts. Mike Reno may be fuller of girth than of old, but the trademark bandana round his forehead and more importantly his crisp clear voice are still there.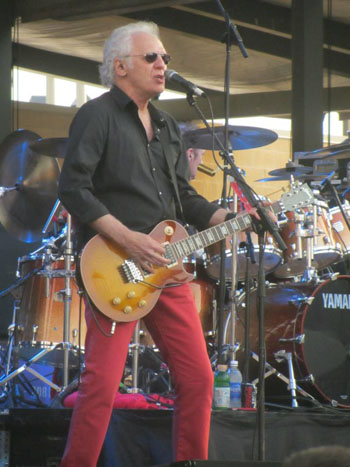 Silver haired Paul Dean played some slick, economical riffs and solos, with Doug Johnson's keyboards prominent but nicely complementing his guitar sound. 'The Kid is Hot Tonite' was excellent and 'Hot Girls in Love', 'Lovin Every Minute of It', 'Turn me Loose' and 'Working for the Weekend' progressively warmed up a growing crowd , ladies of a certain age shaking their thing down the front, but the set was over all too soon after a fun 35 minutes.
Paul Rodgers spent the first part of the summer touring Europe with Bad Company but was now fronting his own band. There was little difference in the setlist though with a crowd pleasing selection focused almost exclusively on the Bad Co. classics that still get radio airplay in the states.
However getting the crowd to sing most of opener 'Can't Get Enough' seemed unnecessarily cabaret, given the quality of his own voice. 'Honey Child' and a surprisingly early 'Feel Like Making Love' followed, Howard Leece performing wonders as he swapped between mandolin and guitar with both strapped around his neck, before Paul took to piano for a very satisfying Running With The Pack, with twin guitar solos.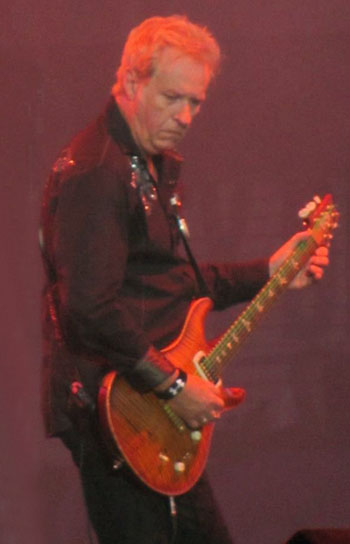 A surprisingly good 'Satisfaction Guaranteed', from his short lived The Firm days, and a new song broke the Bad Company monopoly, but both Bad Company and 'Burnin Sky' sounded superb with dramatic sound effects and on the latter second guitarist Markus Wolfe played a fiery solo, if you will pardon the pun, to match.
These days the velvet tonsilled Teesider is a master at working the crowd, albeit in slightly hammy fashion, with simple gestures and 'Shooting Star' and 'Rock n Roll Fantasy', with a snatch of Ticket to Ride, turned the stadium into a mass singalong.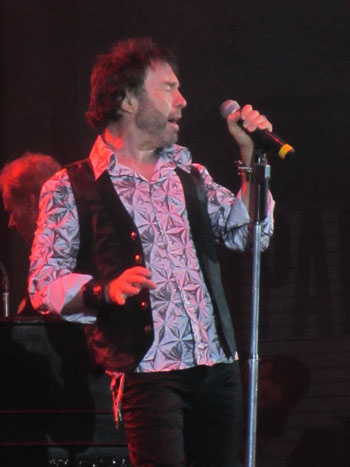 The set was over too soon but he was called back for an encore of 'All Right Now', Todd Ronning and Howard doing more justice to the bass and guitar interplay of the original than most of the previous bands I have seen accompany Paul.
Again, while I would have loved a set longer than the shade over an hour he was allocated, it was another memorable performance from a man who like the proverbial fine wine improves with each of his 62 years.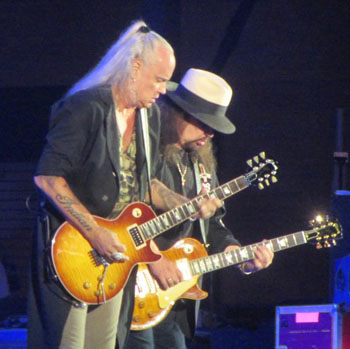 Lynyrd Skynyrd are among my favourite bands but having seen them do their standard greatest hits set only six weeks previously in London, there was a danger I would feel jaded by their performance. However the atmosphere became something special, particularly as a relaxed approach to stewarding meant diehards were able to get down the front and ignore the reserved seating. A rowdy Friday night blue collar crowd may have been mid- western by birth but were redneck by nature, and indeed a few began to fight - and that was just the women!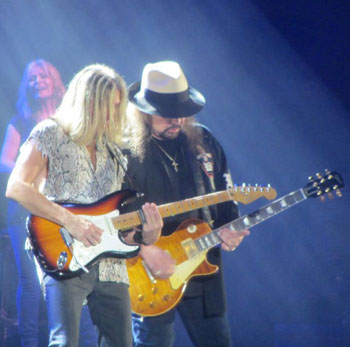 The other surprise was that Skynyrd actually kicked off with a the title track of their upcoming album, Last Of A Dying Breed, which like many of their more recent songs has a defiant autobiographical feel. Fittingly it featured a solo from Gary Rossington, keeper of the Skynyrd flame.
Indeed that was not the only change in the set - a second newie, 'One Day at a Time', combined a laid back mid-tempo feel with bluesy old-style Coverdale vocals from Johnny Van Zant, while their medley of songs included the 'Ballad of Curtis Loew', given a more contemporary sounding country rock treatment and 'Swamp Music', not to mention one of the highlights of the set as Ricky Medlocke's lead guitar during 'Needle and the Spoon' called to mind some of Eric Clapton's wah-wah solos in his Cream days.
All of the classics were present and correct including 'That Smell', 'What's Your Name', 'Saturday Night Special' and the epics 'Tuesday's Gone' and 'Simple Man', inevitably dedicated to the US troops that the band are such keen supporters of.
Moreover, as usual the choreography of a Skynyrd show was immaculate, with Ricky and Mark Matejka in particular synchronising their guitar moves. Indeed as I sought suitable photo opportunities I noticed the extent to which the genial Johnny almost takes a back seat, at least judging by the way the spotlights usually seemed to pick out his band mates.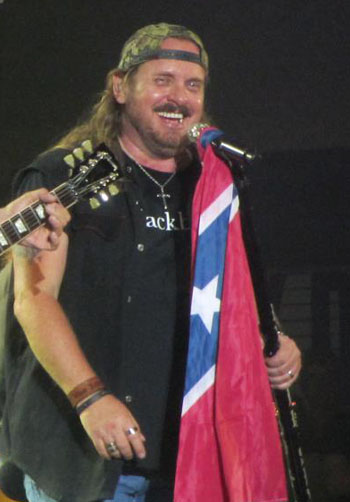 As darkness fell, each crowd pleaser - 'Gimme Three Steps', 'Call Me The Breeze', with the usual honky tonk piano from Peter Keys and synchronised stage moves, and 'Sweet Home Alabama', with Johnny brandishing a confederate flag turned the night into an ever more raucous party and you could tell from the smiles on the faces of the band that there was a genuine spontaneous bond between them and the crowd.
Every Skynyrd show encores the same way as, to a backdrop of a giant eagle, and Johnny quoting his late brother Ronnie 'what song is it that you wanna hear', they are the one band where a cry of 'Freebird' actually does result in that legendary song being played.
The mournful long slide guitar solo from Gary, and the frenzied guitar jam and flashing mirrorball that follows, are never less than special, but somehow the atmosphere on this night made them even more so.
The setting was hardly a beautiful one, and the attendance was probably short of what the radio station hoped, but in their own differing ways three top acts contributed to a memorable evening.


Review and photos by Andy Nathan
Summerfest, 3-8 July
Moondance Jam, 19-21 July
Rockfest, 21 July
---