Just witnessed your best live gig?.. send us a review!
TOUCHSTONE/Heather Findlay
Borderline, London, 14 October 2011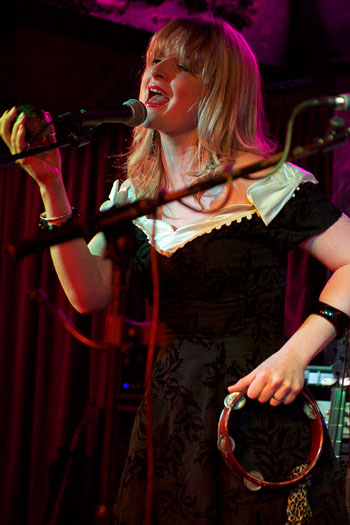 To promote the release of their third studio album The City Sleeps, Hertfordshire prog-rockers Touchstone embarked on a very short tour of the UK (Poole, London, Newcastle and Bilston) supported by former Mostly Autumn singer Heather Findlay.
Arriving only minutes after the doors were due to open I was a little surprised not to find a long queue of people waiting outside to get in... descending the stairs, it soon became obvious that the doors had opened early as The Borderline was already over three-quarters full with a buzzing and expectant crowd.

To open up proceedings Heather Findlay, joined by her erstwhile Mostly Autumn colleague Chris Johnson, offered us an hour long acoustic set made up of three of the five songs from her new EP 'The Phoenix Suite' (co produced by Chris), a few old Mostly Autumn numbers ('Yellow Time', 'Blue Light' and 'Evergreen') 'Magpie' from 'Odin Dragonfly' and some of Chris's own compositions from other projects.
I'll be honest and admit that I've never been a huge fan of Mostly Autumn's mainly ethereal sound, but having downloaded and listened to 'The Phoenix Suite', a departure into heavier waters for Heather, I was actually looking forward to hearing the new songs played live.
To say I was disappointed would be an understatement. I'm no great fan of 'unplugged' sessions either, and this first set of songs reminded me why.
Few songs written for a selection of instruments ever sounds as good when played with just one guitar... however accomplished the guitarist may be.
The spiky pop-rock flavour of the new album's third song (and the opener on the night) 'Cellophane', was lost into nothingness as was 'Phoenix' and the final song of the set, the otherwise beautiful albeit heavy 'Mona Lisa'.
It was almost as if, having trodden a heavier route with the new EP, Heather decided to play the new songs in a Mostly Autumn way. That both Heather and Chris have good voices and that Chris is an accomplished guitarist are not in question...the problem lay in stripping down complex and heavier songs to just one guitar and a tambourine; a step too far for this reviewer. I prefer to reserve judgement for when Heather Findlay returns to the road with a full band.

Set List: Cellophane, Phoenix, Gaze, The Dogs, Yellow Time, Out of Season, Magpie, Blue Light, Evergreen, Silver Grass and Mona Lisa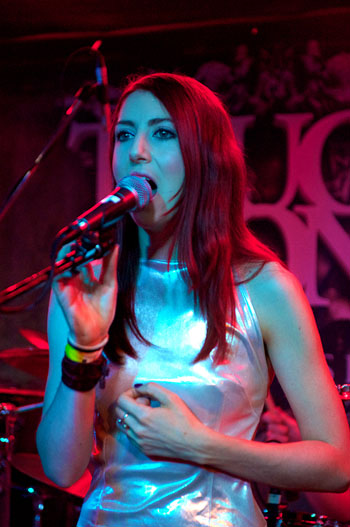 Opening up with 'Shadow' from the 'Discordant Dreams' album of 2008, Touchstone soon ripped into some of the new songs from 'The City Sleeps' with 'Good Boy Psycho', a song with heavy metal riffs in the background and haunting, swirling melodies perfectly delivered by Kim Serviour at the forefront, and 'Horizons' another melodic song with heavy riffs smashing through every now and then.
Given it was an album launch tour, much of the material that was played were the new songs, but interspersed amongst them were 'Zinomorph' and 'Joker in the Pack' from the glorious 'Wintercoast' album and 'One Shot' from the Mad Hatters EP of 2007.

Paul 'Moo' Moorghen on bass and drummer Henry Rogers are the driving force of the band, with 'Moo' taking an ever more important role in providing the heavy riffs, allowing Adam Hodgson to add his own shredding guitar licks to build the layers.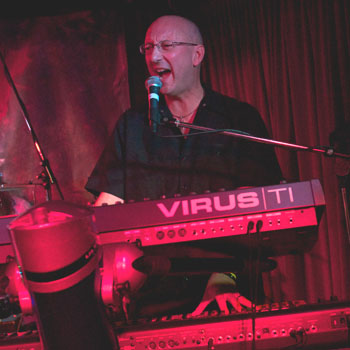 On top of that founder member Rob Cottingham adds his own expansive keyboard flourishes which are ably complemented by Kim Serviour's vocals. All five are accomplished musicians in their own right, but the obvious chemistry within the band, to use an old cliché, makes them greater than the sum of their parts.

'Wintercoast' was a superb album, and on this first impression the new album looks like it will be every bit as good, if not better. Certainly the finale on the night of 'Half Moon Meadow', 'These Walls' and the title track 'The City Sleeps' left me wanting to press the rewind and play buttons of my life so as to hear it all again.
Their symphonic metal style of prog may not appeal to a mass market sadly saturated by Hip-Hop/RnB and The X Factor, but for those who enjoy listening to well crafted multi-layered music with intelligent lyrics, Touchstone hit all the buttons.

Set List: Shadow, Good Boy Psycho, Horizons, Zinomorph, Throw Them to the Sky, Joker in the Pack, Corridors, One Shot, Half Moon Meadow, These Walls, The City Sleeps


Review and photos by Bob Singleton
---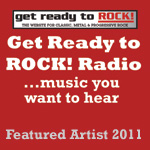 ---