TOUCHSTONE The City Sleeps SPV (2011)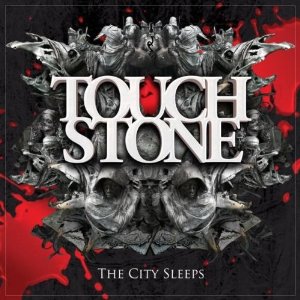 Touchstone have been gaining some rave reviews of late including ones from my fellow GRTR! colleagues. They have also signed to SPV for this, their third studio album, plus it marks the recording debut of drummer Henry Rogers.
Expectations are high and thankfully Touchstone meet them and then some. The band have mixed musical influences and this comes through in the music. From some serious hard rock guitar on 'Throw Them To The Sky' through to the Mike Oldfield-approved musical build-up on 'Corridors Epiphany', where each instrument comes in one by one. A song like 'These Walls' sounds like a female fronted Thunder or The Answer, enjoyable solid hard rock.
'Good Boy Psycho' has an interesting lyric and suitable music to go with scary subject matter. This would make an excellent song for a horror movie soundtrack.
The title track is the next intsalment of the band's 'Wintercoast' story. The features the vocal talents of Kim Seviour, who reaches some angelic notes throughout the song, along with Rob Cottingham (a busy man as he also handles keyboards for the band). They complement each other well and listen to the power metal approved rhythm section. A real tour de force from the band.
One other song worth an individual mention is 'When Shadows Fall'. Building from a keyboard intro reminiscent of Pendragon the music suddenly stops, a quick burst of piano and heavy backing then in come some glorious synths. All this in under four minutes of the song beginning and then the vocals kick in leading the song down a prog rock route in the backing music and melodic rock on the chorus. It works very well and I really love the keys on this song.
There are a lot of female fronted prog rock bands out there, many not that great once you give them a few listens but Touchstone have the vocals, music and songs. They can satisfy the prog rock fans plus draw in those who wouldn't normally give prog rock a look-in.
****½
Review by Jason Ritchie
Special feature

Interview (August 2011)
---
| | |
| --- | --- |
| | Print this page in printer-friendly format |
| | |