Just witnessed your best live gig?.. send us a review!
TANGERINE DREAM
Lowry Theatre, Manchester, 28 May 2011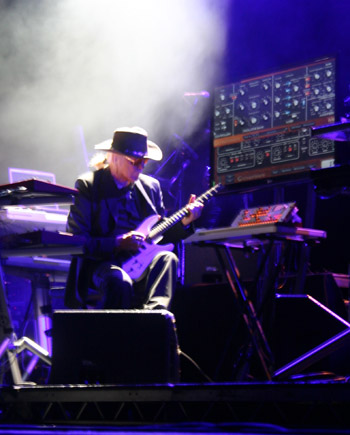 The 'Gate of Saturn' was Tangerine Dream's theme for this one UK date. While I was pleased they were there, I am also intrigued as to why it was just the one.

The presentation was professional. Dare I say, efficient? Set lists were placed on our seats and when the curtain rose, we discover the full stage set up of three synth players, founding member, Edgar Froese (keyboards and guitar), Thorsten Quaeschning (keyboards and sequencing), Bernhard Beibl (guitar), Linda Spa (keyboards and wind instruments) , Iris Camaa (percussion) and Hoshiko Yamane (electric violin).

Tangerine Dream are visually a tour de force. Yes you read that right. Now a six piece, three absolutely stunning and talented women are what greets a TD audience today. This was in stark contrast to when I last saw a TD trio play with their backs to the audience in 1980. My seat was positioned in front of Yamane and Camaa and I was unashamedly bewitched. Well I am a heterosexual male after all!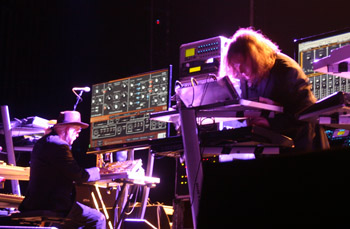 Zoom (Click large image to cancel)
Quaesching too engages the audience with little nods, smiles and meditative stares. Froese cut a dash of Richard Harris's 'English Bob' in 'Unforgiven.' But that's by the by. When I spoke to him for GRTR! Radio recently, he'd confessed to dropping the lasers as people were complaining that this was masking the music. Que? It just goes to show that you just can't please some people, and the philosophical Froese has simply resigned himself to that fact.

The music was literally out of this world. Drawing largely upon excerpts from the new album, 'Island of the Fay,' TD sequenced their way through some heady subject matter. The first set was bookended by two of the best 'Fay' compositions, 'Marmontel Riding on a Clef' and 'Darkness Veiling the Night,' both revealing the none too shabby talents of the ethereal, Yamane.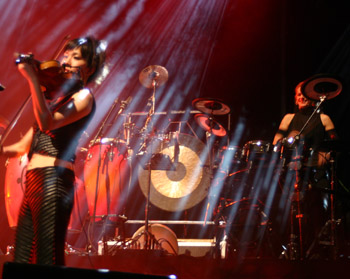 I have a theory about electronic music. And here it is. The human ear is tuned to recognisable sounds which are vibrations against air. Once you introduce the wild and wonderful synthetic sounds and blend them, the human brain starts to have difficulty in identifying the melody and the rhythm. In the past, this disengagement might well have turned off many potential followers. But TD have now achieved the Yin and Yan.

So by introducing 'real' instruments like violins, flutes, clarinets and drums we can discern the central mission of the song while the sequencers provide the movement. That, to these ears, is a marriage made in heaven. Looking around the room, many of my fellow audience agreed, some of them nodding and others meditating to the wall of sound which was, at times, glorious.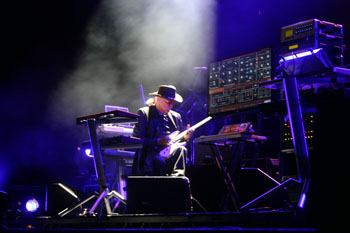 Zoom (Click large image to cancel)


Bernhard Beibl's guitar also reminded us we were watching a rock band, with some fine shredding. Part Two kicked off with a bang, 'Astrophel and Stella' tapping away at our body rhythms . 'Alchemy of the Heart' from 'Booster IV' with its doom laden piano overlaid with classical arpeggio was a roller coaster of emotions, Beibl's guitar work and Iris Camaa's percussive dance propelling us into our own little worlds of wonder. Linda Spa's captivating clarinet and flute work came to the fore on 'Long Island Sunset.'

'Dominion 2010' was probably the minger of the evening, its three chord hook sounding more like the theme tune to the Champion's League Final that incidentally competed with this event. Sadly no 'Yellowstone' which originally featured Clare Torry of Floyd fame. Occasionally real vocals, rather than the sampling, might have added another dimension but these were minor beefs.

My main question was the ticket price of £46. Now let's look at this purely from a business angle. Edgar Froese isn't a casual tourist. But then again, I couldn't help thinking that a £30-£35 price and three of four more dates at smaller well promoted venues in the UK e.g. the opera houses at Buxton and York and maybe Liverpool's Philharmonic Hall plus a showpiece London gig would ensure liquidity for both artist and fan. More punters should be able to experience what I did.

The Encore was four strong with the haunting 'Fay Bewitching the Moon' being the highlight, only because it is pivotal to the current Tangerine Dream sound. Beauty and rhythm. Let's have more of this stuff.

My main message though to Edgar Froese though is that you can win and you will win the cynics over with sets like this. If this line up is kept stable, TD will destroy those misconceptions at the drop of Herr Froese's hat.

Bravo Tangerine Dream. Many bands busy themselves with visions of hell. This instead was a glimpse of heaven.

Set-List:

Part One: Marmontel Riding on a Clef/ Death in the Shadow/ Logos 2011/ Culpa Levis 2010/ Living in Eternity/ Calumet/ Cycle of Eternity/ Ayumiís Butterflies/ Sallyís Garden/ Darkness Veiling the Night

Part Two: Astrophel and Stella/ Mombasa/ Fire on the Mountain/ Carmel Calif/ Long Island Sunset/ A Snailís Dream/ Dominion 2010/ Alchemy of the Heart/ Morphing
Kiev Mission

Encore: Fay Betwitching the Moon and others


Review and photos by Keith Thompson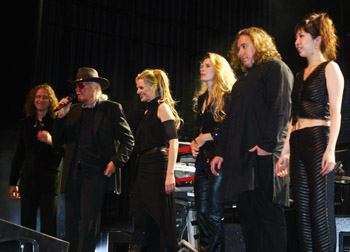 ---
Album review (Island Of The Fay)
Album review (Compilations)
---