TANGERINE DREAM The Island Of The Fay (2011)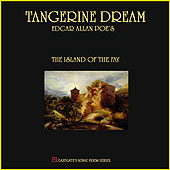 Tangerine Dream were virtually the first mainstream purveyors of electronic music and while their popularity has waned as a result of fashion trends, they still remain entrenched in our consciousness in films in adverts and of course on disc.
This album, by the very nature of its cover, is not going to attract hordes of young bucks eager to taste the years they have missed. Based on the work by Edgar Allen Poe, 'Island of the Fay' is about evoking a sense of place sonically.
Part of the Eastgate Sonic Poet series, it looks like something you'd see filed under 'audio books' in the high street. But let's not judge the album by its cover and listen.
The dilemma for many synth artists is how to use the technology to ground the music so that it doesn't sound like Part 97 of Logan's Run. My hurried first play was on a laptop in the garden without any external speakers and I must admit I was slightly worried about the prospect of having to 'slag off' an artist I have admired over the years. Each track seemed to signal the end of my hard drive.
Keith then plugged in his speakers.
It might be advantageous to read the Poe piece first to find out what we are supposed to visualise. Failing that, the titles help. 'Fay Betwitching the Moon' for example does capture an image of the main character, possibly unhinged (if it's Poe), trying to capture the attention of a heavenly body. I might be wrong of course. But isn't one of the joys of music, to imagine the scene from what the artist has composed?
For me this is the epitome of what can be done when you combine the interesting range of synthetic symphony with traditional timbre. Violins! And this what I mean by grounding it all. Flutes too! In 'Cycle of Eternity,' the violins supply the emotion, while sequencers and samples provide the motion. This is certainly the case with tracks like 'Death in the Shadow.'
My main criticism is the predictability of a couple of the tracks. 'Moment of Floating Into the Light' suggests ethereal wonderment, but it is one paced with a sedentary Oberheim type lead over a repetitive sequence which serves only to alter the key of a basic pentatonic scale.
When I am hearing a band with no vocals, I need to have my head turned and my ears pinned back with other stuff. Yes there is enough on here to justify a few Euros. The last track 'Marmontel Riding on a Clef': you want to turn it up to hear all the little nuances.
Not muzak for the barby but definitely a stress buster for a car journey.
****
Review by Keith Thompson
Keith Thompson presents Rockwaves on Get Ready to ROCK! Radio, Sunday 21:00 GMT+1
---
| | |
| --- | --- |
| | Print this page in printer-friendly format |
| | Tell a friend about this page |