TANGERINE DREAM Compilations (2011)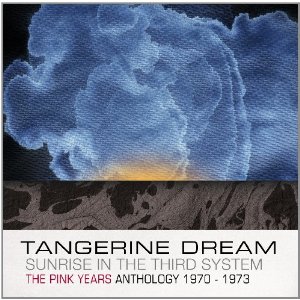 Tangerine Dream have produced two re mastered anthologies and the first one (Sunrise in the Third System: The Pink Years Anthology 1970-73) is a testament to experimentation. The early 70s was a blank canvas. Nobody really knew which way rock music was going to go.
The traditional roots of folk, blues and country were the main motors for the main players like the The Stones, The Purps, The Zeps, The Floyds, Tull and The Sabs. And then there was Tangerine Dream who decided to create their own genre instead.
The early line ups were made up of cornerstones, Froese, Chris Franke, with Klaus Schulze, Peter Baumann and Conrad Schnitzler as third man.
We have to remember when listening to these early works that the technology was in its infancy and we might be able to spot the a traditional organ here and there. But the Tangs squeezed out every possible pip from these early machines.
A meeting with Salvador Dali in 1967 inspired Froese to create disturbing imagery through the music and that does go some way to explain the uneasy soundcapes that were created in this period.
It's not all creaks, tweaks and groans though. 'Ultima Thule' is a monumental wall of sound which sounds like Hawkwind with plenty more knobs on and there are all sorts of unexpected moments in this collection. 'Atem' too is a dramatic piece every bit as captivating as a contemporary piece 'Set the Controls for the Heart of the Sun.'
Post rock artists like God Speed You Black Emperor would find their own heritage in this collection. I know I will annoy anyone under 30 with statements like that, but I can't help thinking that the journey to the ultimate crescendo was begun by Tangerine Dream.
So what's the target audience? Apart from devotees of Tan Dream, fans of early Floyd, hippies of all ages, sci fi buffs, post rockers and space rockers would do well to revisit some of these gems. For me, 'Zeit' and particularly 'Atem' bring back the fondest memories of those early years.
But as Danny Baker once opined in his seminal Radio 5 phone in c.1996, don't play experimental music on a first date and feel, from personal experience, that I must pass this on for fear or wrecking a beautiful relationship.
Serious music buffs only. ****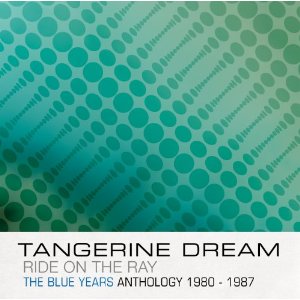 The pioneers of what we affectionately term 'krautrock' have never really been in fashion. While Kraftwerk slicked back their hair and took on the robotic personas during the post punk era, Edgar Froese, Chris Franke, Johannes Schmoelling plus his eighties era replacement, Paul Haslinger stuck to beards, beers, jeans and T-shirts.
The 1980-87 period was when synthesiser technology took off and with it the Tangs took on some heavyweight projects such as film scores and performances in front of 60,000 people at the Reischtag.
The tracks on the second compilation (Ride on the Ray: The Blue Years Anthology 1980-1987) chosen mainly come from the Hyperbora, Live Miles, White Eagle and Tyger albums which marked a sea change in the Tangerine Dream output from the experimental noise manipulations of the seminal 'Rubycon' and 'Phaedra' to a more rhythmical and melodic mix.
Floyd train spotters might be interested to know that on 'Yellowstone Park' - which stands out as my highlight of the album - Dark Side of the Moon diva, Clare Torry, once again is in good form.
The catchy and almost danceable 'Bois de Bologne' has also passed Father Time's test along with 'Song of the Whale' which is included in its entirety. So this is not a patched up collection of reprises and ditties aimed to catch a few Euros in between projects.
In fact as anthologies go and if you are looking for an introduction to Tangerine Dream, this is the one to go for. It's music for all seasons. As Edgar Froese said to me in our recent interview, people come with all sorts of preconceptions about both the music and the live performances.
My advice is to leave these behind, grab some decent headphones and I guarantee your worries will subside.
Built with love by Germans in the 80's, designed to last. *****
Review by Keith Thompson
Keith Thompson presents Rockwaves on Get Ready to ROCK! Radio, Sunday 21:00 GMT+1
---
| | |
| --- | --- |
| | Print this page in printer-friendly format |
| | Tell a friend about this page |