Just witnessed your best live gig?.. send us a review!
FIREFEST VII
Nottingham 29-31 October 2010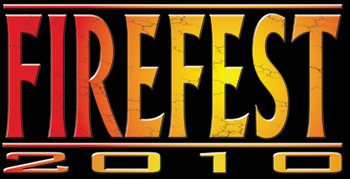 Day 3 Sunday 31 October 2010
Nottingham Rock City
Thankfully, Firefest Sunday was free of the previous day's technical hitches and Swedes Grand Design kicked things off on time. They perhaps lacked the originality to stand out from the crowd, but songs like opener 'No Time for Love', 'Piece of the Action' and 'Love Sensation' all impressed and there was a very Hysteria- era Def Leppard feel to some of the arrangements.

Next up was Newman, one of the few bands of the weekend to have played Firefest before, albeit the Friday warm up in 2006.
Eponymous band leader Steve Newman is an engaging and energetic frontman, and the band belied their relative lack of live experience with new guitarist Shaun Bessant showing the requisite amount of flash.
It is amazing to think Steve has been making quality albums since way back in 1997 and he managed to dip into most of them during the set. It was also an insight into how his style has evolved with the traditional Brit AOR of 'If Its Love' from the debut contrasting with the harder-edged rock of newer songs such as 'Hero to Zero', 'Primitive Soul' and 'Heaven Knows'. 'Stay with Me' was a mid-tempo song that with the right breaks could get radio 2 airplay a la FM, 'Coming Back to You' seemed to get the best reception, and he got the crowd to participate as 'One Step Closer' ended a solid set.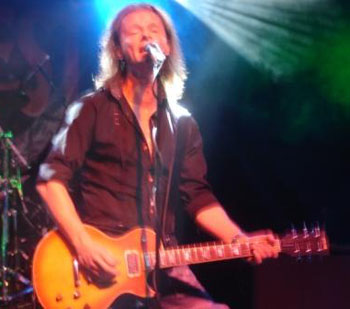 Having seen them twice some years ago and thinking they were a bit lifeless, I feared Stage Dolls would be a let down, but how wrong I was.
Their traditional trio bolstered with a keyboard player, they were among the tightest of units I saw all weekend, topped by the crisp lead guitar and slightly Bryan Adams-esque vocals of lanky lead singer Torstein Flakne.
They played a few songs from new album 'Always' (which is a grower) but their gamble in playing their best known song, 'Love Cries', two songs in paid off as it won the crowd over.
The bar was raised though with two marvellous ballads, 'Hard to Say Goodbye' and 'Love Dont Bother Me', that slowly built to a storming crescendo, and the more straight ahead 'Commandos'.
Indeed after ending with two of the driving anthems from their classic 1989 self-titled album, 'Wings of Steel' and 'Still in Love', they came back for an encore of 'Soldiers Gun' and it was easy to see why it was dedicated to Philip Lynott with some very Celtic keyboard textures. My doubts were dispelled with the remaining question mark whether it was Rik Mayall or Jasper Carrott that jovial bassist Terje Storli most resembled.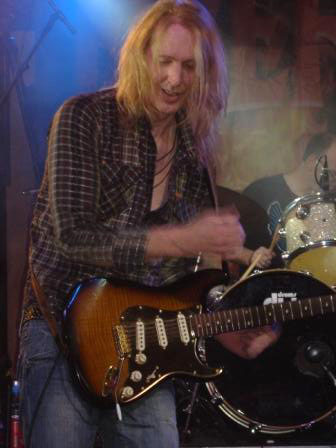 Firefest is famous for persuading long defunct bands to bury historical hatchets and reform after a long absence, and as a result Strangeways were the most eagerly awaited band of the weekend for some.
Surprisingly opening with 'Love Lies Dying', then the first album's 'Breaking Down the Barriers' they seemed to be enjoying themselves, with drummer Jim Drummond and keyboardist 'Munch Moore' shining despite the years taking its toll on their hair, while Terry Brock's singing was as fine as ever, together with his dry southern wit.
Thankfully, after pressure from promoter Kieran Dargan, the classic 'Only a Fool' made its way into the set, as did about four songs from the patchy comeback album 'Perfect World'.
Band founder Ian Stewart's guitar work was tasteful and understated, and his closing solo to 'Never Gonna Lose It' drew warm applause, but their comeback fell a shade short of the impact of some of the other bands, largely because of a curiously paced set, which ended with the lengthy, slow 'Bushfires' from the first album.

In contrast, former Survivor singer Jimi Jamison fairly tore the roof off with his debut set in the UK.
Dressed all in black, he was devoid of gimmicks and unnecessary chat but let his classic voice and the quality of his back catalogue do the talking. From the moment he opened with 'Caught in the Game', followed by Its the 'Singer Not the Song', it was clear he had correctly judged the mood of the majority of those present, who wanted to hear primarily Survivor material and not only the obvious.
That said the crowd at the front virtually took over 'High on You' for him, before 'Is This Love', one of the rare moments where his Scandinavian band specially convened for the occasion didn't quite hold it together, and 'Didnt Know it Was Love', which I never expected to hear on a UK stage in my lifetime.
Another of the great Survivor songs, with all Jim Peterik's melodramatic writing trademarks, 'I See You in Everyone', saw respected guitarist Tommy Denander take off into a lengthy solo, before a dip into Jimi's solo works with 'A Dream Too Far' and the excellent title track from his last album 'Crossroads Moment'.
'Rebel Son' was another Survivor classic whose rarity made it even more memorable, before the set (interestingly devoid of any ballads) moved into familiar soundtrack territory with 'Burning Heart', the Baywatch theme 'I'm Always Here' for which he thanked David Hasselhoff for the royalties, and of course 'Eye of the Tiger', with the crowd chanting as Tommy drew out the song. Within seconds, I had bumped into two friends who separately agreed with me that this set was possibly the finest Firefest moment yet.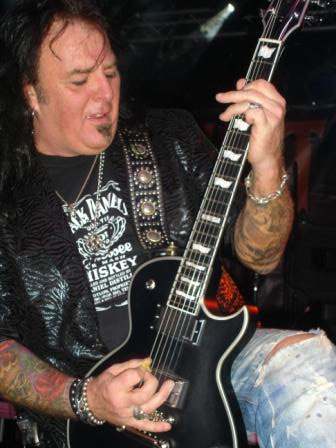 Pretty Maids had the handicap of following, rather than preceding him, as they had been delayed travelling. The crowd appeared thinner with people popping out for a break, but at the same time their diehard fans were creating quite an atmosphere at the front with pockets of pogoing breaking out.
This was hardly surprising as the veteran Danes had not played the UK since 1985. Singer Ronnie Atkins, whose cragginess together with fellow founder member Ken Hammer surely means the band name now fails the Trade Descriptions Act came over as a cross between between Biff Byford and David Coverdale.
Musically, they straddled all the bases between AOR ballads and power metal, with guitar and keyboards reinforcing each other nicely, and though not hugely familiar with their material I enjoyed the likes of 'Rodeo' and 'Little Drops of Heaven'. However it was the oldies from the eighties - 'Love Games' and encores of 'Future World' and 'Red Hot and Heavy' that most delighted their fans.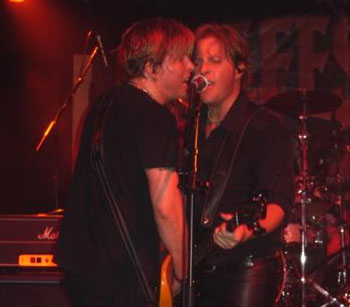 Closing out the festival were Nelson, playing their first British shows ever. The 'Timotei Twins', Gunnar (guitar)and Matthew (bass) have long lost their blonde locks, replaced by shorter, artfully styled crops, but they sure still know how to entertain, even though their gleaming toothy smiles and relentless positivity give them the air of over enthusiastic American 'life coaches'.
For a band always derided as pink and fluffy, any doubters would have been astonished to see a band with no keyboards and no less than three guitarists, including Mark Slaughter, and the likes of 'Ghostdance' - the stand out cut from 1998's 'Silence is Broken' - featured some unexpectedly aggressive guitar solos.
In contrast 'A Girl Like That 'showcased their love of the softer harmony sounds of the Beatles and Eagles.

The two share the majority of the vocals and it is hard to tell their harmony singing apart but Gunnar was generally the frontman, taking more of the lead vocals and giving a brilliant rendition of 'Only Time Will Tell', stripped of the lush orchestration on record.
Unsurprisingly, their debut 'After the Rain' formed the bulk of the set, with 'Fill You Up' and 'More Than Ever' early in proceedings, and the title track again coming over much harder with guitarists swapping solos.

However, in contrast to Jimi Jamison, they slightly overdid the cabaret cheese, with unconvincing tales of why they had not toured in so long, a drum solo followed by some absolutely pointless dancing, and an instrumental, although it does have to be said that the speed and fluency of guitarist Neil Zaza marked him down as a superstar in the making.

Mark Slaughter also got to sing his cock rock anthem 'Up All Night', and though I was never a Slaughter fan, the crowd reaction more than justified this indulgence.
Oddly the new album 'Lightning Strikes Twice' was barely played, if at all, but they finished in spectacular style with 'Everywhere I go', building from its balladic origins into a frenzied extended guitar jam with all three lead guitarists soloing in turn.
Inevitably, the No 1 hit 'Can't Live Without Your Love' and Affection was the encore, but again it was 'de fluffed' with some extended guitar work as the whole crowd were singing along.

The bar had been set very high at the previous six Firefests but general consensus was that, for variety and quality across the board, this was the best yet. Promoter Kieran Dargan left the stage with a quick 'see you next year' - and that is a commitment I fully intend to keep.

Review and photos by Andy Nathan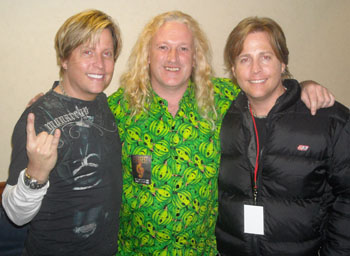 GRTR!'s Mark Taylor with Nelson

---