Just witnessed your best live gig?.. send us a review!
FIREFEST VII
Nottingham 29-31 October 2010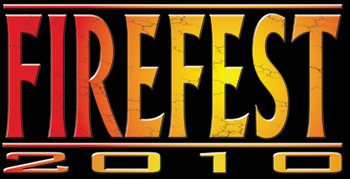 Day 2 Saturday 30 October 2010
Nottingham Rock City

Firefest itself could not have got off to a worse start, as a problem with the sound board at Rock City meant that a whole new mixing desk had to be brought in, and as a result proceedings kicked off 90 minutes late. The delay was met with patience and good humour, and some time was restored with swift changeovers and bands dropping the odd song. Thankfully Rock City were more flexible than usual and allowed the show to run 45 minutes over curfew.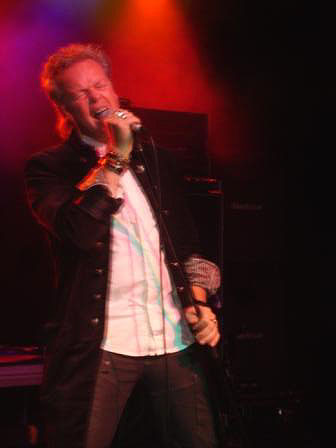 Grand Illusion opened proceedings, having the air of a group of Swedish schoolteachers with a musical sideline, and with a pomp-tastic TWO keyboard players.
Having recently reformed, the likes of opener 'All out of Love' and the more mainstream 'Emily' from the new album 'Brand New World' impressed and Peter Sandell was a great singer, combining the classic AOR voice with some Glenn Hughes-type screams. They got the day off to a very enjoyable start although to be frank later bands easily eclipsed them, beginning with the first surprise of the day in Beggars and Thieves.

Fronted by original vocalist Louie Merlino and guitarist Ronnie Mancuso whose controlled bluesy tones impressed me, their sound was relatively laid back, reminding me at times of Tall Stories, but the band were tight and seemed to be enjoying themselves.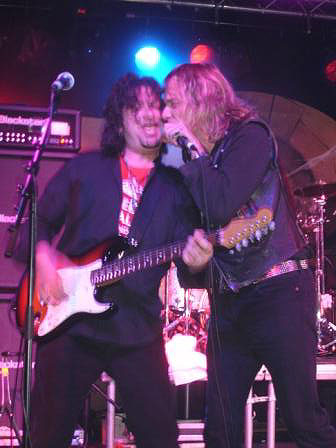 The set ranged across their albums, including the slow burning opener 'No More Broken Dreams' and equally finely crafted 'Kill Me' and 'Beggars and Thieves', all from their 1990 major label debut, shaming me for not playing it for so long - and also included a trio of songs from a forthcoming first album in over a decade.

Firefest took place in the shadow of the recent death of one of the genre's greats, Gotthard singer Steve Lee, which was marked by many of the audience sporting Gotthard shirts.
Beggars and Thieves are from Nevada where Steve suffered his tragic accident and they paid fitting tribute in their set with a moving cover of 'Knockin on Heaven's Door', with Ronnie's guitar competing with Louie's harmonica.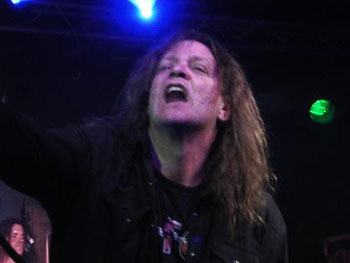 Bangalore Choir were another band who had the misfortune to release a classic debut 'On Target' just as grunge kicked away the hair metal traces, but are now back together.
Ex-Accept singer David Reece was a fantastic old-school rock frontman, covering every inch of the stage, working the crowd and giving 100% effort. For me, his voice sounded a little rougher around the edges than on that album and was sometimes submerged by the sheer wall of noise from his band, but he did a superb job of whipping Rock City into a frenzy.
It wasn't all nostalgia as three songs from the reunion CD 'Cadence' were played including heavy opener 'Power Trippin', and 'Martyr' with some twin guitars from the excellent Curt Mitchell and Mick Jones-lookalike Andy Susemihl.
However, it was the 'On Target' stuff people wanted to hear, with 'The Good Die Young' a stirring ballad dedicated to Steve Lee and Ronnie James Dio, and storming versions of 'Loaded Gun', 'Angel in Black' and encore 'All or Nothing' seeing the crowd roaring along to their strong choruses. For those wanting straight ahead, uncompromising hard rock they were the band of the day.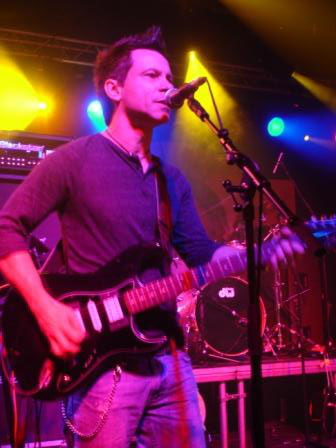 Filling the void left by Saraya pulling out of the festival, Shotgun Symphony reformed to play in its entirety their self-titled debut, which was a rare shaft of light in a then moribund scene when it appeared in 1993.
Their heavy pomp was sheer musical quality, the now short-haired Tracy White not missing a note and Mike Maino effortlessly fluent on guitar, especially on the ballads, although they also felt somewhat clinical and did not really engage with the crowd as much as some of the other bands.
Among the familiar likes of 'Highway to Tomorrow' and 'Lost Child', it was great to hear some of the lesser played tracks such as 'Turn Around' and 'Goodbye to the Night' , with Tracy adding acoustic guitar to the latter. An added bonus was an encore of 'Believe in Me', the standout song from their subsequent releases.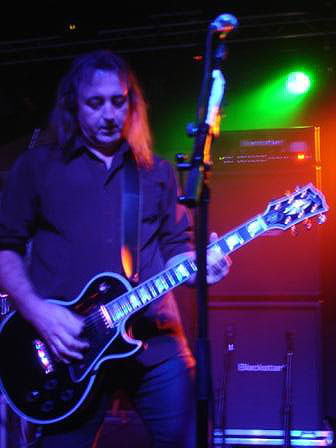 Continuing the one album theme, Bonfire performed nearly all of Fireworks, their 1987 album so beloved that it spawned the long-running magazine of the same name, and indirectly, the name of the Festival itself.
Hearing the Germans' crunchy yet melodic sound and Claus Lessman's raspy vocals was also a reminder that countless European bands have trod a similar musical path since, and the simple yet effective choruses of the likes of 'Ready 4 Reaction', 'Never Mind', 'Don't get me wrong', and 'Sleeping all Alone' were perfect fodder for a hungry crowd, many from the European mainland.

'Give it a Try' was a rare mellow moment before 'American Nights' and 'Sweet Obsession' had the crowd going crazy. Claus was as usual a hyperactive and genial frontman, with 'this next one's off an album called Fireworks' becoming a running gag. However in a marvellous touch, they encored instead with a cover of Gotthard's ballad 'I'm On My Way'.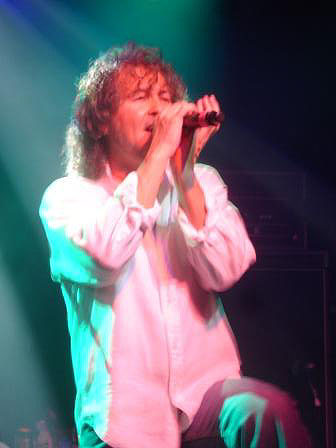 For me the highlight of the day was Dare. In their original incarnation between 1988 and 1991 they were one of my favourite bands and I was convinced they would break into the big time (keyboardist Brian Cox did of course, but in an entirely different field!)
Subsequently mainman Darren Wharton took them in a laid back, celtic-influenced direction but with the return of original guitarist Vinny Burns I hoped some of the old fire would return . Oddly though the band are still without a bass player though acoustic guitarist Richard Dews and a keyboard player filled out the sound.

The atmosphere down the front ranked with recent classic Firefest performances from the likes of FM and Gotthard, as they opened with a quartet of classics from their 'Out of the Silence' debut - 'Abandon', 'Into the Fire', an anthemic 'The Raindance' and the less frequently played 'Running Away' with a great solo from Vinny.
There was a hefty chunk of the more recent material in the middle but the likes of 'Silent Thunder' and newie 'Shelter from the Storm' seemed to carry through with more conviction in a live setting.
They ended a set that had flown by in an hour with the questionably titled 'King of Spades', where Darren's heartfelt vocal tribute to Philip Lynott never fails to move me, and the celtic-inspired anthem 'Return the Heart'.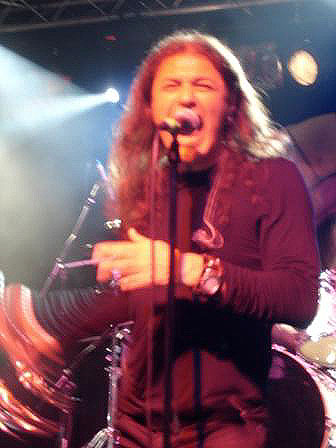 We then went from the mellower to the heavier end of the broad church that makes up melodic rock with headliners Lynch Mob, featuring George Lynch, ex-Dokken guitarist and one of the godfathers of the shred style of playing.
Opening with a double from their 1990 debut - 'She's Evil but She's Mine' and 'River of Love', my sense was that die hard fans were loving it, but they were not holding the attention of the more casual fans who started to drift away.
As one of the latter, I was admiring George's supreme technical prowess and the hyperactive drumming of Brian Tichy, while Oni Logan had a strong voice but there was a lack of interaction with the crowd while the songs lacked the hooks to satisfy my more mainstream tastes. However '21st Century Man' from reformation album 'Smoke and Mirrors' was impressive.

It was then notable that the crowd erupted when they took a trip into George's Dokken back catalogue, with his guitar tour de force 'Mr. Scary' and, more surprisingly, 'Into the Fire' with Oni doing a fine job and the momentum was maintained with an extended version of their best known song, 'Wicked Sensation'. Despite the overrun, they still slipped in an encore of another Dokken number, a rapid fire 'Tooth and Nail,' with a short but fast-fingered solo from George in the middle.

I enjoyed the set far more than I expected to, which is how it should be. But after seeing out the night with socialising over a few beers and some great tunes old and new from the DJ's in the Rig Room at Rock City, even better was to come in Day 2....
Review and photos by Andy Nathan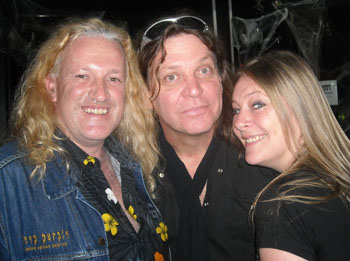 GRTR!'s Mark Taylor and David Reece (Bangladore Choir)
with Tina Saul (Total Rock)
---