MARILLION Happiness Is The Road Racket Records (2008)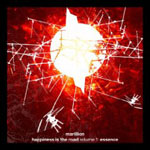 Marillion caused a bit of a stir when they leaked their new album to a free filesharing service, in advance of the official release. Whoever advised such action may need to attend a course on PR as it seemed a bit premature given that the fancy box sets had not yet been despatched. Would it have affected pre-sales, if the band had announced their intentions at the outset? Biting the hands that feed them comes to mind here.
The deluxe box set, is another 'Marbles' - a sumptuous "nice item" in a library slip case. The only awkwardness is how or where it will sit on your shelves.
The conciseness of the last album was one of its strengths, however the double-CD 'Marbles' did produce some Classic Marillion that still gets reprised on stage today.
I can see why EMI got frustrated with the post-Fish version of the band especially after those early Hogarth albums failed to realise the initial commercial promise.
Since those albums, I have had a love-hate relationship with Marillion. At their best, there are few bands to touch them in terms of irresistible hooks and sumptuous orchestration. But the albums have also become increasingly ambient, Steve Rothery preferring to merely colour the canvas rather than ripping it open.
CD1 has more of a concept feel to it with the tracks segued into each other. At times the band sound more like their melodic contemporaries (Snow Patrol, Razorlight or Keane?) than they should do. But there are enough references to Classic Marillion to make amends. "The Train Is My Life" has echoes of 'Afraid Of Sunlight' whilst 'Woke Up' is the perhaps the most accessible.
I have to say, though, this album does offer up its riches with repeated listens, and the title track is a case in point. It takes a while to get going but when it does, Y-E-S!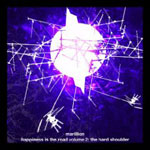 The band always aim to deliver an album that moves them on in terms of what went before. Whilst this adds an element of surprise, the constant need for reinvention can be slightly unnerving for the listener. I've no doubt 'Somewhere Else' had the same effect for some after 'Marbles': for me it was the album they should always have made after the classic 'Holidays In Eden'.
The band's previous album sessions had already produced excess material and I can understand why it wasn't used on 'Something Else' as it has a slightly different vibe.
'Happiness' is a nice collection of tunes but it lacks those killer tracks that leave you wanting to hit repeat play, with the exception of 'Whatever Is Wrong With You' which was anyway offered as a free pre-release download. The band do save the best for last: Both this and the excellent 'Especially True' and 'Real Tears For Sale' come right at the end of CD2, and that's it.
This latest work will be available in two parts 'Essence' and 'Hard Shoulder'. Buy CD1 for consistency and download those three end tracks from CD2. Happiness could have made a very good four-star single album. Happiness Is The Road? An interesting diversion, maybe, but - after that band-approved free fileshare - some may feel more led up the garden path.
***½
Review by David Randall
---
| | |
| --- | --- |
| | Print this page in printer-friendly format |
| | Tell a friend about this page |