SAXON The Inner Sanctum SPV (2007)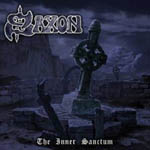 Saxon have stayed true to their musical style through the years, bar a couple of albums in the 80's when their then label tried to steer them into a cleaner US melodic rock sound.
I am not a big fan of the band (although do see them live as they are awesome) but unlike Iron Maiden at least Saxon try something different each time and on this new album they keep their hard edged metal sound of the past few albums whilst nodding back to their more polished production of the albums in the 80's (don't worry though, no Christopher Cross covers on this one!).
After a chanting monks intro it is into 'State Of Grace' which is the most melodic number on here, whereas the next two songs 'Need For Speed' and 'Let Me Feel Your Power' are heads down, no-nonsense classic metal.
The epic 'Red Star Falling' has neat time changes and some stunning guitar solos. Bizarrely on 'I've Got To Rock (To Stay Alive)' they sound like Def Leppard circa 'Pyromania'!
The single 'If I Was You' (which sadly failed to dent the top 40 chart) sounds better on the album as some of the gloss has been taken off and the guitars are more in your face.
The band possibly save the best track until last, 'Attila The Hun' is classic Saxon - big guitar riffs, neat solos, very heavy rhythm section and a strong, memorable chorus.
Like its predecessor 'Lionheart' Saxon have produced another album of classic metal. If you're a lapsed fan this is well worth getting and if you're new to the band buy it as well! Existing fans already know they are in for a treat!
****
Review by Jason Ritchie
Album launch review

---
| | |
| --- | --- |
| | Print this page in printer-friendly format |
| | Tell a friend about this page |