America's greatest hits and more...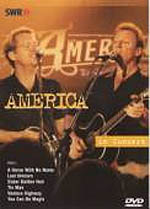 For a detailed appraisal of this gig, check out the SA-CD review. The DVD version actually sounds better than the SA-CD but loses two tracks.
As to be expected, this is a straight run-through for German TV and there are no extras except a generic interview with the producer.
America are now two-thirds of the original trio and run through all their best-known tracks, together with a selection from then current album 'Human Nature'.
The supporting band (no details in this package) are excellent - empathic rather than intrusive - and giving Dewey and Gerry full sway. Highly recommended for lovers of soft rock.
****
Review by David Randall