Just witnessed your best live gig?..send us a review!
SAXON
Official album launch, 19 January 2007
Get into Saxon's Inner Sanctum...GRTR's Joe Geesin was there...
Arrived at the hotel at just after 3pm, SPV Record label people were milling about. More people start to arrive, and we're ushered into the 'waiting room' at 3.30. Chatting, we're offered drinks. In Saxon style I start on the tea.
Chat to a few from SPV, and from WorkHard, the PR set up. By then the band were milling about and I get to chat to them all at various stages. Was a pleasure, they were all chatty, friendly, positive.
Shortly after 4pm we're through to a cinema room to hear the new album, Inner Sanctum, beginning to end, and on the way in we're handed a press release and a copy of the new single, "If I Was You".
1) State Of Grace
Classic rock harmony and melodies, strong heavy almost alt.Metal rhythms
2) Need For Speed
Fast, furious, intricate. Saxon guitar at its best.
3) Let Me Feel Your Power
As above, classic Saxon at their most powerful
4) Red Star Falling
Epic 6 minute track, more moody, melodic.
5) I've Got To Rock
CLASSIC
6) If I Was You
The new single, slightly anthemic chorus. Written about gun and knife crime.
7) Going Nowhere Fast
Another brilliant rocker, nod back at mid 90s.
8) Ashes To Ashes
Heavy, chunky riffs, powerful, slightly operatic
9) Empire Rising
49 second intro to:
10) Atilla The Hun Edited down to 8 Minutes, great subject matter that suits Saxon well. Imagine Judas Priest gone prog.
Overall, on first listen, *****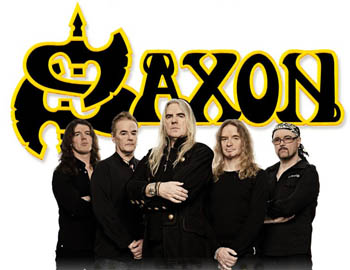 Saxon have been getting a LOT heavier of late, almost too much. This album keeps those very heavy undertones, rhythms, bursts, while the melodies and harmonies nod back at 80s Classic Saxon. And chatting to the band afterwards, they also agreed a progressive leaning.
Back to the 'Waiting Room' for more drinks (on to the red wine), chats etc, and conversing with the band.
The whole event was filmed by Channel 4 for a documentry, produced by promoter Harvey Goldsmith. Not quite reality TV, ok yes it it, it's a fly on the wall thing. Harvey is behind the new single, which is remixed heavily from the album, and available for download, to try to raise the band's profile in their native UK.
Back to the cinema where Harvey explains his reasons for doing this - basically everyone knows Saxon, as 80s classic, but profile of their continued work and musical progression is often overlooked.
New single played - remixed harshly. Interesting, but not as good as the album version by a long way. I think aimed at new fans.
Also shown was part of the DVD that comes as a bonus.
Thoroughly great people, great band, great music.
Joe's review of the new single:
SAXON If I Was You (SPV)
Saxon return with a new album The Inner Sanctum, and this release is in conjunction with promoter Harvey Goldsmith, who has worked with the band and filmed a documentary for Channel 4.
The track was already written and recorded for the album, and is about gun culture. A great track, some good guitar work, Byford's vocals on form. The band just continue to get better. Heavy as ever with a nod back at the 80s and 90s.
The remix (also available for download) is a little harsher, will not be of huge interest to fans (any remote fan would or should buy the album anyway – trust me), but this new sound will also attract new fans.
The CD single also comes with '747 Strangers In The Night' which was re-recorded for the Heavy Metal Thunder album a couple of years back.
Love this band, here's the evidence. ****
Review by Joe Geesin
Interview
Album review
---
| | |
| --- | --- |
| | Print this page in printer-friendly format |
| | Tell a friend about this page |