SHANNON
Shannon are a melodic hard rock band from France whose new album 'Angel In Disguise' will delight fans of Dokken, Danger Danger, Pretty Maids et al.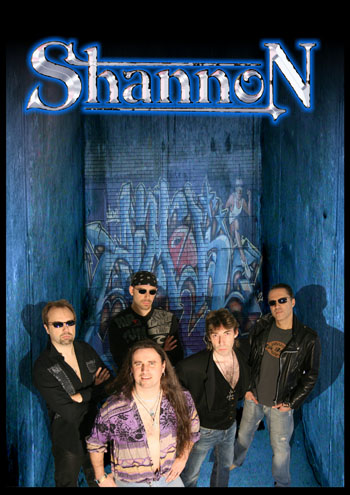 What are you currently up to? (recording, gigs, plans)
OLIVIER: As you may suspect it, our actuality is all about the " Angel In Disguise " release, we work only on the promotion of this brand new album. We answer to interviews from Magazines and Webzines and Radio Shows. We're working also on our future shows (tracklist etc.). And we have started the wrting of new tracks for the third album.
Brief summary of your music and how the band got together for fans new to your music...
PAT: In 1996, Thierry (keyboards) and I (guitars) played some Bon Jovi, Europe, Bad English and Journey covers
After that Olivier joined the band and we had some good times and we felt good with each other. A few times later we started to compose and Shannon was born.
We wrote about fifteen tracks between 1999 and 2002 inspired by the US Melodic Hard Rock from the 80's/90's. We released a 3-track demo (Heartbreaker was on it and also on the first album, later)
3 labels were interested, we chose the French one because it was easier for us with the language. The first album was released on 2003 and was distributed by Wagram. The self-titled album has been unanimously praised and regarded by the international press as one of the most impressive and brilliant record of the year in the Classic 80's US melodic rock style although it had a poor promotion.
From the release of the album, the band took the road and shared the stage with renowned artists such as AXXIS, PINK CREAM 69 and Jeff Scott SOTO.…. but it was evident for us we had to find another Label, to avoid doing again the same mistakes. It took time, but we're finally back with Artist Service.
Mid- 2005, SHANNON saw its first line-up change with the arrival of Nicolas FIXY (Bass) and Benjamin "Benji" BERGEROLLE (Drums), both formerly with French Epic-Progressive band TAÏ PHONG. Benji replaced Max (ex-Heavenly) on drums and Nico replaced Claude who's now in ADX. We got a real good team now !
Could you take us through your new album ''Angel In Disguise" (e.g. story behind the song, song writing process)...
PAT: We started to compose 2 or 3 years ago. I usually compose at home and record songs and ideas in our home studio. After that, with Thierry and Olivier, we build the tracks: riffs, vocal melodies and rhythm line. Then, we record this with a sample rhythm section and submit it to Nico and Benji for them to bring their own touch. Arrangements are done all together.
We were in contact with some artists and Bands like Gianni Pontillo (The Order - Pure Inc), Jens Walkenhorst (Wild Frontier), Renaud Hantson (Furious Zoo) and others, it has been quite simple and cool. They liked our music and decided to take a little of their time to participate! It was a real pleasure to collaborate with them!
We did the mastering in another studio in France, and now, the new album is available …
Did the band expect to receive such glowing reviews of the EP you released last year and how did you hook-up with Music Buy Mail/Artists Worxx?
OLIVIER: In fact, what everybody called EP was only a 5-track demo. At this moment, we were still negotiating with Labels to find a deal and this demo was sent to them.
A lot of fans wanted to hear new tracks so we decided to put some on our myspace page and after that, we decided to commercialize this demo. We do not regret this decision because sales were rather good considering the absence of promotion and this allowed quite a lot of people to discover the band.
How do you view the current rock music scene? Has there been much opportunity for Shannon to play live at all? Any other bands out there that you would recommend?
OLIVIER: For many long years, the metal scene was kept by " extreme " bands and melodic hard rock was rather left aside. Since one or two years, things are slowly changing.
We saw some bands from the 80's or 90's re-unite and public show some interest in melodic hard rock. As of to me, I highly appreciate bands like GOTTHARD with who we recently played.
I like also bands like Danger Danger, Fair Warning, Shakra, and of course all the band from the 80's wave like Judas Priest, Helloween, Y&T, Warrant, Firehouse, or Harem Scarem and many others. For shows, finding venues where conditions are acceptable is rather difficult in France because the means are quite restricted.
In addition, France has no rock tradition or culture, so when you play hard rock, it is tough to find some shows.
Thank God, there are some webzines, radios and associations who support the bands and allow them to play from times to times, even though I would say that it is not enough. We hope that with this new record, we can get dates in foreign countries as we do want to share our music with as many as we can!
How do you view the internet and downloads? How has the internet helped get your music out there?
PAT : Internet is really interesting….on the music side, for the real fan, he can follow his favouite bands, listen to samples of songs that are to be released and purchase albums without moving from home.
Unfortunately, there is also the perverse effect of illegal downloading which affects the labels and of course the bands. I am afraid that we can't fight this !
Who have been the band's main musical influences and why?
PAT: Anybody particularly, melodies are what we like!
If you could read our first album's reviews or the demo's reviews, we're compared with many bands. And for Dokken, Treat, Def Leppard, Krokus, Gotthard, Motley Crue, Pretty Maids, Pink Cream 69 or Bonfire…..the only common point is the melody …
What is essential to us is to have songs with choruses that are buried in your head!
How did you get your first break into the music business? What piece of advice would you pass onto budding musicians?
OLIVIER : I always find a bit haughty to give advice because we are only at the beginning of our career and everything still remains to be done. But if I really had to give an advice to the bands who start, it's never surrender, never mind the fashions and always do what they like!
Your job, as long as you do it honestly and seriously, will pay someday. The most important thing is to respect your audience, your fans and to give the best you can. It's with this line of conduct that we're here today, even though we know that there's a long way to go, still.
What do you like doing with your spare time outside of music?
PAT: Go to movies. I really like Sci-Fi movies and thrillers… And be with our families as this business keeps us away rather frequently!
OLIVIER: Spend some time with our families because, as Pat said, music takes a long time to be done and our relatives have to sacrifice sometimes. So, it's true that, as soon as I can, I really like having some moments with them. It helps so much to re load our own batteries quietly!
Message for your fans...
PAT: We hope you'll like our album.
Go and listen to the tracks on our MySpace http://www.myspace.com/shannonbandrock
And if you like it, why don't you buy it directly on the MySpace? And do not hesitate to leave a message!
Warm thanks to you, Jason, and to Get Ready to Rock!

---
Interview © 2008 Jason Ritchie.
All rights reserved.
---
| | |
| --- | --- |
| | Print this page in printer-friendly format |
| | Tell a friend about this page |