TALLY (JYNXT)
Jyxnt released a critically-acclaimed debut CD in 2006 which features in our 'Best of 2006'.
The band's combination of classic song writing and cutting-edge electronic production married to a guitar-heavy rock sound is winning over both critics and fans alike.
1. How and when did the band come together?
The band was started by brothers Koa & Nat Spencer in early 2001. They had previously been living in seperate countries, playing in different bands until they were re-united when Nat moved back to England from Brazil, where he had been working as a producer in a music studio.
Koa had lots of ideas however he was slightly computer illiterate, so their skills fit together like a puzzle. They started creating a drum'n'bass/ rock fusion, creating melodies & adding sampled beats, basically experimenting & the contents of an album started to form. After trying out their vocals on the recordings they realized it wasn't gonna work & they were getting desperate to find a vocalist for the band.
Just by chance they stumbled across a demo that their sister Tally had made many years earlier. They liked it & sent her a couple of tracks to listen to along with an invitation to join the band. She was living in Italy at the time, also playing with a local band there & instantly fell in love with the music & songs. She started flying over a couple times a month to record & do gigs untill she decided to drop her life in Italy & move back to the UK to dedicate herself totally to JYNXT.
For years the band played without a bass player along to a track where Koa had recorded the bass live. Bass players are hard to find!!
In 2005 Simon Walsh, heard about JYNXT through our management at the time, who had interest in the band Simon was playing bass in.
When Simon found out we were doing auditions for a bass player he decided to show up and have a go. He had learnt all the songs & after hearing him for only a few minutes we knew he was the missing link. Needless to say, he quit his band & joined JYNXT full time.
Dan Brown is the DJ and the youngest member of the band, at only 19 he was quickly recruited after the band witnessed his talent while he was DJing at a private party. It has taken a while to find all the members but we are convinced we now have all the ingredients for a winning recipe.
2. What sort of reaction have you had to the current album?
It's been great! We've been pleasantly surprised at how well our album has been received. For being a virtually unknown band our album has been a real success & is still selling. Essentially there is something for everyone in our album & people seem to appreciate the variety we offer. We have been getting such positive feedback and are eagerly anticipating the reaction to our new stuff which we are working on in the studio at the moment.
Of course there are the 'haters', it would be odd if there wasn't. We've been criticised for doing something too different, not the 'scene' at the moment; but the thought of that is absolutely absurd, and a little bit sad, so it doesn't really bother us.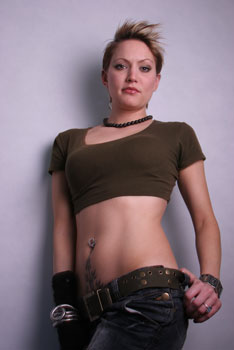 3. What are your favourite tracks on the album and why?
Quantum Jump is an all time favourite in the band, it's a very moody song and has a lot of emotion in it and when we play it at gigs it becomes alive.
Some others are Perverted Mind and Bring Back Tomorrow. There's also a hidden track on our album which is a colaboration we did with the American rapper, Canibus, which is a different style to our original stuff, but very enjoyable.
4. Who/what are your musical influences?
Jimi Hendrix, The Prodigy, B.B. King, Led Zeppelin, Pink Floyd,. These are just a few of the bands and artists we admire, although perhaps their influences are not noticable in our music.
However, they inspired us to stick to our originality and not fall in the category of 'crowd pleasers' just for the sake of popularity.
5. What has been the highlight of 2006 for the band?
This was the first year we were able to hit the road and tour the UK, we travelled all around and it's what we love doing the most.
Of all the gigs this past year, one in particular stands out as 'special', it was at the Underworld in Camden.
The night was going great, we had a big crowd that turned up to see us. About half way through our set there was a sudden problem with our guitar amp, it just stopped working. Someone from the crowd jumped on stage, imagining it was the cable, threw himself on the floor and started fiddling about, trying to fix it, telling Koa to keep playing till it worked.
However, we are called JYNXT and we pay the consequences for real! We had to stop playing half way through 'Bring Back Tomorrow'. But the song did not stop, the whole crowd was singing along relentlessly and we finished it acapella.
It was great, absolutely amazing! We're lucky to have such dedicated fans at this early stage in our career.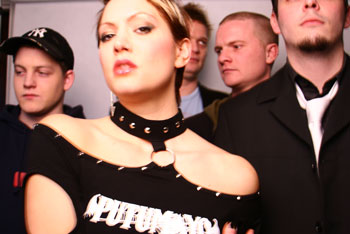 6. What is your own favourite album and gig of 2006?
Undoubtably Muse's 'Super Massive Black Hole'. We are huge fans. They headlined the Reading Festival, which unfortunately we had to miss due to a gig of our own, but caught it later on Sky.
Every performance they do is amazing, they breach boundaries most bands never dream of, never forgetting originality.
The talent between the 3 of them is outstanding. Like I said, we are huge fans.
7. What do you hope to achieve in 2007 and what are your immediate plans??
We are currently working on a demo for our second album in our home studio. We have lots of material piling up and the ideas just keep coming.
We are unsigned at the moment so looking for a new record deal, we hope to find someone who sees JYNXT for their full potential and is willing to invest in us without trying to turn us into a copy of every other band in this country. We won't settle for anything less.
8. Are you fed up with the 'Jeremy Spencer offspring' associations. Has this been a help or a hindrance?
It was something we never wanted to get into, especially because the public doesn't take too kindly to nepotism in the music business. It's a real shame that people get the wrong idea of us as it couldn't be further from the truth.
The highlight of being in any band is playing the gigs and meeting the fans. Getting positive feedback from people at the shows makes it all worthwhile.
In some ways it helped, as we got more publicity because of it, but nothing life changing has happened as a direct result of it.
9. What does Dad think of your music?
We don't really know!? I guess he appreciates the fact we're doing music but we're certainly not creating anything relatively close to what he likes. Our music is too modern for his tastes.
10. Message to your fans...
First of all, thank you, your response & feedback is what keeps us going, so keep it coming.
We are only at the beginning. If you liked what you heard on our first album then get ready to have your pants blown off on the next round. We are really excited about our new album. Our music is a bit like a journey & you know the saying, the more the merrier. If you haven't already make sure you check us out on www.myspace.com/jynxt & message us, we deal with the site personally & a big part of our time is dedicated to chatting with our fans, so don't be shy!
---
Interview © December 2006 David Randall.
All rights reserved.
Album review
Artist website
---
| | |
| --- | --- |
| | Print this page in printer-friendly format |
| | Tell a friend about this page |