JYNXT Bring Back Tomorrow Halo Records HALOCD01(2006)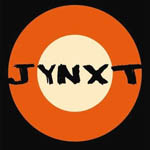 There are times when certain publicity can be bad publicity. In the case of Jynxt, the spectre of 'family band' spawned by Fleetwood Mac drop-out Jeremy Spencer may not be something to shout about and could even be the proverbial, er, 'albatross'.
Jynxt certainly have nothing to do with the old geezer's blues rock. Brothers Ben and Nat Spencer, sister Tally, and outsiders Simon Walsh and Dan Brown complete the line-up and have fashioned a superb debut of melodic hard rock tinged with electronica.
Opener 'Perverted Mind' has a great rhythm and chorus and showcases Tally's excellent vocals - this is rock with stadium potential, and brings to mind Evanescence or a more manic...Heart.
The high quality is maintained with 'Perfect' and 'Living In My Head', all crashing guitars and insistent choruses. 'Come Out And Play' has an almost Bond-theme vibe. Like many tracks, 'Electric Knives', is spiced with electronica which gives the album an edgy contemporary feel and 'The Name' (a second single) brings back the Evanescence comparisons.
'Quantum Jump' and 'Don't Believe' have an infectious drum n bass rhythm and allow another good vocal showcase for Tally Spencer. And, if you're asking, the intro to 'Don't Believe' sounds like Mike & the Mechanics' 'Another Cup of Coffee'.
'Voices' allows the band to shift pace, a mid-tempo groove and you'd swear Dad was on guitar but probably not on the hip-hop vocals.
All in all Jynxt is a near-perfect debut which Peter Green's right-hand man can be proud of.
****½
Review by David Randall



Don't Believe
© 2006 Halo UK Records. All rights reserved.
***** Out of this world | **** Pretty damn fine |
*** OK, approach with caution unless you are a fan |
** Instant bargain bin fodder | * Ugly. Just ugly
get ready to rock is a division of hotdigitsnewmedia group
Why should I buy this CD?
Melodic hard rock with a twist
Burn baby burn
Perverted Mind, Perfect, Living In My Head, Don't Believe