Just witnessed your best live gig?.. send us a review!
UFO/Heavy Metal Kids
O2 Academy, 4 April 2012
Photos by Noel Buckley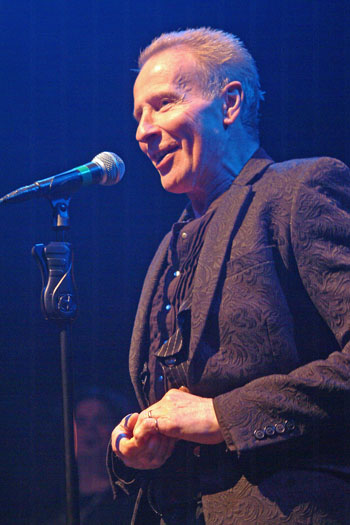 Too often overlooked, UFO really belong in the pantheon of classic rock's all-time greats. From 1974 to the early eighties they hit a golden streak of superb albums, and their blend of hard rock dynamics, great songs and on and off stage mayhem influenced countless later bands from Europe to Thunder to the Quireboys.
Their ever changing line up includes three out of five from the classic incarnation of the band, and yet, in contrast to contemporaries like Thin Lizzy and Black Sabbath, they are rarely mentioned to the newer generation of fans, to the extent that a few years ago Kerrang even referred to them as 'German metal pioneers'!
This generation gap was in evidence in a surprisingly large Forum crowd with if anything more fifty-something blokes than forty-somethings, with barely a younger fan (not to mention women!) in the house.
Support came from the Heavy Metal Kids, who back in the seventies supplied UFO with their first keyboard player Danny Peyronel but were better known for singer Gary Holtom, later to find fame in Auf Wiedersehen Pet.
Their recent comeback has been marked by a constantly shifting line up and since I last saw them only a month ago, original bassist Ronnie Thomas has departed to be replaced by ex Down and out Ronnie Garrity. His bass work was excellent and I enjoyed the way he and drummer Keith Boyce, a devotee of Charlie Watts' clever but understated drumming style, worked together, but the loss of the other Ronnie's backing vocals and stage presence was felt.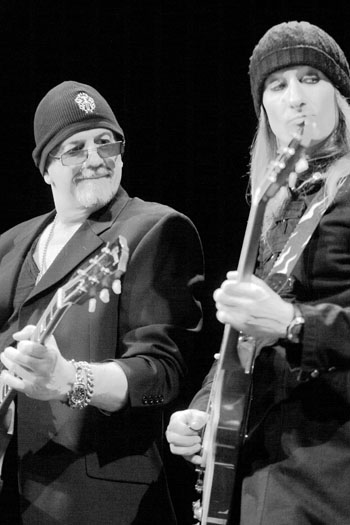 After spells being fronted by John 'Nasty Nick' Altman and Phil Lewis, lanky, bobble hatted second guitarist Justin McConville is now full time lead singer and does a fine job. HMK defy categorisation, although ironically the one thing they are not is metal.
Their stock in trade are crisp, punchy, almost pop punk songs- of which Chelsea Kids and more recent efforts like Blow it All Away, Whiskey and Message all impressed- although the tones of guitarist Cosmo's Les Paul have a real classic feel to them.
This was given full reign on a tribute to a third Ronnie, a cover of Montrose's Rock Candy which allowed the band to stretch out. A cover of the Angels' Marseilles, with a catchy riff, was another highlight.
Their seventies near hit She's No Angel rounded off a 45 minute set and after a couple of years of playing small venues, hopefully this well received slot converted a few new fans to one of rock's best kept secrets.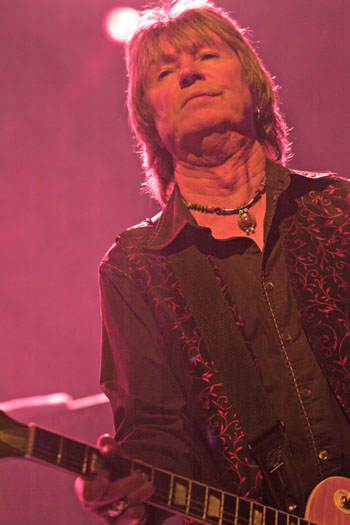 The sound had been particularly loud for the HMK, but when UFO hit the stage to Mother Mary, it was now frustratingly quiet and almost polite, and their show continued to be intermittently bedevilled - at least where I was stood- by a poor sound with huge gaps in it, with Paul Raymond's rhythm guitar inaudible at times.
A typical UFO set sees them play some primarily new songs to lukewarm reaction before the crowd go mad to a run of classics in the second half, but they varied the pacing slightly. Like the animals in Noah's Ark, two new songs were followed by two oldies.
So 'Fight Night' and 'Wonderland' led into 'Let it Roll' and 'I'm a Loser', two vintage songs that demonstrated the gift for light and shade that made UFO's work so superior to their contemporaries.
Then it was back to a pair from the new 'Seven Deadly' album, slower and bluesier than of old but no less heavy, with the band in a great groove on 'Mojo Town' and Phil Mogg singing 'Burn Your House Down' with a sense of menace as if he meant it.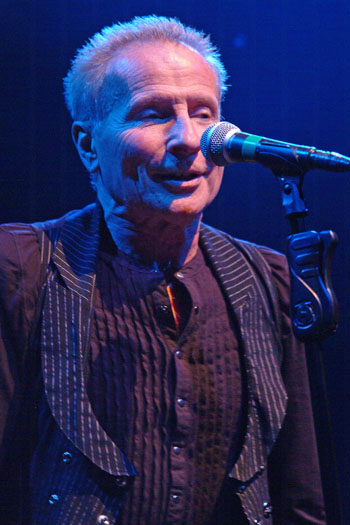 Now that legendary bassist and hellraiser Pete Way is out of the picture, Phil is very much the focus of UFO's stage act.
Nudging 64, with his pale skin and a part cheeky, part threatening twinkle in his eye, he could pass for John Lydon's older brother.
Even more so than usual, he seemed three sheets to the wind, and between every song 'treated' us to his stand up comic act, dealing with hecklers and coming up with a surreal stream of consciousness.
And yet his distinctive voice was spot on throughout and indeed he was far more convincing than when I last saw them in London three years ago.
After 'Only You Can Rock Me' which did not stir the crowd as much as I'd hoped, Phil's voice and Paul's subtle keyboards did justice to the classic balladry of Love to Love before a long solo from Vinnie Moore. I must admit to mixed feelings about UFO's American guitarist.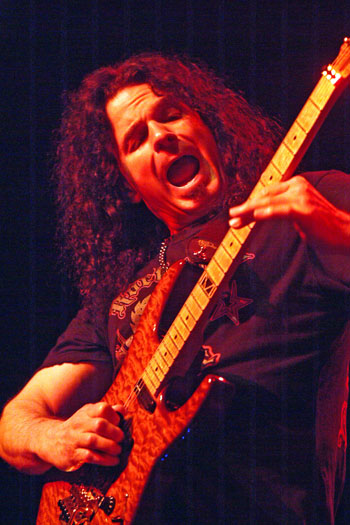 On the one hand he is one of the few players with the technical ability to emulate what were in Michael Schenker's original fingers some of the best solos in the history of rock.
On the other his 'shredding' style, to my tastes, crams in too many notes and lacks the soul and feel of the originals. Nevertheless, on 'Hell Driver' and 'Venus' - from 1995's 'Walk on Water' and the nearest to a surprise inclusion in the set - his soloing was truly superb.
We were now in a home straight of classics with 'Too Hot to Handle' and 'Lights Out', with a slightly different arrangement, taking the song down in the middle, though the gig was simmering rather than boiling full on, that was until the epic 'Rock Bottom' with Vinnie, well supported by bassist Rob De Luca, taking off into some great improvised jamming.
There were no surprises for the encore with their signature song 'Doctor Doctor' finally persuading pockets of the crowd at the front, who had probably been saving their ageing bodies, to break out into a pogo and another timeless favourite in 'Shoot Shoot'.
To be frank, UFO's best days are behind them and as a fan who didn't see them until 1985, I am still waiting for a fully satisfying gig. But I could take comfort in vintage performances from Phil Mogg and drummer Andy Parker who really drove the band on and whose facial expressions alone were worth watching.
Most importantly, as I realised when I found the solo to 'Let it Roll' lodged in my brain in the office the next day, it is always good to be reminded of the strength of their classic material and why more should be done to cherish their legacy as one of Britain's best ever classic rock bands.



Review by Andy Nathan
Photos by Noel Buckley
You can use the direction keys on your keyboard to navigate easily through the photo gallery
Gig review (Manchester, 30 March 2012)
---