UFO,
HMV Ritz, Manchester 30 March 2012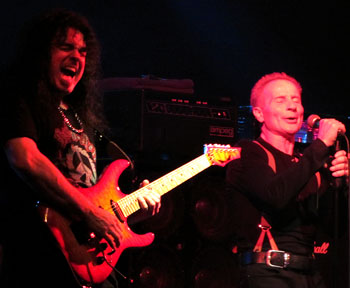 Zoom (Click large image to cancel)
One of the more satisfying stories of recent years has been the quiet renaissance of UFO and the release of a couple of solid albums, 'The Visitor' in 2009 and now followed by 'Seven Deadly'. The band have been rejuvenated since 2004 with the addition of Vinnie Moore and now settling with the core line up of Mogg/Parker/Raymond augmented on this tour by Rob De Luca.
Unsurprisingly the latest album was featured most heavily here in a set otherwise peppered with classics from an extensive back catalogue (but firmly fixated on the 'Strangers In The Night' album). Sadly only one track from 'The Visitor' but more than compensated by the likes of 'Only You Can Rock Me', a superb 'Love to Love', 'Lights Out', and 'Rock Bottom', a vehicle for an extended Vinnie Moore solo.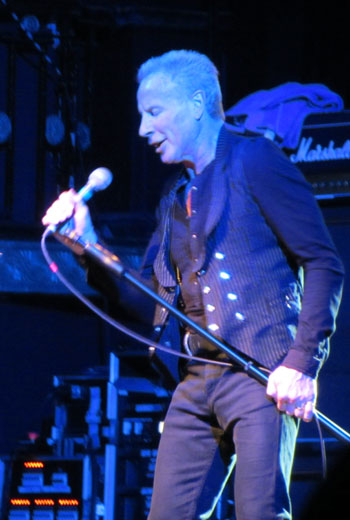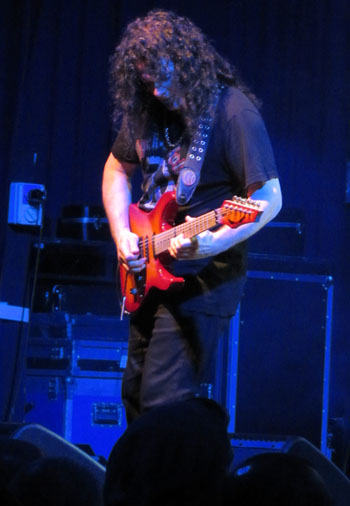 Phil Mogg's vocals have held up well with the passage of time, his slightly camp banter endearing, and if the whiff of danger that marked the Schenker/Mogg axis is now absent this is one tight, authentic unit. In full flight, 'Venus' (from 1995's excellent 'Walk On Water') was particularly impressive.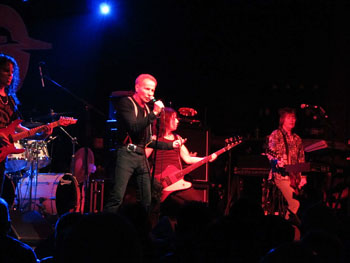 Zoom (Click large image to cancel)
If there is a criticism, it seems the band have dined out on the 'Strangers In The Night' setlist for a few years too many now and it is a pity that albums like 'The Wild, The Willing And The Innocent' and 'Mechanix' get overlooked.
If this set was then somewhat predictable (with the notable exception of 'Venus') it was at least executed with some style and reaffirmed UFO's status as one of our finest classic hard rock bands.

1. Mother Mary 2. Fight Night 3. Wonderland 4. I'm A Loser 5. Let It Roll 6. Mojo Town 7. Burn Your House Down 8. Only You Can Rock Me 9. Love to Love 10. Hell Driver 11. Venus 12.Too Hot To Handle 13. Lights Out 14. Rock Bottom 15. Doctor Doctor 16. Shoot Shoot

Review and photos by David Randall
Gig review (London, 4 April 2012)
---