Just witnessed your best live gig?.. send us a review!
JOURNEY/FOREIGNER/STYX
Wembley Arena, 4 June 2011
Photos by Lee Millward/GRTR!
Photo Gallery (Manchester, 8 June)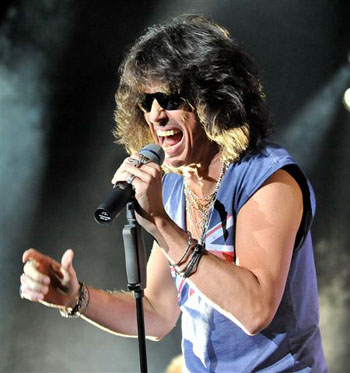 After many years of waiting, us Brits finally got to experience what our cousins across the pond get to see summer after summer - a package tour of three of the all time greats of AOR knocking out some of rock's most enduring songs.
There have been many casualties along the way with none of their principal singers still in the band, but Journey, Foreigner and Styx share a common bond - each has been revitalised in the past decade by the addition of some younger talent alongside core members, and through years of constant touring they have honed the fine art of delivering a well presented show that can reach out to an audience stretching far back- not for nothing is this genre somewhat prejudicially known as arena rock.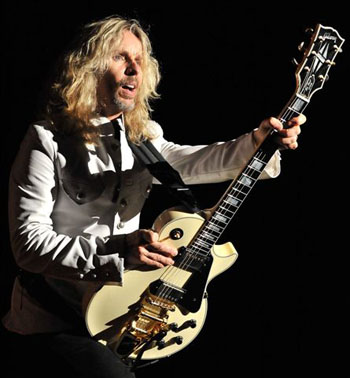 Styx opened proceedings with a 45 minute greatest hits set and, as usual, their energy and vitality won over a crowd who may have been less familiar with their material than the other two bands.
One thing that for me has always given Styx appeal was the use of different lead vocalists so the high pitched Tommy Shaw, ever youthful at 57, contributed 'Too Much Time on My Hands', complete with a rather optimistic audience singalong just two songs in, and 'Blue Collar Man', and co-guitarist James 'JY' Young the rather grittier 'Miss America', which may have shocked casual fans weaned on 'Babe'.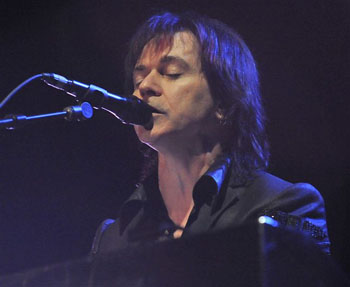 Lawrence Gowan meantime ensured Dennis De Young was not missed: he is a natural showman, delivering 'Lady' from the top of his keyboard before moving out front to sing, and spinning his keyboard around.
Yet he is also a talented player - check out for proof some fantastically dated synthesiser solos during ooling Yourself which also saw founder bassist Chuck E Panozzo making an appearance.
Highlight for me was 'Come Sail Away with some beautiful singing by Lawrence over a piano intro before the song kicked in with its over the top pomp feel, while 'Renegade' with its looser, jamming groove ended an excellent set. Hopefully the response will whet their appetite for a return to the UK.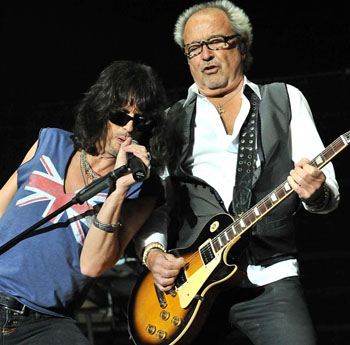 The meat in the melodic rock sandwich was Foreigner who, just as at High Voltage last year, really got the crowd going with a series of simple but memorable rock anthems, opening with the 1-2 punch of 'Double Vision' and 'Head Games', making light of Mick Jones' guitar cutting out.
Singer Kelly Hansen, in a Union Jack singlet, was once again a charismatic frontman and managed to get most of the Wembley floor to its feet for 'Cold as Ice', complete with its twin keyboards, and even ended up deep in the crowd at one point.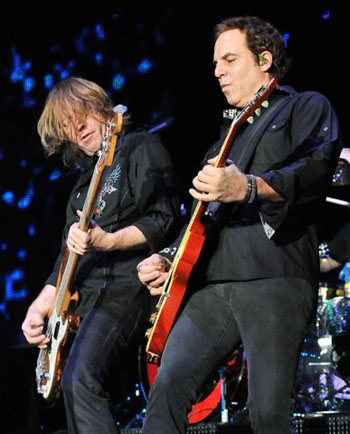 Founding member Mick was allowed one indulgence, singing much of 'Starrider' (complete with flute solo from Tom Gimbel) and playing an extended solo, but wisely they did not risk losing momentum by playing new songs, and instead it was hits all the way - from 'Feels Like the First Time', and 'Urgent' with Tom's sax solo, then Kelly asking the crowd to hold the person next to them during 'I Wanna Know What Love Is'.
But that was a temporary diversion into balladry as Mick's riffing to 'Hot Blooded' called to mind his anecdote of how Johnny Rotten was blown away by that song in punk's heyday, while 'Juke Box Hero', complete with a cartoon of the character in question, closed an hour long set with a substantial jam loosely built around the original.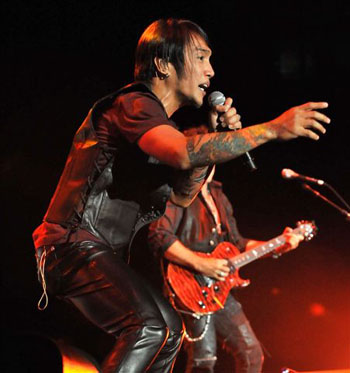 However impressive Styx and Foreigner had been, it had been Journey's new found popularity that made this tour possible, and anticipation was running high when they came on stage at 9:30.
They played an ace straight away, Jonathan Cain's unmistakable keyboard intro heralding the classic 'Separate Ways'. Arnel Pineda meantime has had a change of image since their last UK tour - shorter hair, tattoos and somewhat less manic on stage while still energetic - but his singing was outstanding throughout and the biggest compliment I can pay is that I did not find myself constantly comparing him to Steve Perry.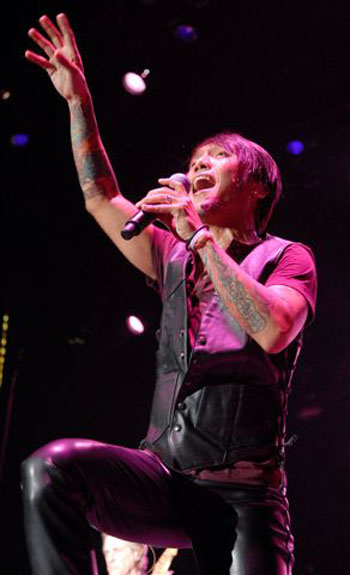 However, the first part of the set was somewhat underwhelming. A quartet of new numbers were sprinkled among the classics during the first hour - 'Edge of a Moment', 'Resonate', 'City of Hope' and 'Chain of Love'.
Having played the album on heavy rotation in the week before, I was enjoying them and in a live setting discovering passages I hadn't fully appreciated, but I think I was in a small minority. To most they were unfamiliar, the album deliberately avoids the more telegraphed commercial side of the band, and they broke up the momentum of the gig somewhat.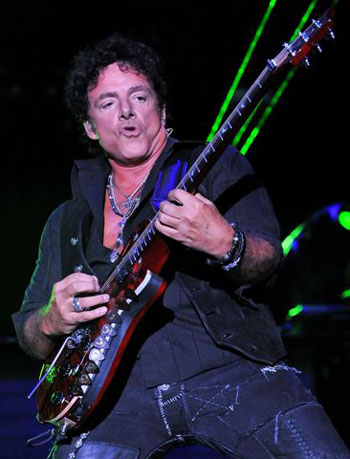 Moreover, the sound was somewhat muddy, and although Journey have always been much heavier live than on record, Neal Schon was at times overplaying as he showed off his technical skill and the unthinkable thought was that the Journey sound was insufficiently melodic. Compared to Foreigner and Styx, there was also less of an emphasis on directly engaging the audience.
However highlights were never far away - 'Send Her My Love' made a welcome reappearance with some beautifully smooth singing from Arnel, 'Lights' demanded that arms be swayed in the air, and the likes of 'Ask the Lonely' and 'Stone in Love' have irresistible, soaring choruses.
On the evidence of 'Open Arms' and 'Faithfully', it is the ballads where Arnel really shines, but he is not the only singer in the band capable of hitting the high notes, as aggressive drummer Deen Castronovo proved on a version of 'Mother, Father' which also featured some consummate musicianship.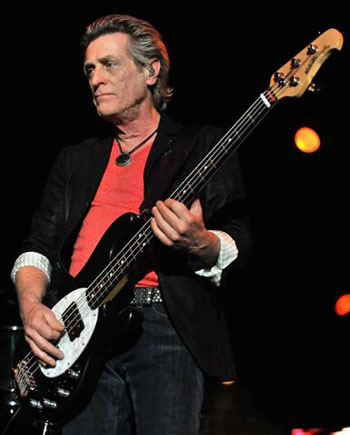 But when Neal cranked out the riff to 'Wheel in the Sky', it was as if someone had lit the spark and the remainder of the gig was a riotous cavalcade of AOR classics - after 'Be Good to Yourself', with Jonathan's prominent keyboards and Neal's guitar solo playing off against one another, and 'Faithfully', came the moment that most of the crowd, young and old alike, had been waiting for - 'Don't Stop Believin''.
However over used the song now is, it is still a magic moment to hear Journey play it live, all the more surprising then that there were still some in the balcony still slumped in their seats.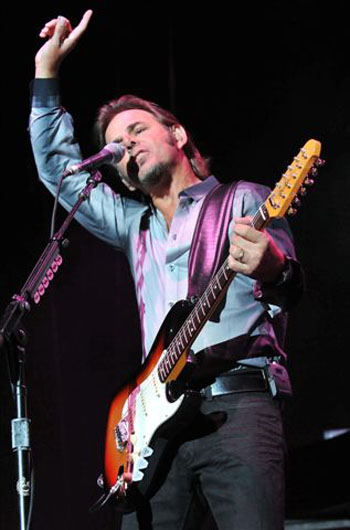 Even better, they swept straight into the equally irresistible 'Anyway You Want It', with Neal reeling off one solo after another. In fact, with time running out, that might have been a better encore than a rather bluesy 'Lovin Touchin Squeezin' which ended the night, especially with the time gone 11pm and people filing out.
On the way out, people were inevitably making comparisons and naming their favourites on the night, but for a price of £45, to hear a series of classics delivered with such quality and professionalism, all of us who love great melodic rock music were the winners tonight.

Review by Andy Nathan
Photos by Lee Millward/GRTR!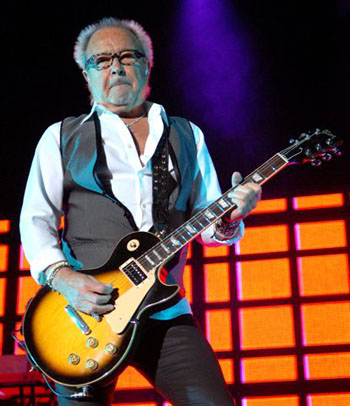 David Randall writes:
I can only echo Andy's comments about quality and professionalism (Manchester MEN, 8 June 2011), first with Styx and then Foreigner. Fittingly, Mick Jones' assistant draped him in a towel as he left the stage, almost like a triumphal exiting boxer.
Foreigner's recent resurgence is not least a tribute to the quiet Englishman's perseverance through difficult years but his legacy of superior melodic rock is now done real justice. Here Kelly Hansen and his cohorts extract the soul of these songs, and they are sounding even better, especially a stellar version of 'Waiting For A Girl Like You' and the colossal 'Juke Box Hero'.
If there's one niggle, Foreigner played very safe by sticking to the "hits" and it almost seems criminal that they played nothing off 'Can't Slow Down'.
Fortunately Journey didn't fall into this trap, mixing freely tracks from the new album with the 'Dirty Dozen'. Whilst 'Eclipse' may yet split the fans just like 'Raised On Radio' there is no doubt that it marks a return to form, even if heavier in places; but probably all the better for that.
If anyone needed convincing, Arnel Pineda has stamped his mark on the core setlist and indeed the new album whilst Messrs Cain, Valory, Castronovo and Schon look like the eternal warriors of AOR and long may they continue.
Photo Gallery (Manchester, 8 June)
---
The Untold Story of Journey (feature)
---