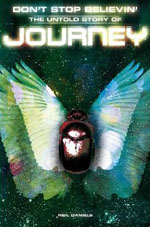 Neil Daniels is a prolific biographer and has published books about Judas Priest and Robert Plant as well as contributing to several websites.
His latest tome is the first-ever bio. about melodic rock greats Journey. Jason Ritchie asks him more about the book...
1. What are you currently up to?

At the minute I'm just trying to get pre-publicity on the Journey bio as well as the four print on demand books I've done (All Pens Blazing Vols I & II and Rock 'N' Mercenaries Vols 1 & II.)
My main focus is getting people interested in the Journey book. The only one to my knowledge is a book from the mid 80s on Journey written by Robyn Flans but of course it is way out of print. I know there is a book on Steve Perry available through the POD company Lulu but I haven't read it.
My book will be the first ever biography of Journey. I'm also writing an illustrated history of Iron Maiden, which will come out next year as a full colour coffee table hardback book. My new website neildaniels.com has just gone online and there's a lot of info about Journey there as well as my other books. It looks pretty cool; my friend Robert McKenna has designed it and he maintains it on a regular basis. There's an awful lot of content on it. Check it out!

2. How was the Journey book commissioned? Did you approach Omnibus Press or did they come to you with the idea?

When Arnel Pineda was hired I mentioned it to them but I didn't formally pitch the book. But then Glee took over the world and suddenly Journey were really popular again.
I hooked up with a literary agent in London by the name of Matthew Hamilton who - rather conveniently - is a massive Journey fan and he sent a formal submission to Omnibus Press.
These things are very slow but Omnibus Press were really keen especially as there wasn't a single biography of Journey available.
Getting a book published on a band like Journey is a great triumph given publishers' snobbery of AOR and melodic rock. Both myself and Matthew are really pleased with the book and the fact that we managed to get it commissioned in the first place.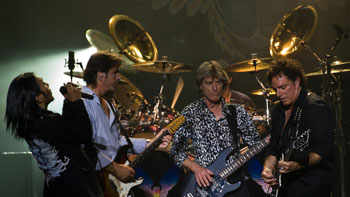 Photo: Ian Pollard/GRTR!
3. What was the first song to get you into the band and what appealed to you about the song?

I'm not quite sure what song got me into them but it was definitely the Greatest Hits that introduced me to their music and from there I bought their back catalogue over a period of time.
I just think their music appeals to different generations because of the lyrical themes and the musicianship is exemplary. I get goose bumps every time I hear Perry's voice. Plus their songs are just so damn catchy. I mean, can you find a more perfect collection of melodic rock songs than those on the Greatest Hits CD?

4. Given that the TV show 'Glee' gave Journey a big publicity boost do you think this has brought more new fans to the band and its music?

Absolutely. When I started writing the book a year ago their sales were around 75 million and now just checking online I see they've topped 80 million and I'm guessing that's because people have bought Journey's Greatest Hits on the back of Glee.
In my eyes, that's a good thing. For years people remembered Journey as a band of the 80s but now they've been given a new lease of life and are doing exceedingly well. Sure, Journey will never be quite the same without Steve Perry but there's still so much talent involved that I think it's better they still exist in the present rather than the past. Some may disagree.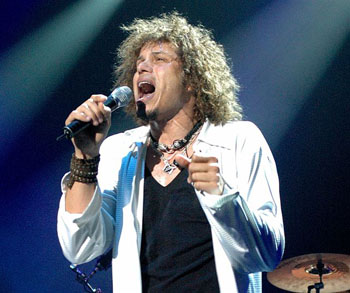 Photo: Lee Millward/GRTR!
5. Did you interview all past and present members for the book and did any not want to take part?

Well, this is the thing: when I contacted former members of Journey, and I won't mention them, they each agreed apart from 2 of them. But I had a strong list of potential interviewees who seemed really keen.
However, Journey or their management found out and suddenly all the interviewees dropped out. But that didn't stop me and I wasn't going to let it. I did, however, conduct extensive phone interviews with former manager and founder Herbie Herbert and Robert Fleischman and Jeff Scott Soto.
I also interviewed former personnel and did some interviews for a bonus chapter on Steve Perry's solo music. But so many people did not want to talk.
It goes to the level of secrecy surrounding the band and reading between the lines there's a lot of bad stuff in Journey's career especially between the Perry camp and the Schon/Cain camp, which people just will not talk about even now.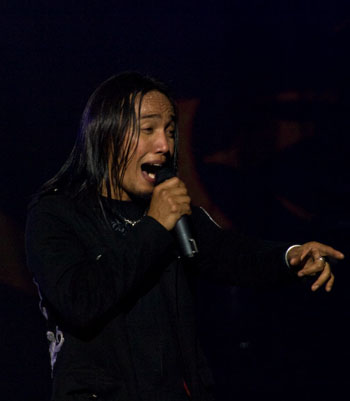 Photo: Ian Pollard/GRTR!
6. Do you think there is ever a realistic chance of the band and Steve Perry every sharing the same stage again, even for a one-off gig?

Personally? I honestly can't see it ever happening. I think Perry would rather have people remember him for the great singer he was.
If he was to tour again it just wouldn't be the same. He might still be a good singer but he won't be the great singer he once was. He'll never recapture that. No one could.
Journey are a very demanding live band and insist on playing the original keys. It would kill most singers.
Look at what happened to Augeri. Look at David Coverdale, Meat Loaf and Rob Halford as well. They just can't sing like they used too and have to suffer all the criticism and some of it is stinging.
Perry, I guess, doesn't want that to happen to him. There's obviously politics involved too. It would be a very lucrative tour but it won't happen. A one-off gig, well, you never know. But even that is a far-fetched idea.

7. Who did you enjoy interviewing most and why?

Of the interviews I did the most enjoyable and interesting was Herbie Herbert. If you've read the Melodicrock.com interview Andrew McNiece did with him you'll know just how honest and articulate Herbie is. He also has an extensive memory recall and he has a lot to say.
He admits his dislike for Steve Perry and how Perry basically broke up the band on two occasions. It's all in the book.
Most of the ex members signed confidentiality agreements which is obviously why they didn't/couldn't be interviewed by me. But Herbie and Robert signed no such agreement.
I was never out to criticise Perry and side with Schon/Cain but it is obvious that the image we have of him is not exactly an accurate representation of the real Steve Perry. There's just too much evidence against him.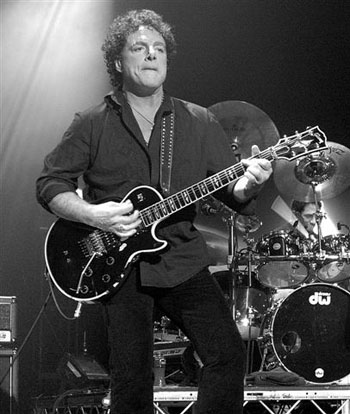 Photo: Lee Millward/GRTR!

8. Does the book cover solely the band or does it go into the various spin off bands like the Storm, Bad English, Neal Schon's various projects etc Which of these bands/projects do you personally like and why?

There's a bonus chapter on Steve Perry's solo music and I got to interview the likes of Michael Landau, Bill Cuomo and Russ Miller.

I wanted a chapter on Schon's solo career too, which would have included Bad English and Soul SirkUS but there was a contracted word count so there was no room for the Schon chapter; he's done a hell of a lot of stuff outside of Journey.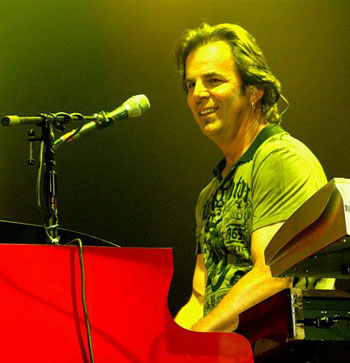 Photo: Lee Millward/GRTR!
Some might criticise me for that but it is a book on Journey after all and I could have gone crazy and included Cain's solo stuff too. And what about Gregg Rolie's solo stuff as well? He's still an important player in Journey's history.
I do mention The Storm and Bad English etc but don't go in-depth but like I said, the book is specifically about Journey from 1973-2010 though I do lay the foundations pre '73 with Santana. So the story really begins with Santana around 1969. To understand the foundations of Journey you have to know a little bit about Santana and Gregg Rolie and Neal Schon's history with the band.
Journey formed in 1973 and the story of Journey is told in chronological order right up to 2010. Each album is reviewed track-by-track. Some people might disagree with my reviews of the albums but I think I have given a fair assessment.
For example, I think Raised On Radio is an underrated album so I have given a fair bit of space to its creation and release. Journey's history is so epic and complicated that the only way to deal with it was in a logical and chronological fashion.
The Perry chapter is pretty cool though; I mean, he's only made 2 solo albums so there was room for that. But publishers have a prearranged word count which you really can't exceed for a number of reasons; the main one being that it's in your contract with them.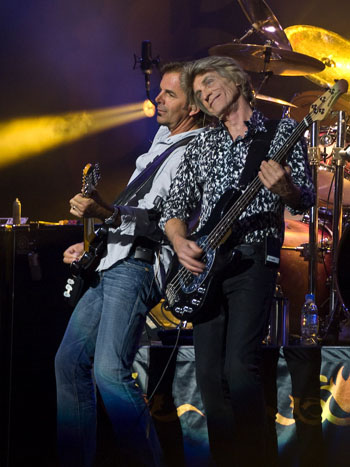 Photo: Ian Pollard/GRTR!
9. Your top three Journey albums and why...

Hmm... I'm going to be predictable on my first two choices with Escape and Frontiers. I think they're both absolute AOR masterpieces with great songs, great production and a good balance of rock and ballads and I think when it comes to ballads, Journey are unbeatable.
I've got a lot of time for Raised On Radio, actually, with three of my all time favourite Journey tracks being 'Be Good To Yourself,' 'Girl Can't Help It' and 'I'll Be Alright Without You' but I think I'll say Revelation is my third favourite. Ok, it doesn't have Perry and it's too recent to be labelled a classic but hell, it's the best thing they've done since Frontiers.


10. Why do you think Journey have kept their fans and continue to do well, albeit not as big as their 80's heyday, when other bands from the same time haven't fared as well?

I think it's a combination of luck and having the right management; first with Herbie Herbert and since with Irving Azoff. Also, more than any other band of their ilk Journey have a place in the hearts of certain Americans and that will never change.
Journey write about universal themes that appeal to so many people regardless of age and nationality. Plus, they're excellent musicians. I don't see Journey as rock stars but musicians.
It's infuriating just how underrated Neal Schon is. I mean, do you ever hear any guitarist claiming Schon as an influence?
Don't Stop Believin' The Untold Story Of Journey is published by Omnibus Press on 3 May 2011.
Interview © Jason Ritchie, April 2011. All rights reserved.
Photos by Lee Millward and Ian Pollard
---
---