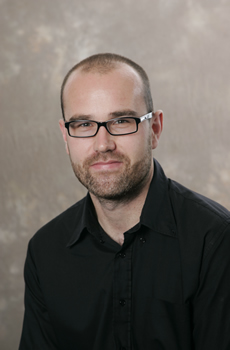 NEIL DANIELS
GRTR!'s own Neil Daniels also writes for print magazines 'Power Play, 'Record Collector' and 'Fireworks' plus he is the author of books on Judas Priest, the recently published one on Robert Plant, along with a forthcoming book on ex-Judas Priest singer Al Atkins.


How did you get into writing both reviews and books?

Well, I first started writing for e-zines like musicOMH, Unbarred and BBC News Online in Manchester and from there I steadily picked up credentials.
I soon started contributing to Record Collector and Powerplay and the revered bi-monthly magazine Fireworks. I still write for those magazines as well as Rock Sound and Get Ready To ROCK!. Nothing beats getting free CD's, DVD's, gig tickets and the odd rock bio.

In terms of the books, well, I had an idea that was commercial and pitched it to a few publishers. Omnibus Press were keen and a few months later the contracts were signed. It's progressed from there really.


Your recent Robert Plant book has been getting good reviews. What made you decide on writing a biography on Robert Plant?

After I finished the Judas Priest book (but before it was published) I got in touch with Martin Roach at IMP about something else. He said he had an idea that might interest me. After he looked at what I had written he decided that I would be good for the project in question. When he told me his idea was for a book on Robert Plant,
I knew it was a strong commercial idea that would require a lot of work but at the same time it was something that had never been done before so it wouldn't be a case of re-hashing previous Led Zep books. Plus, Judas Priest and Plant both come from the West Midlands so their history is connected. It was also a chance to work with IMP, a very respected music publishers.


How did you go about researching the book and did you carry out many new interviews with people associated with Robert Plant?

I started by listening to his solo albums and reading most of the Led Zep books that are still in print. From there I built a timeline, made notes, read interviews with Plant and so forth. It was difficult especially as IMP wanted the book done under a tight timeframe.
I interviewed some of his former colleagues like producers Chris Hughes, Chris Blackwell and Tim Palmer, and musicians David Weckl and Hossam Razmy as well as others.
I also used some interviews from my Priest book because, as I've said, they did cross paths in the late sixties. I also interviewed fans of Robert Plant to sure the breadth of Plant's influence; people like the late Kevin DuBrow and Tony Harnell. It's important to sure how much of an influence Plant has had on the rock world. IMP did a great job; they've built up lots of press and the book looks wonderful.


You are working on a new book on former Judas Priest singer Al Atkins. How is it coming along and what will the main focus of the book ... his years in Judas Priest or his solo years?

Yeah, this one is interesting. It's basically Al's autobiography very much like the one Biff Byford published last year; we share the same publisher too. So the book is about his entire career and includes lots of detail on the early years of Judas Priest; even some things that I did not know.
The book will include quotes from people who were involved in Priest's career from '69-'73 as well as those who worked with Al on his solo albums. Al basically narrates the history of heavy metal and how that inspired him to pursue his career his music despite many setbacks.


What is your take on the current state of the rock music scene ... are downloads killing off the CD?

Some reckon that CD's will be dead in a few years but I don't know ... I hope not. There is still a strong market for CD's even if the likes of HMV are struggling. Music Zone, Fopp et al went bankrupt because people are buying cheaper CD's online and NOT because they aren't buying CD's at all. I can't be bothered with downloading; I much prefer having a collection of CD's on my shelves rather than a list of albums on my computer.

Do all these reunion tours stifle new bands breaking through especially at the more melodic rock/hard rock end of the market?

Yes, maybe, but at the same time the older bands can take the younger bands on tour with them as support acts. I think in the melodic rock world, the fans are knowledgeable enough to sustain a keen appetite for new bands like Work Of Art whilst still appreciating the older bands like Journey. But I suppose a huge reunion like Van Halen would probably over-shadow everything.

Any good rock 'n' roll tales to tell?

I recently interviewed Richie Edwards, frontman of the Stone Gods, for Fireworks. This is what he said when I asked him about the slagging off The Darkness received from Jon Bon Jovi and Lemmy.

The Lemmy issue ... I forget exactly what happened. There was some bad-mouthing between him and Justin. And after the gig at the Henry Fonda theatre in LA ... Dave Grohl took us to the Rainbow to see Lemmy. There was this big sort of rock summit going on. Justin was sitting there and Lemmy was sitting there.
Dave got a hold in court and Lemmy was like: "You called me a warty c**t." And Justin was like: "Yeah, but you said I sing like a fucking girl." And Lemmy was like "I'm sorry" and he put his hand out and Justin said: "Well, I'm sorry" and he put his hand out. And there was a big hand shake and then much merriment ensued."

Only in rock and roll!

Who are your own musical heroes, and why?

Meat Loaf is one of my all time heroes. He's had a lot of health problems recently and really struggles to finish a song let alone a full concert but I'm still a fan. He's a great entertainer and by playing for three hours he gives you your money's worth.
I like Lemmy because he's intelligent and has been around the block as it were. I also like singer-songwriters like Billy Joel who is, in my opinion, vastly underrated in this country. The list goes on: Robert Plant, David Coverdale and Rob Halford are still great singers but in their heyday they were vocal gymnasts. Roger Taylor doesn't get the credit he deserves despite Queen's success.


Which have been the best bands you have seen play live, and why?

Anthrax with John Bush were outstanding. Motorhead are still indestructible. Iron Maiden know how to balance a huge stage design with a brilliant sound and performance. Saxon are fast, tight and loud. Bryan Adams is an underrated live performer; I've seen him a few times in recent years and he was great each time.
Dio is incredible; his voice, his band and his stage presence commands respect. Journey were great a couple of years ago with Jeff Scott Soto so this forthcoming tour will be interesting. There are so MANY great live bands: Judas Priest, Rush and ZZ Top. Young Heart Attack are one of my favourite live bands as well.


Thanks folks. If you get a minute please visit my website: www.neildaniels.com.
---
Interview © 2008 Jason Ritchie. All rights reserved.
---
| | |
| --- | --- |
| | Print this page in printer-friendly format |
| | Tell a friend about this page |