JOE BONAMASSA Dust Bowl Provogue (2011)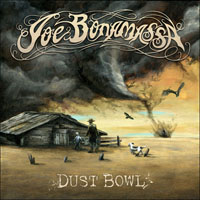 Having risen from child protégé to the top of the rock blues scene, and with an acclaimed Black County Communion hard rock project on the side, the task Joe now sets himself is to channel his passion, creativity and de facto musical talent into something new. To that end he diversifies his musical palate on 'Dustbowl', an album that explores rock, blues, roots, country and inevitably his virtuoso playing.
'Dust Bowl' probably doesn't have the inherent musical coherence of its immediate predecessor 'Black Rock' and doesn't, like 'Sloe Gin', offer the concise Bonamassa calling card. But when you've taken several giant career steps from cutting 12 solo albums before your mid 30's to topping the Billboard Blues chart, then you set yourself new challenges along the way. And in that respect this album is the next logical step in its exploration of different musical directions, different tones, different vocal approaches and above all the development of his song writing
'Dustbowl' is also an album shot through with musical history from the opening, timeless bluesy train-time rhythm of 'Slow Train' and the Jethro Tull style intro and Zeppelin bombast of 'Black Lung Heartache' to the trad blues filler 'Watch Yourself', the BB King styled 'Sweet Rowena' with Vince Gill, and the Bonamassa/Glenn Hughes duet on a reprise of Free's 'Heartbreaker'.
Producer Kevin Shirley once again proves to be a potent catalyst, pushing Joe in the direction of an unlikely but hugely successful transformation of the Barbara Streisand ballad 'Prisoner' into a rock/blues tour de force. There's also another stab at a Tim Curry update on the harrowing 'No Love on the Street', as Joe replaces the original sax feature with some scintillating shredding as Shirley underpins the song's urban paranoia with a huge drum sound.
Taken as a whole, all these aspects explain the broad based appeal of a magnificent guitarist and fine singer who has reinvented the Brit Blues invasion by adding his own input and topping it with Kevin Shirley's post Zeppelin production wash to give the world a new, taught and reinvigorated rock blues genre.
And yet the most significant aspect of this album is quite simply that the best moments belong to Joe himself. The title track is a worthy exposition of his talent, all layered guitar, uplifting vocals and a beautifully shaped production with solos that positively leap from the speakers. And while Joe digs deep for a big tone and some fluid soloing on the jammed out and suitably titled 'The Meaning of the Blues', it's on the heartfelt ballad of 'The Last Matador' that he pushes his song writing and performance to a different level.
Joe adds a mature vocal over a mournful trumpet line that perfectly nuances the poignant lyrics on one of his very best songs. It's a song that oozes history, geography, feel and emotion and questions contemporary politically correct decisions as it works its way toward a climactic sledgehammer solo underpinned by some rock solid drumming. The reflective lyrics and stellar performance anchor the album back to its rock/blues calling.
'The Whale That Swallowed Jonah' is the other self penned highlight, with a big production that retains its organic feel from some great phrasing, surging guitar, rolling piano and an unfettered vocal that helps to give it a big sweep. Joe's trembling tone soars over crashing chords before he adds a slightly eastern feel.
There are three guest spots which add an extra dimension to the album. John Hiatt's nasal vocals feature on the rocking country of 'Tennessee Plates' and the hard rocking Glenn Hughes duets with Joe on a passable version of Free's 'Heartbreaker', but which in truth lacks the gravitas of a Paul Rogers vocal. There's also a nice contrasting duet with the mellifluous voice of Vince Gill and Joe's grittier phrasing that makes the most of some undulating swing and snappy dynamics on the BB King influenced 'Sweet Rowena'.
'Dustbowl' might not have the immediate impact of some of his most recent albums, but in the long run it's probably going to provide Joe with a broader canvas on which to develop his undoubted talent.
He may have been in the vanguard of the re born Brit Rock/Blues invasion up to this point, but 'Dustbowl' bravely takes the next step in keeping the genre alive, exciting, relevant and contemporary. 'Dust Bowl' isn't so much a case of 'new wine in old bottles' as music with an interesting new aroma that on repeated visits delivers an intoxicating bouquet.
*****
Review by Pete Feenstra
Related>> Album review
---
| | |
| --- | --- |
| | Print this page in printer-friendly format |
| | |