STEVE MILLER BAND Fly Like An Eagle 'Special Edition'
Edsel EDSX3010 (2010)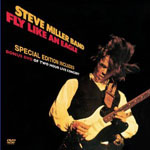 This special edition of the landmark 'Fly Like An Eagle' album is an object lesson in how to traverse the thin dividing line between heritage rock and creeping nostalgia. The accompanying documentary opens with a stylus dropping on vinyl, but over the twin formats of cd and dvd the quality of Steve's music and his creative force rings out loud and clear.
'Fly Like An Eagle' is that rare thing, an album that apparently offers you a stylistic slight of hand in moving from the psychedelic rock, through country, blues and commercial singles to stadium rock and back to a psychedelic outro. In fact the music almost parallels Steve's career development. He shifts from the wide ranging musical influences of Texas to the blues of Chicago and the psychedelic influence of San Francisco to achieving commercial success with 'Take The Money & Run', 'Fly Like An Eagle' and 'Rock 'N' Me'.
Recorded over three years with the twin album 'Book of Dreams' (seemingly a double album split in two),'Fly Like An Eagle' marked Miller's commercial and creative peak.
The double pack also features a half hour documentary on the origins and making of the album which is interesting enough, though the live footage from 2005 features the same tour band and much of the same set to be found on the 2007 'Live From Chicago' double pack.
But with the extra tracks and star turns from George Thorogood and Joe Satriani (relatively restrained while playing the blues) as part of a two hour 2005 live concert at San Francisco's Shoreline Theatre, it just about clinches the deal.
Taken together the audio and dvd suggest Miller to be a guitar innovator who doesn't hide his influences such as Berry, T Bone Walker and even Kossoff etc. he's an intelligent pop wordsmith who not unlike McCartney - who played on Miller's 1969 album 'Brave New World' before Miller reciprocated nearly three decades later on 'Flamin Pie' - is equally at home on a synth coloured ballad as he is on annoying but impressive country tunes like 'Dance Dance Dance'. And like Macca he's not averse to including the occasional syrupy outing, in this case a cover of Sam Cooke's 'You Send Me'. But Miller's presides over a broad church that includes stadium rockers such as on 'Keep On Rock 'N' Me', with its apparent intro ode to Free's 'All Right Now'.
And yet having traversed psychedelic rock, blues, pop and soul, Fly Like An Eagle' still resonates as a psychedelic masterpiece and a statement of rock chic, with its cool artwork, close to the mic vocals, glistening harmonies, pristine guitar work and psychedelic synth noodles. This is in no small part due to Steve having cleverly topped and tailed the album with the magnificent title track and the equally mesmerising 'The Window', with its layered keyboards and a wonderful vocal line.
The original album has stood the test of time and it's only when you get to the re-arranged lumpy bonus tracks that his edge seems to have deserted him.
But which ever way you look at it, 'Fly Like An Eagle' is a rock masterpiece, the perfect distillation of Miller's talent and a bubbling synthesis of all his influences rolled into one. The documentary and 2 hour live footage neatly ties together a career that started with a young kid soaking up the pop music of Texas - effectively blues, jazz, country and gospel - and being taught chords by Les Paul and lead by T Bone Walker, to Miller the mature musician, producer and fiercely independent artist who successfully fought for artistic control of his own destiny.
As Steve himself says, 'my goal was to make a record that when they put it on, they couldn't take it off'. 34 years on, you suspect that with this special edition of 'Fly Like An Eagle', plenty of people will still be playing it.
*****
Review by Pete Feenstra
Related>> Album reviews
---
| | |
| --- | --- |
| | Print this page in printer-friendly format |
| | Tell a friend about this page |