Another Heart DVD...do they feel lucky?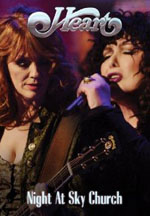 At the risk or repeating myself, Heart's Alive In Seattle (2003), is one of the finest examples of female fronted rock recorded video. Ann Wilson's vocals on that concert/DVD are simply without compare.
And since that time, while Heart have hardly been prolific in the studio, they've nevertheless made sure a steady stream of product has been available to satiate fans. In particular, the 30th anniversary live revisiting of their debut album Dreamboat Annie, their 2005 SoundStage set, Ann Wilson's first-rate solo excursion - Hope & Glory (2007), and more recently the excellent Red Velvet Car (2010).
Night At Sky Church finds Nancy and Ann on home turf in March 2010 showcasing some of their biggest hits and previewing material from the, then still to be released, Red Velvet Car album. And the good news is, it's another corker.
With Ann looking cherubic and Nancy exuding rock chic cool, the band kick out of the traps with a blistering version of Barracuda. It blows the years away and shows that 35 years on, Heart are as vibrant and current as ever. Going through the motions simply isn't an option.
Highlights are too plentiful to mention. But worthy of particular note are rare outings for Never and a wonderfully restrained version of What About Love, Alison Krauss's stunning lead vocal performance on These Dreams, Nancy's lead vocals on Hey You, and of course, Ann Wilson's hair raising vocals - just check out the magnificent performances of Alone (backed by just acoustic and keys) and Red Velvet Car (with Ben Mink guesting on fiddle).
Whether it's just the two sisters with two guitars as on Sand, or with their band in full flight, for example on rip roaring Straight On, Crazy On You and Magic Man, Night At Sky Church is another flawless endorsement of Heart's timeless appeal.
Sequels rarely stand shoulder to shoulder with their predecessor, but Night At Sky Church is to Alive In Seattle what Magnum Force is to Dirty Harry. Another classic.
*****
Review by Pete Whalley
Related>> DVD review (Soundstage Live)
Related>> Album review (Red Velvet Car)