Not Alive In Seattle...but not bad...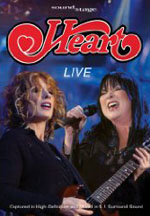 After reforming in 2002, Heart released the magnificent Alive In Seattle DVD - a must for fans and well worth seeking out by anyone who simply likes a good rock gig. That was followed in 2004 by the, frankly disappointing, Jupiter's Darling album - the band's first for a decade. And more recently we've been treated to the Dreamboat Annie 30th Anniversary concert DVD and Ann Wilson's pretty good solo album Hope & Glory.
Now, in good time for adding to your Xmas list comes this complete uncut gig (running out at 23 tracks over a tad under 2 hours) from the acclaimed US Soundstage TV series, plus a 10 minute 'bonus' interview.
Recorded in December 2005 the Soundstage format captures Heart live before a studio audience with pin-sharp state-of-the-art high definition video equipment and a 5.1 Dolby audio. Five tracks are included from the Jupiter's Darling release - which stand up well against the rest of the set culled from across the band's extensive back catalogue.
Naturally, you get the 'standards' such as Straight On, These Dreams, Magic Man, Crazy On You, Dog & Butterfly, Alone, Barracuda and the Zeppelin IV trilogy of The Battle Of Evermore, Black Dog and Misty Mountain Hop.
Sisters Ann and Nancy are in hot form, and while you could argue the case for the inclusion of some missing classics such as Dreamboat Annie, Mistral Wind, and eighties hits What About Love, If Looks Could Kill and Never, overall it's a balanced set that sits comfortably between the Alive In Seattle and Dreamboat Annie DVDs with less than half of the material overlapping.
But good as the performance is, it somehow lacks atmosphere. That may, in part be down to the harsh lighting, the restrained audience, or just the somewhat sterile environment. Whatever, it doesn't hold a candle to the raunchy and sweat drenched Alive In Seattle performance.
In summary therefore, another reminder (if one was needed) of what a top notch rock band Heart are. Derided early in their career for being a female Led Zeppelin, and branded as part of the big hair brigade in the eighties, Heart remain survivors. And damn fine ones at that. But Alive In Seattle remains the benchmark.
***½
Review by Pete Whalley