All-star blues rock summit...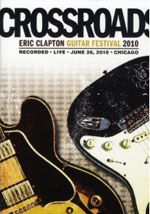 'I really believed in this project. I knew it was worth it, and my reasoning was that if only one person came out of there sober, and managed to stay sober, then the whole thing would have been worth it.' So said Eric Clapton, in his recent autobiography, recalling the 1994 split with his long time manager Roger Forrester who was against his plans for Clapton's Crossroads treatment and rehabilitation Centre in Antigua.
6 years on, he's basking in the success of his own making; 'The Crossroad Festival is the realization of a dream for me, to gather a group amazingly talented musicians to perform on one stage, musicians I admire and respect'.
The hugely successful Crossroads Guitar Festival 2010 was Clapton's third such venture and as this superbly directed DVD by Martyn Atkins shows it proves to be as well organised as it is musically inspiring and superbly filmed.
For this is no ordinary guitar blow out, but rather a wonderful dip into the hues and colours of the blues and related guitar music. The 2010 festival was already bolstered by two previous platinum selling DVD's and another stellar line-up somehow manages to make a big sprawling event feel organic. And that is no mean achievement with nearly 11 hours of music in front of 27.000 fans at Chicago's Toyota Park.
Several of the best performances also come from those lesser acknowledged, related musical areas such as country, acoustic, fusion and soul, and further enhance the feeling that we are party to a histo-musical continuum. Better still, a lot of the major proponents actually have something meaningful to say outside of their playing. And as a result, alongside some tight editing, lingering shots and one of two special captured moments, there's the kind of conceptual flow at play that is so often lacking in docs like this.
The inner core is revealed by a conceptual narrative both on and off screen which provides a context for the different directions in which the blues has been pulled. Clapton himself is the perfect conduit with his deep understanding of related music, as well as the musicians who play it. He adds some of his own glistening guitar flurries, but initially revels in his sunny afternoon, anti fashion statement (in sharp contrast to Jeff Beck who later hits the stage in sci-fi gear). And aside from his obvious commitment to the Crossroads Centre, Clapton is also a sparkling musical and social catalyst both on and off stage.
The concert opens with EC playing second fiddle to Louisiana slide maestro Sonny Landreth who starts a series of explanatory links about the origins of the blues and guitar tones and specifically slide guitar 'voicing'. And as various players go on to thrilling demonstrate exactly what he means, from the lap steel of Robert Randolph to the mesmerising slide playing of Derek Trucks on 'Midnight in Harlem, and Warren Haynes more brusque touch on Delaney & Bonnie's 'Coming Home', the film positively glides like a mountain stream.
The camera occasionally pauses to focus on musicians interacting or briefly drops in on a musical conversation, before wending its way. Then there are the brief back stage sweeps, or lingering moments where for example, MC Bill Murray talks to Robert Randolph, or Clapton offers one of his many smiles to fellow participants in an atmosphere of bonhomie and professional contentment.
But the documentary cleverly returns to the core context of the music, as brilliantly elucidated by country star Vince Gill, who leads his own stellar line up including the legendary James Burton and the magnificent Albert Lee, as they collectively explore the link between country, blues and rock and roll to great effect. Clapton's own 'Lay Down Sally' is also given a magnificent reading by the inspired pairing of Vince Gill with Sheryl Crow.
Not everything works as well as it might. Robert Cray for example find himself curiously marginalised, and Jimmy Vaughan only really comes alive on a stinging opening lead on 'Six Strings Down' and belatedly on the finale, while ZZ Top seem to be going through the motions.
On the up side there are star turns by pedal steel rocker Robert Randolph (paired with Joe Bonamassa and Italy's Pino Daniele) and best of all there's the lesser known but hugely talented Gary Clark Jr. whose beautiful timbre and sumptuous playing marks him out as one to watch for in the future. Earl Klugh also reminds everyone about the purity of the acoustic guitar before he slips into some blistering fusion.
Los Lobos bring a real soulful feel alongside Derek Trucks and then team up with Susan Tedeschi and a growing ensemble on a Joe Cocker style version of 'Space Captain'. And as the guests continue to be presented by Bill Murray in his various mock disguises as Buddy Holly, Elvis, and Hendrix etc, there's barely a moment where anything looks out of place.
But its worth re-iterating that aside from the sharp production and cute editing this beautifully shot DVD is presumably the sum of Eric Clapton's inspired choice of guests (though you could argue they could have lost ZZ Top and Ronnie Wood, but they are after all good box office). And it is one of EC's favourite bluesmen, the octogenarian Hubert Sumlin who provides the historic antecedents of the blues. Indeed a final voiceover across the closing credits pointedly states that it is 'knowledge of the history of music that is important', and further asks the question who is going to play this music when the old generation dies?
Happily Crossroads 2010 provides some of the answers in the shape of Robert Randolph, Keb Mo, Gary Clark Jr. John Mayer, Robert Cray, Derek Trucks, Joe Bonamassa, Susan Tedeschi etc , not too mention the soulful presence of Citizen Cope, whose duet with Clapton on 'Hand Of The Saints' is a real highlight.
The fact that the new generation are already closing in on the rock/blues aristocracy of Clapton, Beck, Winwood, Buddy Guy, Johnny Winter and BB King suggests that the blues is in safe hands. And perhaps aside from BB King the one character who shines brightest throughout is the king of rhythmic suspension, the aforementioned Hubert Sumlin whose chops may have been compromised by age, but his enthusiasm, knowledge and passion shine on. If nothing else the 2 double DVD 'Crossroads 2010 traces some pretty important historical lineages and the fact that the four hours of music and integrated interviews are for the most part excellent, make it an essential purchase.
*****
Review by Pete Feenstra
Related>> Crossroads (2004)