Good cause gathering of guitar gods...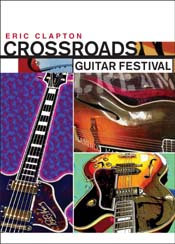 Back in June 2004 a summit meeting of some of the heavyweights in modern guitar music assembled in aid of Eric Clapton's alcohol and substance abuse treatment centre in Antigua.
God himself was present, along with a range of artists from the ethnic (Vishwa Mohan Bhatt) to classic (Hubert Sumlin) and contemporary blues (Robert Cray) to classic blues rock (ZZ Top).
John McLaughlin, Steve Vai,Larry Carlton and Joe Walsh add some gravitas. I expected to fast forward the Carlton segment but his version of Steely Dan's 'Josie' is actually quite good and coming after McLaughlin, refreshing. McLaughlin is always a little jazzy and up his own backside for many ears and his tribute to Elvin Jones is typically atonal and, frankly, uninspiring.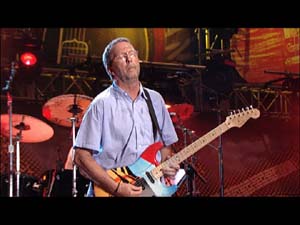 This 2-disc set runs for over 2 hours and one DVD is pretty much given over to ensemble playing with the emphasis on the blues. There are some great duets, though, and some surprises. The teaming of James Taylor with Jerry Douglas, and Carlos Santana with Clapton (on Santana's 'Jingo') is inspired. Clapton also achieves a reunion of sorts with JJ Cale who rambles through a laidback version of 'After Midnight'.
In between performances there are soundbyte interviews whilst a host of extras explore thoughts on the festival, music and guitar playing in general. Thankfully, Clapton's 'Layla' is also included as a bonus. There have been better versions but it's good to see EC breaking sweat for the occasion.
A sort of Band Aid guitarist-style, and a worthy cause. Great for guitarists, probably tedious for everyone else.
***
Review by David Randall