Just witnessed your best live gig?.. send us a review!
Pontins, Prestatyn, North Wales 3-5 December 2009
Photos by Noel Buckley
Day two of Hard Rock Hell is when things start to get heavy when the majority of fans started to arrive and all three stages are open.
Unlike most festivals where the stages are miles apart, the great thing about HRH is that all three stages are in short stumbling distance of each other, which is great as the night wears on.
Also it is a great chance to check out a load of bands you wouldn't otherwise originally fancy. With over 50 bands performing over the next two days it is impossible to see everybody, and sometimes bands you want to see will clash with the performance times of others. But - hey - with so much action going on, who am I to complain? So apologies to those bands who don't get a mention.
At the stroke of midday, as most punters were checking to their chalets, the party atmosphere was starting to get bigger, happy campers in my block were people from all aspects of the media and later we would all go drinking with the enemy, everyone was already jovial and on first name terms with each other.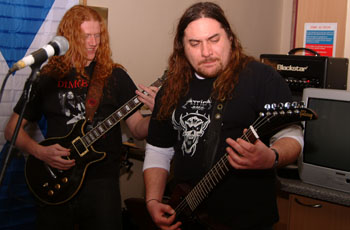 My first duty of the day was to attend to a baby crying in chalet 123, because next door were Scot metallers Attica Rage who were performing (After they found enough earplugs) to a few selected guests with their brand of old wave metal.
Although there wasn't enough room to swing a sword inside the chalet as all the room was taken up by the band and photographers, but outside it sounded great and Attica Rage are fast becoming HRH faves. Chaletica Rage indeed.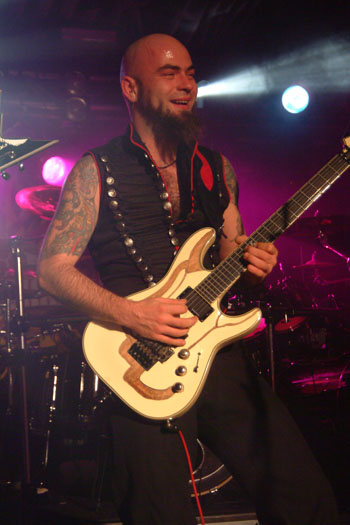 As the rain came down it was off to the main venue, quickly passing Die Apokalyptischien Reiter (The only name all weekend that I could properly pronounce after a few shandies - at least you can spell it - ed) who sounded good and the singer looked like something out of a Rob Zombie movie with music to match, and then onto the Queen Vic to see Hanging Doll, one of those female orchestral gothic metal bands.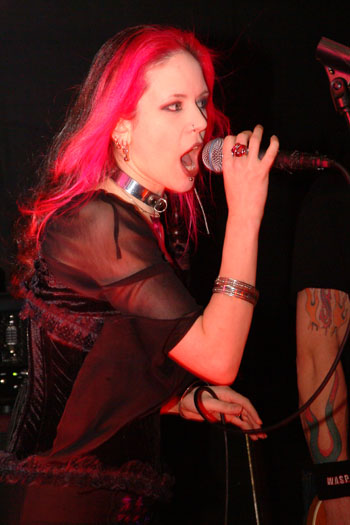 Once inside I realised that I have previously seen them before at a Clive Aid gig at the Ruskin Arms and had forgotten how good they were.
I made the difficult decision of giving Korplikanni a miss and headed off back to the chalet for a quick bite to eat and settle down to watch the World Cup draw live on tele (You can't do that at Download.)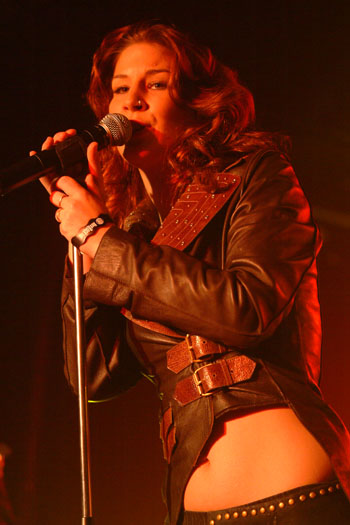 Once I had seen what a great draw England had, it was back to the music and catching another one of those female goth bands. This time Dutch operatics Delain who have released two CD's since 2006 on the Roadrunner label and was mightily impressed with singer Charlotte Wessels. A cut above the rest and will soon be stiff competition for fellow cloggers Within Temptation.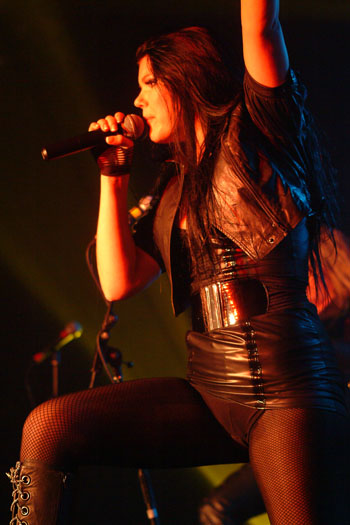 Now this was what I was really waiting for, the debut performance here in the UK from the girls of Swedish heavy metal, Hysterica who blew me away. The girls wearing their tight leathers, it was mainly beered up hungry men down the front frothing up the action.
Singer Anni De Vi has the voice of an old alarm clock who can wake me up in the morning, Jessica Fox was a stand in guitarist for Rockzilla, who was off duty sorting out personal issues but don't worry lads, she soon be back and she's now single. 30 minutes wasn't enough, I could've gone all the way.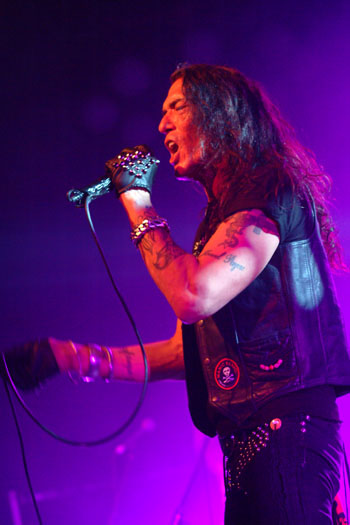 Had to make a quick exit for those original LA glamsters Ratt, another band I had wanted to see,the last time being Castle Donington 1986 and they didn't disappoint.
Ratt were bigger than Motley Crue when I was first into this band and it was great to hear so many hits which came thick and fast, ratt-ter-tat-tat but my highlight was hearing 'You Think Your Tough' : a track from their first mini LP which I still have on red vinyl, buying it after Tommy Vance played it on his Friday Rock Show.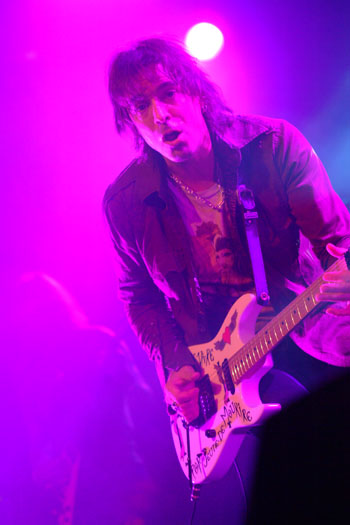 My adrenalin was pumped up after Ratt and it was time for some liquid refreshment which meant I only caught glimpses of rising Brit rockers Black Spiders and the Sons Of Merrick who both went down well.
Eden's Curse are big favourites of our very own GRTR's chief editor David Randall and I wanted to check what the fuss was all about and was I glad I did. These multi-national rockers had a very heavy melodic commercial sound with clear vocals from Michael Eden.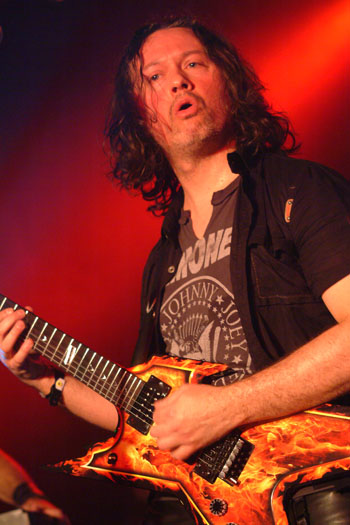 I wish more new bands would sound like this rather than all these female goths playing the same old tripe. Those who were there were treated to a class performance.
In the other hall at the same time were Monster Magnet who pulled in a large crowd (Hence the name - boom boom!).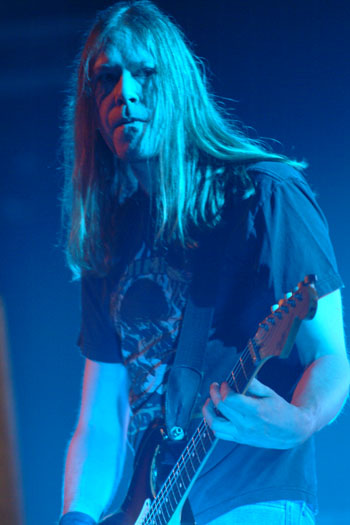 The band played a powertrippin' set with a few newer numbers thrown in, including a Bob Calvert cover for the Hawklords. David Wyndorf looking the king of cool.
Over at stage two Tribal Law were starting to lay waste to the Hard Rock Hellers. Guitarist Naiche was playing some cool licks sounding like some heavy riffage of Zakk Wylde being placed through the shredder with a touch of Hendrix.
As the set wore on, tragedy struck. Singer Danny Adams fell backwards mid-song and knocked his head on the drum riser and was out cold. No one knew if had done himself some serious damage or not, and was left on the stage for some 30 minutes before the medics took him away to the hospital.
Whilst this was going on, the stage area had to be completely closed down and all fans removed from the area, which stalled the engine for Four Wheel Drive who were due to go on next and have their chance at the big time on a larger stage after winning a competition on www.totalrock.com to perform here.
Later we heard that Danny Adams was fine and was resting in hospital, meanwhile the parties carried on into the night in many chalets.
I didn't have a key on me to my chalet and had lost my lensman, so decided to find a party. There was Krusher Joule and his manager, the Total Rock girls and later the Four Wheeler boys and myself drinking until the early hours.
I stumbled back to my chalet at 3am closely followed by my photographer for the weekend Mr Noel Buckley who had decided to walk the maze of chalets in trying to find ours and had summersaulted and covered himself in mud en route. Oh what a night, another bout to go. No sleep 'til Prestatyn.
Review by Mark Taylor
Photos by Noel Buckley
Part 3 to follow!
---
---