PAUL GILBERT
London Hammersmith Apollo, 20 May 2008
Photos by Lee Millward/GRTR!
Watching Paul Gilbert and his band of virtuoso players is like catching a glimpse of a greyhound as it shoots out of the trap in pursuit of the rabbit. There's an incredible sense of energy, purpose, an avalanche of notes, some intense complex interplay and above all a collective drive born of a need to put across some fragmented and heavily disguised melodies.
For just like his suitably titled album 'Silence Followed By A Deafening Roar', Paul Gilbert delivered a startling array of speedy runs, incredible note flurries, crunching riffs and unexpected twists and turns in a blistering set that earned him a deserved roar from the capacity Hammersmith crowd.
He fronted his band with a king size pair of headphones to protect a damaged ear – courtesy of his youthful forays with Racer X – a project he returned to later in the set. In fact the loud response when he announced a Razor X number suggested that a fair amount of Satch fans were aware of Gilbert's past.
But whatever his previous career efforts, Paul will certainly have been happy by the way the crowd took to his newer instrumental efforts of which of which the title track – complete with use of Jimmy Page style bow – and 'Bronx71' with its big riff intro figure, funky undertow, and a Yes style tempo change were particularly good.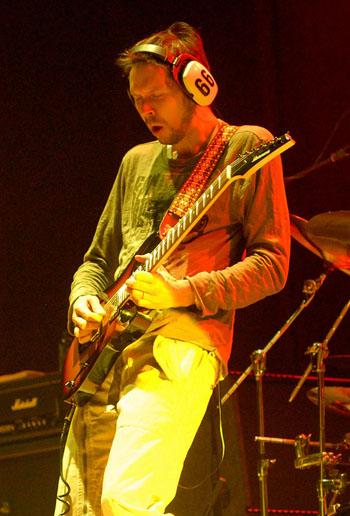 'Suite Modale' on the other hand, a transcription from flute and piano to guitar and played as a duet by Paul and wife Emi on keys provided light relief from the intensity. The set highlights came in the shape of the tough rock riffs, intense spiralling noodles and tension resolving glorious rock solo of 'Bultaco Saturno' and the startling arpeggios of 'Norwegian Cowbell'. The latter had it all, with an opening warped classic rock riff (think Rainbow 'Since You've Been Gone' or the ELO's 'Do Ya') before slipping into some unrelenting arpeggios which were nicely offset by a some tough ascending melodic lines giving the piece a sense of jet power.
At times the rhythm section's fragmented drum sound and muscular bass work reminded me of Rush. Paul occasionally provided flashes of Jeff Beck and his bass player Mike Szuter matched him note for note as he stepped forward to use his bass as a front line instrument.
But it was when he reprised his days with Mr Big by taking the mic for some belated vocal pieces complete with a brief use of the drill on his scratch plate that you realised that the Paul Gilbert of the 90's has in fact moved on both in terms as a player, composer, guitarist and band leader.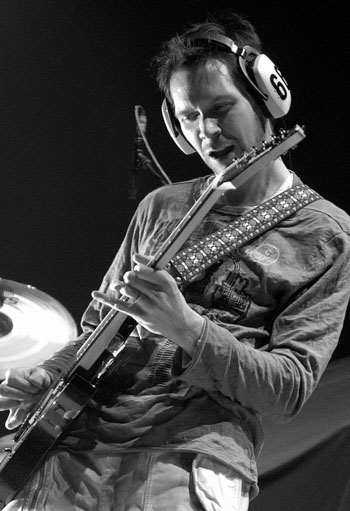 For while the set powered to a suitable climax, what had gone before demonstrated that Paul Gilbert's real talent lies in his ability to bring to life a series of instrumental guitar pieces that remain as powerful and dynamic as they are melodic, contrasting and interesting.
His speed and incredible technique aside, Paul Gilbert's set comprised some challenging and complex material that still managed to rock out. He conjured up a range of different tones and imbued a variety of solos with enough frisson to keep even the most doubting rock in general and Satch fan in particular more than happy.

---
Review by
Pete Feenstra
Photos by Lee Millward/GRTR!
---
| | |
| --- | --- |
| | Print this page in printer-friendly format |
| | Tell a friend about this page |