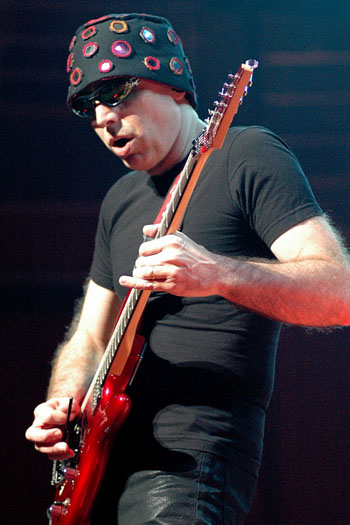 The opening number really said it all, spelt out on the impressive LED backdrop. 'I Just Wanna Rock' might not be Joe Satriani's signature tune (yet) but I think it sums up his musical view over a career spanning two decades or more.

This gig - halfway into an all-too-short and rare UK tour - was a masterclass in sustained quality and high energy.

Two hours plus of head-on guitar pyrotechniques may instil the fear of God into many listeners and I have no doubt that the majority of the sell-out audience were confirmed guitar nerds. But Joe Satriani manages to introduce enough light and shade into the process so that only the most unimaginative music fan would baulk at the prospect.

Naturally Satch was promoting his very fine new album and several tracks sat very well amongst some of his older material. 'Revelation' - coming mid-way into the set - was a real corker, and one of the highlights. This has an absorbing melodic twist and turn before breaking into trademarked Satch sonic meltdown.
This went well with the older track 'Cryin' another slow-burn with every note perfectly intonated and all emotion duly wrenched.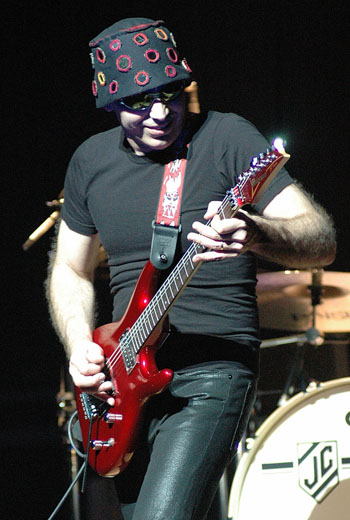 On the more upbeat material, the new tracks 'Overdriver', and 'Musterion' came over well together with old faithfuls 'Ice 9' and 'Satch Boogie'. There was a welcome outing for 'One Big Rush' from 1989's 'Flying In A Blue Dream'. The only real dip, in what was an incredible virtuoso performance from end to end, was 'Time Machine' - the sort of guitar muso navel-gazing piece that gives the instrumental guitar genre a bad name.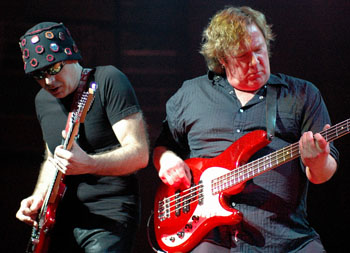 Things soon picked up, though, with a slight interlude when Stu Hamm (who reminds me of a younger 'Duck' Dunn) thumped the hell out of his bass and then into 'Mystical Potato Head Groove Thing ' and Surfin' With The Alien', and a rousing encore 'Crowd Chant' and 'Summer Song'.

With one of the best sound mixes I have heard at this venue, all credit to Satriani's sidemen too, including second guitarist and tour manager Galen Henson. Although evidently low in the mix he did provide a useful counterpoint filling in the spaces where necessary although in truth there weren't many of those tonight either in the audience or in the music.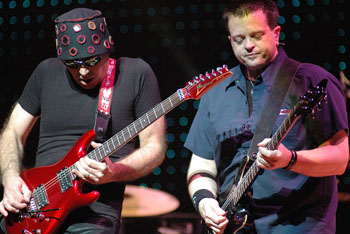 Review by
David Randall
Photos by Lee Millward/GRTR!

Set list:

I Just Wanna Rock
Overdriver
Satch Boogie
Ice 9
Diddle-Y-A-Doo-Dat
Flying In A Blue Dream
Ghosts
Revelation
Super Colossal
One Big Rush
Musterion
Out Of The Sunrise
Time Machine
Cool #9
Andalusia
Bass Solo
Cryin'
Mystical Potato Head Groove Thing
Always With Me...
Surfing With The Aliens

Encores

Crowd Chant
Summer Song


---
---
| | |
| --- | --- |
| | Print this page in printer-friendly format |
| | Tell a friend about this page |