Just witnessed your best live gig?..send us a review!
JOE BONAMASSA
Pacific Road, Birkenhead, 20 February 2008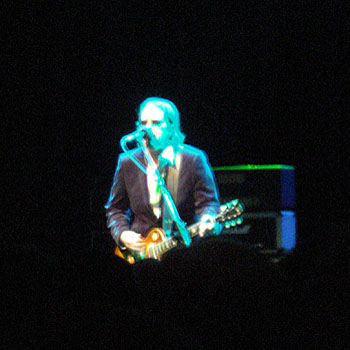 This is the second time I've seen Joe Bonamassa in eighteen months. Last time the venue was about half-full as word hadn't got around that much about just how good he is. This time was different - word had got out, the gig had been sold out for weeks, as indeed has the whole British tour, and I'd even seen a copy of 'Sloe Gin' on sale in ASDA!
As a result, the place was heaving - not just with men of a certain age (the usual demographic for this sort of gig), but with middle aged women, young lads and, dare I say it, teenage girls who looked like they'd taken a wrong turn on the way to a Take That show. It was great to see such a mixture.
The man himself meandered on stage with his band and promptly started to tear the place apart with his own brand of stinging blues/rock. 'Bridge To Better Days' got the place rocking from the word go and a great version of the old Free classic 'Walk In My Shadow' had the crowd eating out of his hand. The magnificent slow blues of 'So Many Roads' followed and was my own highlight of the set, with a fret-melting solo that defied belief!
Three tracks from Joe's 'Sloe Gin' album were next up - 'Another Kind Of Love', a superb 'Sloe Gin' and 'Ball Peen Hammer' plus Joe's solo acoustic workout 'Woke Up Dreamin' where the band walk off and leave Joe to absolutely shred his acoustic to jaw-dropping effect.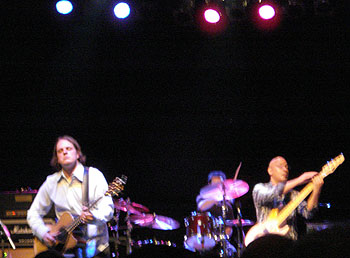 And so to the climax - or was it? And maybe someone can explain to me something that I've noticed creeping into gigs lately!
The guitar frenzy of 'Django' / 'Just Got Paid' and Joe's take on 'Zep's 'Dazed And Confused' came to an end and that was it. "Goodnight Birkenhead, you've been great". There was the inevitable encore 'One Of These Days' and 'Asking Around For You' and then they go off again.
Another encore 'High Water Everywhere'. Another encore 'You Upset Me Baby'. Don't get me wrong, it's great, but why all the fu*king about going offstage and coming back on - the encores lasted nearly as long as the gig itself - what's the point? Are they testing the audience? One encore, and if it's been a particularly fine gig (as this was) maybe a second, but that should be it!
Right, moaning over, the gig was superb in every respect, the crowd was great, the band were as tight as a gnat's chuff and Joe's guitar playing was nothing short of sensational. In the eighteen months since I last saw him he's knocked off some of the raw edges (which, in some ways is a shame - sometimes the blues needs to be raw) and he's become a lot more responsive to the audience (which is a good thing). I just hope that as he progresses and gets even more well-known, he doesn't fall into the common trap of losing sight of the blues music that brought him to our attention in the first place.
****
Review by Alan Jones
BBC Paul Jones Show
Album review
Interview

---

---
| | |
| --- | --- |
| | Print this page in printer-friendly format |
| | Tell a friend about this page |