JOE BONAMASSA Sloe Gin Provogue PRD Promo 218 (2007)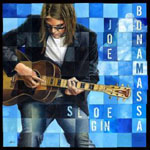 'Sloe Gin' is Joe Bonamassa's very best effort to date. This is all the more impressive when you consider he has ascended the ranks of rock's up escalator having overcome the pitfalls of being a precocious 4 year old guitar player who by the age of 12 had toured with BB King, and who while still in his teens recorded the ground breaking 'Bloodline' album. Throw in the fact that his solo debut effort only came out in 2000 and you quickly realise just how much progress Joe has already made.
The key to this album's success is the perfect meeting of minds. On the one hand there is Joe's superb playing ability and his penchant for dipping into rock's back catalogue to resurrect oft overlooked, or just plain forgotten classics and producer Kevin Shirley's intuitive overseeing of the project from his sassy song research to the exquisite attention to production detail.
Nowhere is this successful liaison more apparent than on the two re-arranged covers Chris Whitley's 'Ball Peen Hammer' and Bad Company's 'Seagull'. Both songs started life as stripped down efforts, and both have been successfully rejigged to focus on Joe's playing and singing ability. Indeed 'Sloe Gin' is also notable for being Joe's best yet vocal effort, as time and again he delivers some magnificent phrasing, and brings real feel and presence to the material, a facet that seemed beyond him as little as five years ago.
As Joe himself remarks he's considered the album as a whole, bringing an organic if not a conceptual feel to the eleven tracks. That is to say from the bold reappraisal of Chris Whitley's lyrical anger on 'Ball Preen Hammer' - and dressing it in rock clothes with a big drum emphasis - to the gentle closing instrumental, this is an album that flows from beginning to end touching on elements of rock balladry, deep blues and nicely stylised retro rock blues along the way.
Where in the past Joe left you in no doubt as to his playing ability and his eye for re-corking old wine in new bottles, on 'Sloe Gin' he finds the perfect balance between the old and new, with particular emphasis on his own efforts such as the hugely impressive 'Around the Bend' on which his lyrics match his inspired guitar work.
Even the slightly more laborious, slide led, sledgehammer blues of 'Dirt in My Pocket', on which the verses are punctuated by heavy duty guitar lines, is the kind of cross-over song that would surely appeal to any self respecting Zeppelin fan, and rock fan in general.
And on 'Sloe Gin 'Joe has answered the big questions as to his musical direction before they have even been voiced. This after all is his seventh solo album, so we are light years beyond the problem second album. In fact it might be argued it was the chart topping 'You & Me' that posed the question as to where he would go next?
And the answer appears to lie within the title track which by any analysis is a master stroke of song placement. Co-written by the late Michael Kamen (and sometime Floyd co-songwriter Bob Ezrin), this little known song has been transformed from its late 70's Tim Curry original, to become the sort of guitar led rock ballad anthem that could potentially give Joe the sort of crossover appeal enjoyed by the likes of Snowy White's 'Bird of Paradise'.
The mid number link piece complete with police sirens works brilliantly, with the pregnant pause being shattered by Joe's searing guitar solo, neatly topped by a lush string arrangement.
In the context of the album as a whole 'Sloe Gin' is both the anchor track and the exemplar, and almost begs the question, what next?
In the event the following tub thumping, twin guitar attack and 'Crossroads' style of 'Another Kind of Love' hints at what this album might have sounded like without due attention being paid to the bigger picture, a process Joe attributes to Rod Stewart's album debut 38 years ago, some eight years before Joe was born!!
It is one thing to pay due regard to requisite light and shade through appropriate track listings, but its quite another to write a song of the quality of the acoustic 'Around the Bend'. On the Charles Brown's 'Black Night' Joe delivers some crisp lines on a standard blues work out as if to emphasise the point that in spite of the enjoyable stylistic diversity he has never divested himself of his blues roots. He further adds some clarity of diction to John Martin's 'Jelly Roll', which comes as a real revelation after the words have for so long been immersed in that unique Martin slur.
The album finishes with a brace of acoustic songs of which the reflective 'Richmond' is a beautifully crafted combination of acoustic, harp, slide, and poignant lyrics topped by a plaintive vocal line while the tabla inflected 'India' acts as a gentle end piece to a fine album.
'Sloe Gin' has many qualities but above all Joe has brought fresh life to the rock blues genre, via some deft acoustic outings and a consistently passionate vocal style which we will surely hear much more of in the future.
****
Review by Pete Feenstra

---
| | |
| --- | --- |
| | Print this page in printer-friendly format |
| | Tell a friend about this page |