Marillion tour souvenir is something else ...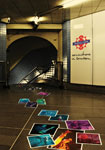 Marillion are back in favour again amongst GRTR! reviewers. Several nominations for best album and gig of the year: 2007 has marked an upswing in the band's fortunes and the recent Xmas tour has consolidated their reputation as a premier live act.
Back in June they toured the new album 'Somewhere Else' and when we interviewed Steve Hogarth he confirmed that no night is the same in terms of set-list . So filming two nights at the Forum, London pretty much covers most bases.
For this tour, the band had chosen a set which appeared to complement the accessibility of the new album, homing in on earlier triumphs such as 'Splintering Heart' and 'King'. 'Somewhere Else' is an emotionally charged album in places, Hogarth was going through marriage break-up when they started recording it. And it is no surprise that the best material is often written during times of adversity.
The in-concert sound was top-notch and, unsurprisingly, this DVD is superb in terms of visual quality and audio. It's an excellent souvenir for those who attended any of the gigs and pans out at over three hours. The film gives us the opportunity to savour the quality musicianship and also the fine contributions made by Pete Trewavas and the normally hidden Ian Mosley.
Filling out on a second disc is some interesting rehearsal footage (in front of an invited audience) from the famed Racket Club. As far as I am aware, 'Last Century For Man' and 'See It Like A Baby' were excluded from the final set-lists so this pre-tour eavesdropping is invaluable. Some 5.1 mixes are also included of four album tracks which is fine if you have a multi-speaker system.
All in all, a wonderful way to round off a good year for the band.
*****
Review by David Randall