Affectionate pictorial account of the rise of the Fab 4..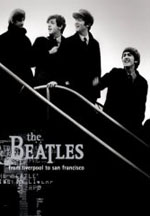 'The Beatles-From San Francisco' is an excellent account of the rise of Beatles and Beatlemania with a rather briefer end piece on the band's final studio bound years.
The corner stone to the whole DVD is the excellent use of new footage which has been painstakingly researched and edited in with producer Alan Ravenscroft's objective and concise voice over. The extra bonus sections are also of keen interest to Beatles fans for totally different reasons. On the one hand you have footage of and interviews with the participants of the religious led moral back lash in the Deep South, born of the church groups in Birmingham, Alabama.
Fuelled by a local radio DJ's out of context airing of Lennon's comments regarding the popularity of the Beatles and the diminishing importance of Christianity, this documentary even finds time for a revealing interview with the DJ concerned. On the other hand there is some hilarious footage of Liverpool comic Ken Dodd and the Beatles, from an age when the new up and coming bands were gradually being integrated into the old guard variety shows. In the case of Dodd and the Beatles, Ken the old stager dominates but manages to prise the occasional gem from Lennon. The interviewer is none other than Bill Grundy, the same agent provocateur who caused the Sex Pistols to rise to his bait a decade or so later, and pepper Granada TV screens with expletives.
For the most part, the interviews in the main body of the documentary suggest a band that as time progresses grew more adept at handling their interviews with good humour and wit. Ringo is remarkably consistent in his straight ahead answers to some inane questions while it is also notable that John doesn't become the more familiar assertive figure until the late 60's. Paul on the other hand frequently displays his own independence of mind, and offers a canny and candid reply to being asked why he admitted to taking LDS.
Remarkably for a film with no live footage of its subject matter there is a solid dynamic built around fleshing out a diary of events with newsreel footage of the time and of course interviews. Thus the global airport crowd scenes from Australia (with Jimmy Nicholls depping for Ringo), the USA, Japan and the UK juxtaposed with the frequent press calls all eloquently punctuate the passing of an age when both the band and its fans grew up.
The strength of this DVD is that producer Ravenscroft doesn't dominate with his voiceovers, rather letting his core footage speak for itself. Mercifully he spares us the retrospective talking heads so popular in today's instant cut away style, and on occasions he makes deft use of some cool Hammond musical links to bring together different bits of film.
'The Beatles from Liverpool to San Francisco' is an entertaining, enjoyable, coherent account of the rise of one of the greats bands of our age and is recommended as a fine pictorial sketch of a very special time
****
Review by Pete Feenstra
Related>> DVD review