Beatles on tour, the long and winding road...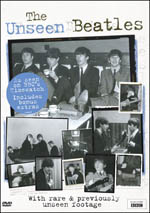 You might have thought you'd seen and heard all that is The Beatles, but then along comes this DVD.
This release expands the documentary 'Beatlemania' shown on BBC TV, with the addition of extended interviews with some of the participants including the band's original booking agent Allan Williams, publicist Tony Barrow and road manager Tony Bramwell.
The documentary includes previously unseen footage shot by a fan who filmed the band on his 8mm cine camera when they performed their last ever gig in the States in August 1966.
It effectively charts their rise and fall against the background of their extensive world tours, as seen in newsreel footage of the day. The footage from Jersey, showing the band looning around whilst touring closer to home, contrasts with more frenetic times in the USA, Japan and the Phillipines.
Road manager Tony Bramwell recalls that by November 1963 you couldn't actually hear the music at a Beatles gig, because of all the screaming. This troubled the band later on and, in particular, George Harrison and John Lennon's artistic sensibilities.
The film also highlights the shambolic nature of their tours where cost-cutting led to the band's management compromising standards, highlighted when they were crossing the States and one of their ailing plane's engines caught fire.
Watching this footage makes you wonder why there was never a definitive contemporary record of the band in concert. Surely a major omission for one of the major popular music bands of the 20th Century and beyond.
This DVD can only be of interest to anoraks or Beatle fans who failed to set their video machine to 'record', and a more complete effort might have included new interviews with Paul and Ringo. A fascinating watch, nevertheless.
***½
Review by David Randall
Related>> DVD review