TOMAS BODIN 'Sonic Boulevard' (Inside Out ) (2003)

"Sonic Boulevard" is the second solo album from Tomas Bodin, the keyboard player for Swedish prog-rockers the Flower Kings. This album will take the listener on a journey through Ambient, Soundtrack and Jazz Music using Prog as the main reference. Tomas's original vision was to release "Sonic Boulevard" as a low budget project and sold exclusively through the internet, but Roine Stolt (fellow musician in The Flower Kings) listened to his material and encouraged him to make a regular release. Tomas followed his advice and the result is this 10 track CD.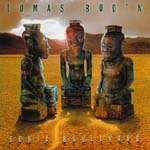 Tomas had a helping hand from his Flower Kings colleagues Jonas Reingold (bass) and Zoltan Csorsz (drums) who also helped him in his first solo release "Pinup Guru" and also additional help (appearances) from Hans Bruniusson, Ulf Wallander and Roine Stolt.
There are many interesting songs in this release. The CD starts with "The Prayer", a song that fits it's name - a really interesting choice for an opening track. The following track "The Hero From the Cloud City"is a tribute to Pink Floyd (listen to the guitar theme and you will understand what I'm saying). "Back to the African Garden" has a really catchy keyboard melody and an interesting prog rhythm base. "Picture" is a really emotional song where the Piano and the Flute are the main instruments. It's a song that you will really enjoy when having a cup of tea on a rainy day standing in front of your window. The album will keep you interested until the very last song "The Night Will Fall".
Bottom Line: Don't expect to listen to another Flower Kings album, but do expect to listen to a "soul deposit" from a really inspirational artist!
Related >>Pinup Guru
Related >>The Tangent
Back To The African Garden
© 2003 Tomas Bodin/Inside Out All rights reserved.
****
Review by John Stefanis


£12.99
***** Out of this world | **** Pretty damn fine |
*** OK, approach with caution unless you are a fan |
** Instant bargain bin fodder | * Ugly. Just ugly