THE TANGENT 'The Music That Died Alone' (Inside Out 085-65992) (2003)

It may have died alone but it ain't extinct yet. Prog trainspotters will have a field day with this album from a prog conglomerate featuring Flower Kings' Roine Stolt, Jonas Reingold and Zoltan Csorsz, and Van Der Graaf's (yes Van Der Graaf Generator, I kid you not!)Dave Jackson.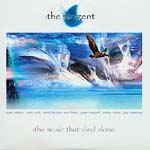 There seems to be a prog retro rock revival going on at Inside Out at the moment: hot on the heels of the Gentle Giant-cloned Kaipa, The Tangent further demonstrates that Roine Stolt and co have been trawling old vinyl and painstakingly transcribing prog rock c.1972 into the early hours of the morning. Other mortals have lives.
Actually in fairness, it is not quite as simple or crude as that, but this album - as if to emphasise the point - is split into four themed sections. All reflect an obsession with early seventies rock but the inclusion of sax and flute (welcome back, Dave Jackson) gives this a slightly different, and jazzier, form. If anything, at times it recalls Mothers Of Invention.
Prog rock was always about extended and bravado instrumental solos, complex time shifts, debatable lyrics, Moog stabs, and flamboyant leisurewear. The Tangent, just as with Kaipa, bring that all back for the digital age. Just listen to the opening of 'The Midnight Watershed' a glorious funk jazz jam with authentic lashings of pump funk bass, gutsy guitar and keys (from newcomer Andy Tillison who generally wreaks havoc on his Hammond). Strangely, the vocal style then slips forwards a decade, and the song sounds distinctly like something from Paddy MacAloon in Prefab Sprout c.1984, and becomes quite commercial. But then prog rock always did hold its surprises.
Second section 'The Canterbury Sequence' not only mimics Canterbury crooners Caravan in its song titles but in the lyrics and music. Arguably, funkier and jazzier it carries the trade mark synth and cool flute textures.
'Up Hill From Here' is like a blend of The Jam and Pink Floyd on speed with Andy Tillison's vocal phrasing and Stolt's stellar guitar figures and an overall catchy commerciality lifting it. If you think this all sounds mighty weird, then so was a lot of seventies prog rock.
This is an album that puts two fingers up to modern style, indeed the title track is a pantheon to musical non-conformity and will I am sure become a modern prog-rockers anthem. Well, if Madonna can get personal why not The Tangent? The only thing missing from this package is a greatcoat and flared trousers but I am sure, with the right tailor, that could be arranged.
The Midnight Watershed
© 2003 The Tangent/Inside Out All rights reserved.
Related >>10 Questions (Guy Manning)
Related >>Kaipa Album Review
****
Review by David Randall


£12.99