THE CORRS The Ultimate Collection Warner (2006)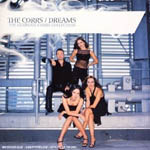 Sliding this CD from its padded envelope I couldn't help thinking "Christmas Cash-in" and "What? Another Corrs best of album!".
This isn't the first compilation, won't be the last, but its sole purpose seems to fill the void between the last album, 2005's 'Home' and the next - with the festive season an obvious consideration.
The Corrs may seem a little 'out of time' at the moment. Their blend of traditional and contemporary pop rock was a surefire winner in the trail left by 1994's 'Riverdance' (and subsequent stage show). For a moment they basked in its glory and the late-nineties penchant for Irish fusion.
Some 10 years later they are perhaps resting on laurels, although 'Home' was actually a pleasant listen, partly because it marked a return to their original values.
The band are apparently currently in hiatus, with future plans uncertain. My guess is that, 60 million album sales under their belt, there is no hunger for any new musical pastures in their present format.
This new collection sweeps through 10 years of the band's output, scooping up the obvious highlights and gathering in some of the less accessible. This includes 'When The Stars Go Blue' with Bono and their VH1 appearance with Ronnie Wood. Inevitably we get yet another version of 'Toss The Feathers'.
Where this album differs from 2001's Best Of is the inclusion of several remixes, four of which were included on 'Talk On Corners - Special Edition' - that extended version was yet another example of record company recycling which would have pissed off the faithful who had bought the original.
I reckon true fans will be frustrated by this similar, and undoubtedly seasonal, marketing ploy. The Ultimate Collection would have been better served with an additional DVD - either with some of their videos or live footage which would reiterate that they have always been an excellent live attraction. EMI have done this with several artists such as Blondie in their 'Sight & Sound' series.
I have to admit I liked the early Corrs before they hit mainstream and went a little bland with albums like 'In Blue' (represented here with 1 track) and 'Borrowed Heaven' (3 tracks). I find much of their later output a little like that of ABBA. Radio friendly but a tad clinical. And that's probably the reason why a Corrs compilation (and perhaps this one) is all you'll ever need. Although newcomers would still do well to investigate albums 1 and 2.
***½
Review by David Randall
Related>> Album review (Home)
---
| | |
| --- | --- |
| | Print this page in printer-friendly format |
| | Tell a friend about this page |